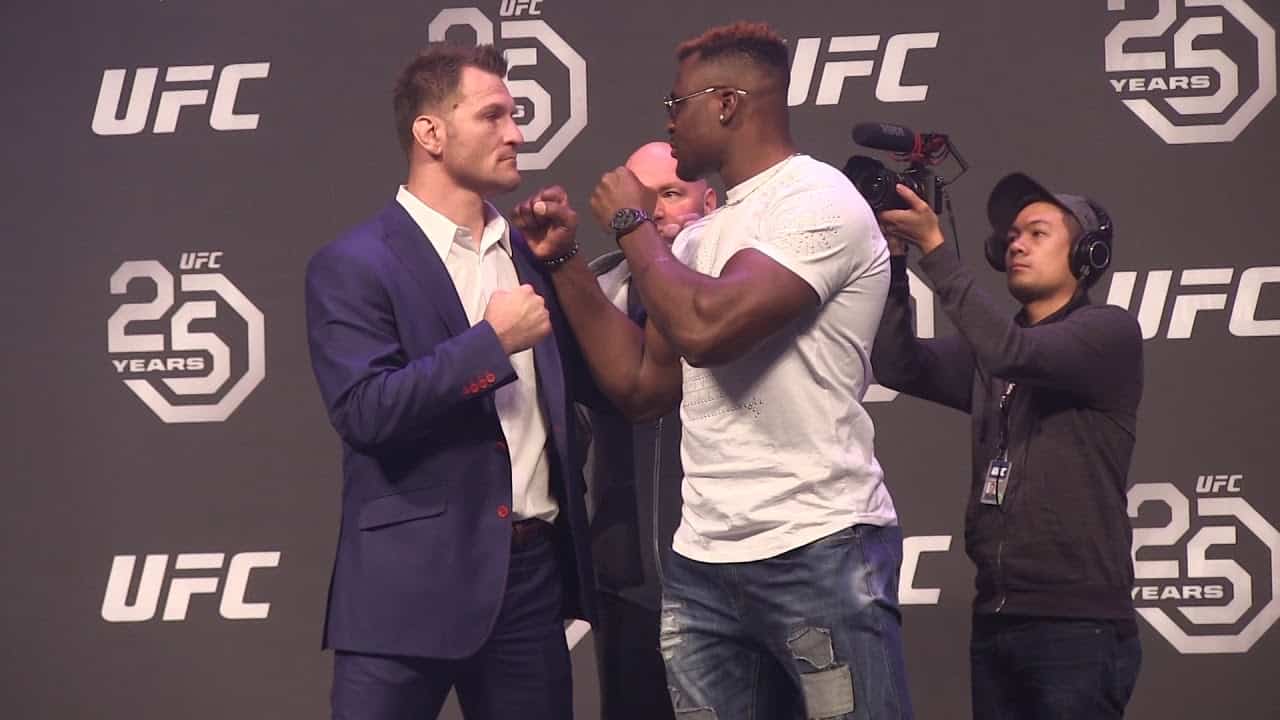 Stipe Miocic has made history.
Miocic defended his title against Francis Ngannou in the main event of UFC 220. The match-up was held inside the TD Garden in Boston, Massachusetts. A win meant Miocic would be the record holder for most successful UFC heavyweight title defenses.
Not only did he win, he did so decisively.
The two bulls met at the center of the Octagon. Ngannou went for a high kick. Miocic wasted little time going for takedowns. Ngannou broke free with an elbow. He went for a right hand over the top. Miocic ducked some heavy strikes. An uppercut found the mark for the challenger. Miocic landed his own right hand.
The champion ate a knee as he pressed his opponent against the fence. Ngannou broke free in short order. Miocic landed a right hand. The champion countered an uppercut with a big takedown. He got side control. Miocic went for a guillotine, but Ngannou got back up. An uppercut was there for Ngannou. Miocic landed a combination and took Ngannou down.
Ngannou looked lethargic going into the second round. He landed a clean right hand. A body kick was there for Miocic. A hard right hand connected for Miocic. The champion shot in and scored the takedown. Miocic landed a couple of knees to the body. He went for the rear-naked choke, but there wasn't enough time in the round.
Early in the third round, Miocic shot in. Ngannou tried exploding out, but found himself in the same position he was in for the previous round. The two separated shortly after.
Ngannou stunned Miocic with a right hand, who immediately took him down. The champion landed some punches and elbows. He kept raining down the strikes. The round ended with Miocic in top control.
Early in the fourth round, Miocic scored another takedown. Miocic rained down strikes from side control. The champion was in total control. Miocic started landing more heavy shots and took the back of his opponent. A knee to the body was there for Miocic. Another round clearly for the champion.
The fifth and final round was under way and Ngannou was pushed against the fence. Ngannou held onto the neck of Miocic, but nothing was there. The action resumed at the center of the Octagon. A leg kick landed for Miocic. The champion pressed the challenger against the fence and the final horn sounded.

Final Result: Stipe Miocic def. Francis Ngannou via unanimous decision (50-44. 50-44. 50-44)