It didn't look good for UFC 228 just 24 hours out when then-champion Nicco Montaño was forced off the card due to weight cutting complications.
However, UFC 228 more than lived up to expectations even with the removal of the first-ever women's 125-pound title defense.
With a total of nine finishes on the night, there was more than enough action to keep even a casual fan interested. Veterans of the octagon and new blood alike made a name for themselves in Dallas, Texas.
Check out LowkickMMA's seven biggest takeaways from last night's blockbuster UFC 228 from Dallas, Texas.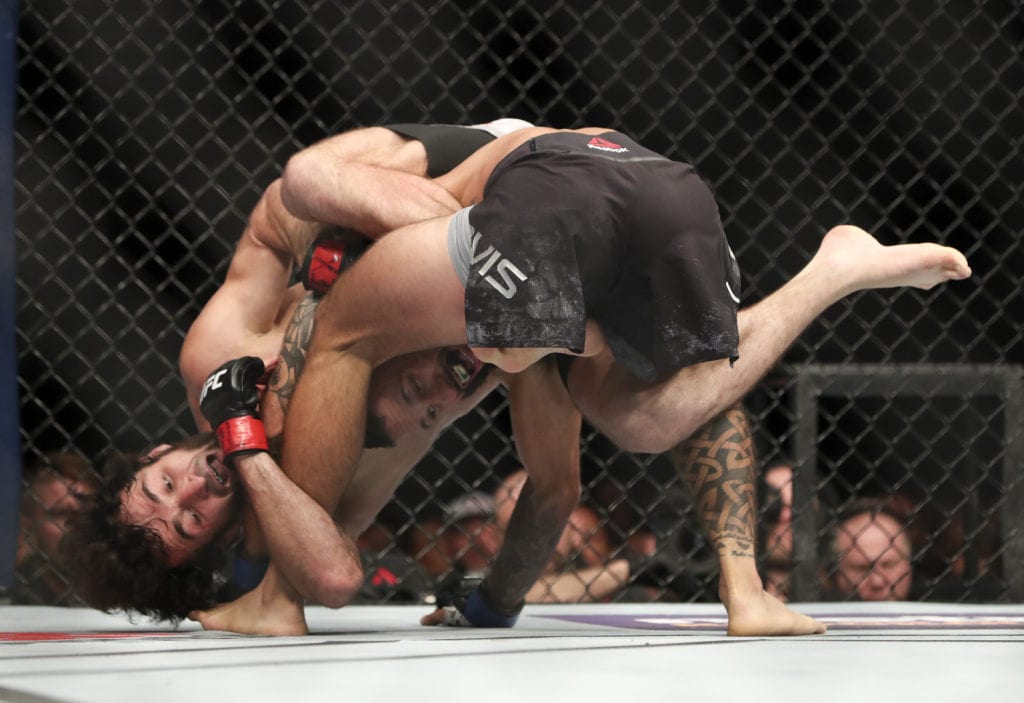 Zabit Magomedosharipov Is A Complete (But Not Perfect) Fighter
The 27-year-old Magomedsharipov continued to impress as he proved he is an all-around fighter at UFC 228.
Heading into Saturday night (Sept 8, 2018) much was made of Zabit's stand-up game, and for good reason. However, coming out of UFC 228 the talk should be about how well-rounded of a fighter Zabit is.
Magomedsharipov improved to 16-1 with a submission over Brandon Davis. But where does the young Russian fighter go from here? One would think a feature fight with a top 15 featherweight would be fitting for Magomedsharipov. However, we can't get too far ahead of ourselves and anoint him the next champion (or even big thing) at featherweight.
That's happened too many times to too many rising fighters, including Zabit's original UFC 228 opponent Yair Rodriguez.
Either way, Magomedsharipov is quickly making a name for himself and leading a new era of UFC talent.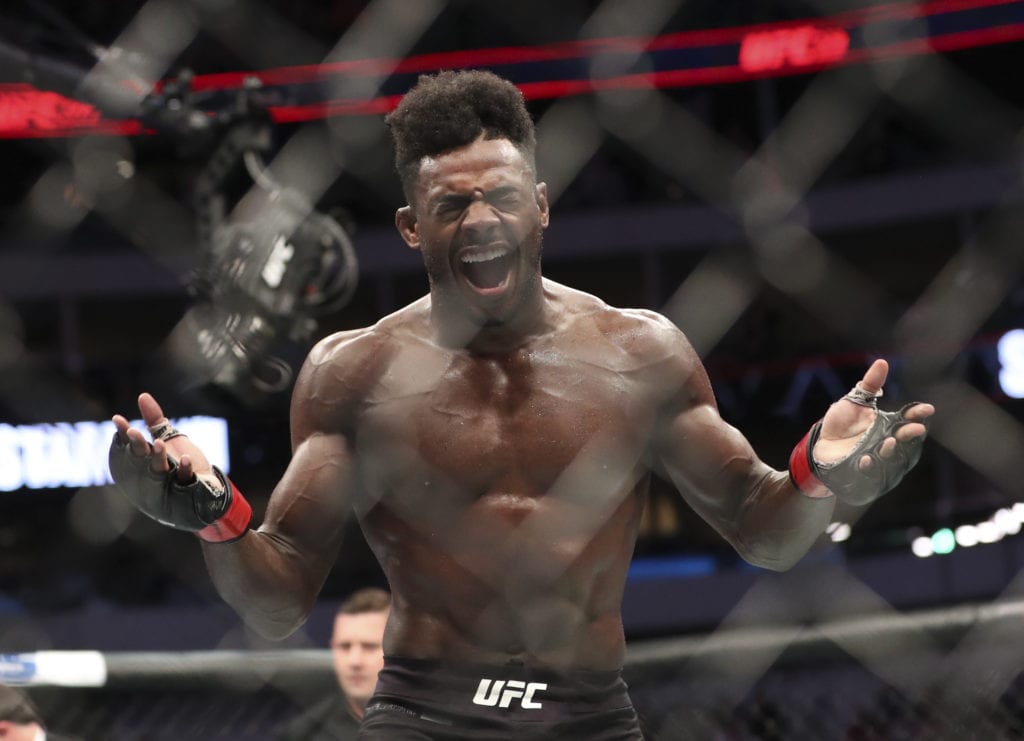 Aljamain Sterling Deserves A Big Fight
Sterling, 29, never looked better than when he submitted Cody Stamann with a kneebar at UFC 228.
The "Funkmaster" improved his record to 16-3 and he has won four of his last five fights inside the octagon. Sterling's only defeat in that time span was a 1:07 hiccup to Marlon Moraes.
So what's next for the Serra-Longo trained fighter?
A rematch with the last man to beat the "Funkmaster" may be prudent if Moraes is available. If not, you can bet that Sterling will draw a top 10 bantamweight next.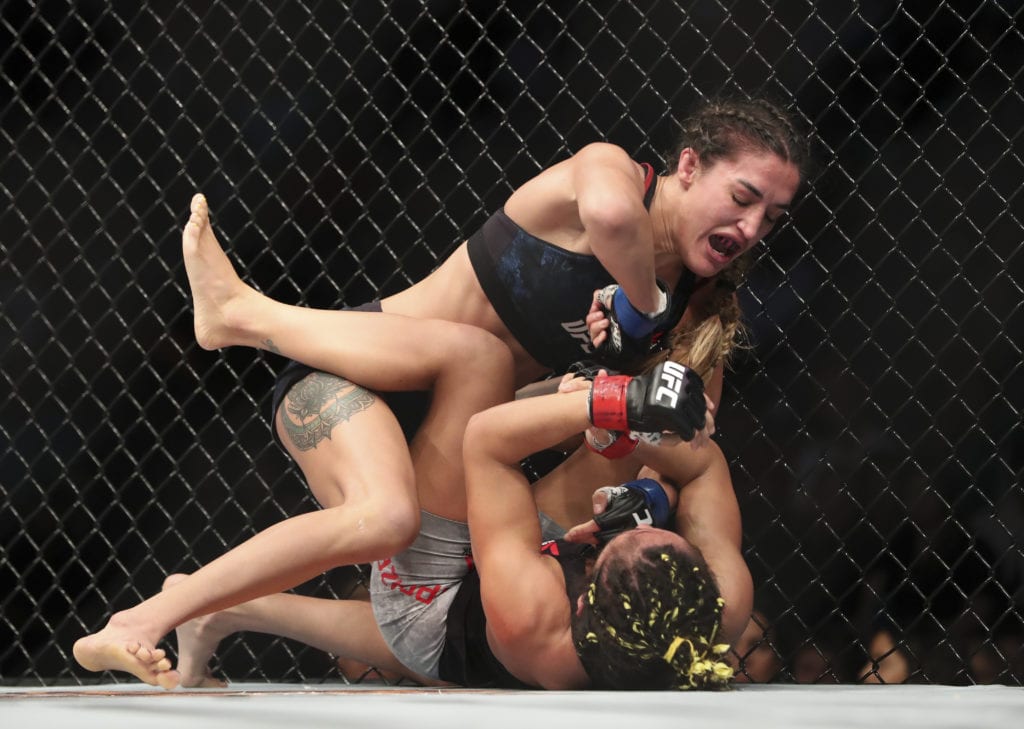 Tatiana Suarez Is Truly The Female Khabib
Suarez had her way with Carla Esparza as she demonstrated some high-level ground and pound en route to a dominant TKO stoppage at UFC 228.
The undefeated Suarez continues to turn heads and answer naysayers. Her dismantling of former champion Esparza raises questions, mainly if Suarez challenge for the title in the near future?
I think the answer to that question is yes, but I also believe Suarez is at least one more impressive win away from earning said title shot.
She still shows a dominant ground game unlike any other UFC mat technician than lightweight champion Khabib Nurmagomedov.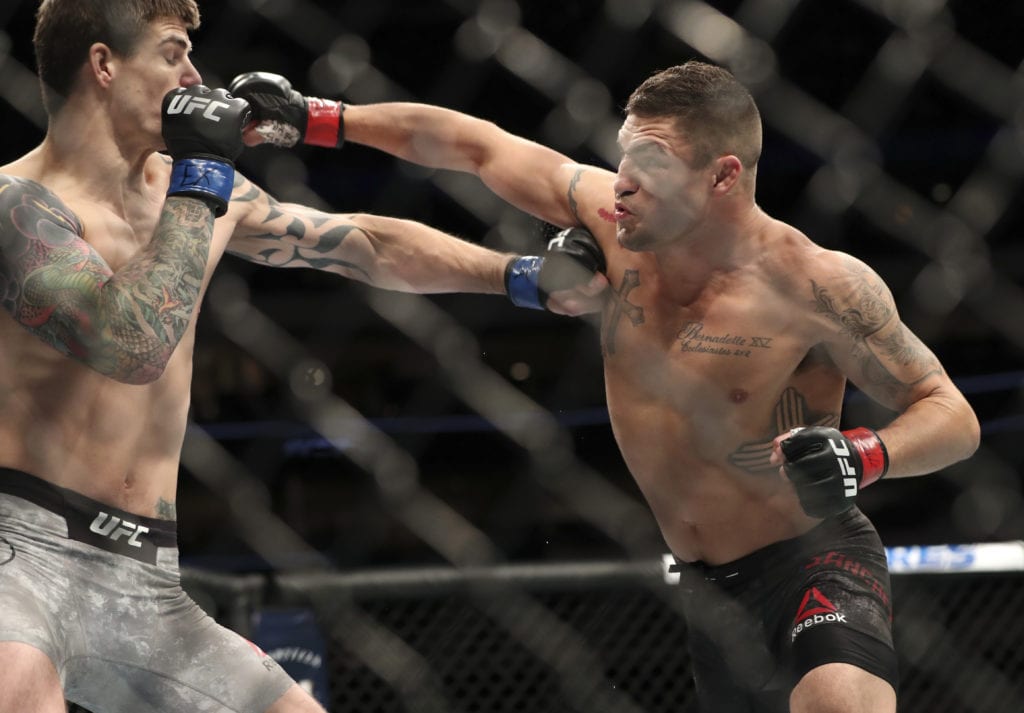 Diego Sanchez & Jim Miller Aren't Done Yet
36-year-old Sanchez snapped a two-fight losing streak at UFC 228 and 35-year old Miller entered the octagon on Saturday (Sept 8, 2018) night for the 30th time and scored the win. Both fighters turned back time a little by securing much-needed wins.
Prior to UFC 228, both Sanchez and Miller were hearing the retirement word quite often. "The Nightmare" may have snapped a two-fight skid at UFC 228 and staved off the dreaded "R" word for the time being but The Ultimate Fighter (TUF) season one winner isn't entertaining the idea of calling it quits anytime soon.
Miller has battled back from countless injuries and setbacks, and perhaps none more challenging than his battle with Lyme disease. The New Jersey native not only got back to his winning ways on Saturday night but in the process, he snapped a four-fight losing streak.
These war-torn vets won't be getting title shots anytime soon, but they'll continue to provide entertaining fights. Most likely these two veterans will continue to draw young, up-and-coming prospects and continue to be two of the most difficult litmus tests in the sport.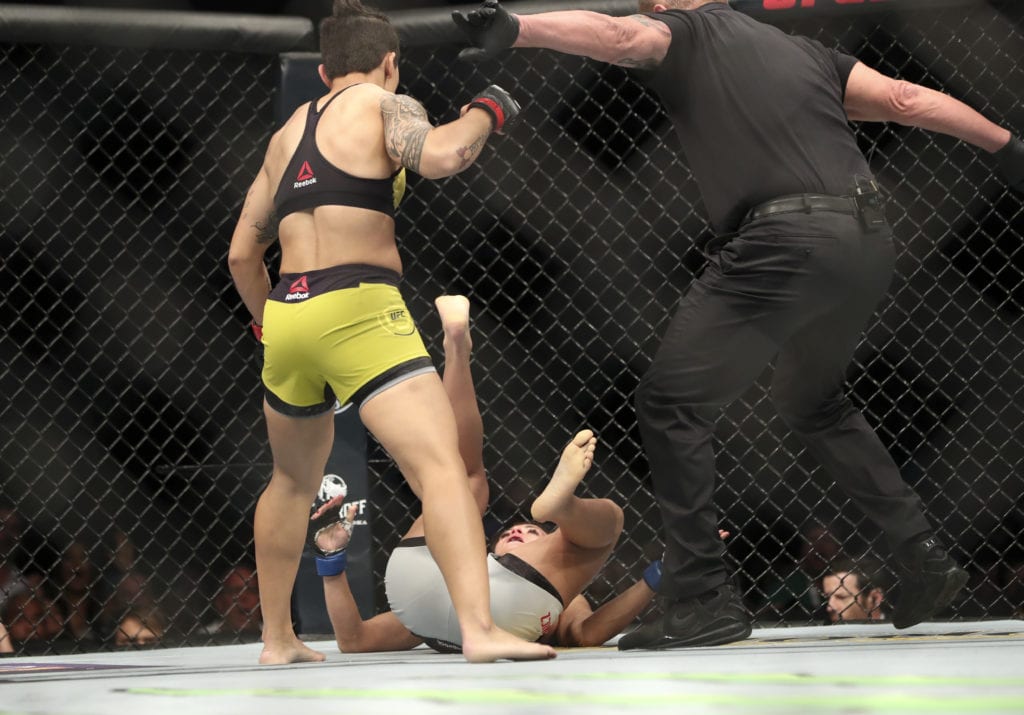 Jessica Andrade Has Frightening Power
Jessica Andrade steamrolled Karolina Kowalkiewicz in the UFC 228 co-main event, showing once again that she is the most powerful female in the 115-pound division.
Kowalkiewicz had brief moments but at the end of the day, it didn't matter. Andrade easily ran through her en route to a 1:58 KO. So what's next for "Bate Estaca"?
Since losing to then-champion Joanna Jędrzejczyk Andrade has rattled off three straight wins against top-tier competition. Andrade would love nothing more than to get another opportunity to fight for UFC gold.
This time, however, she would be fighting current champion Rose Namajunas for the title.
If a title shot isn't in the cards for Andrade, she should be in line for a number one contender type of fight.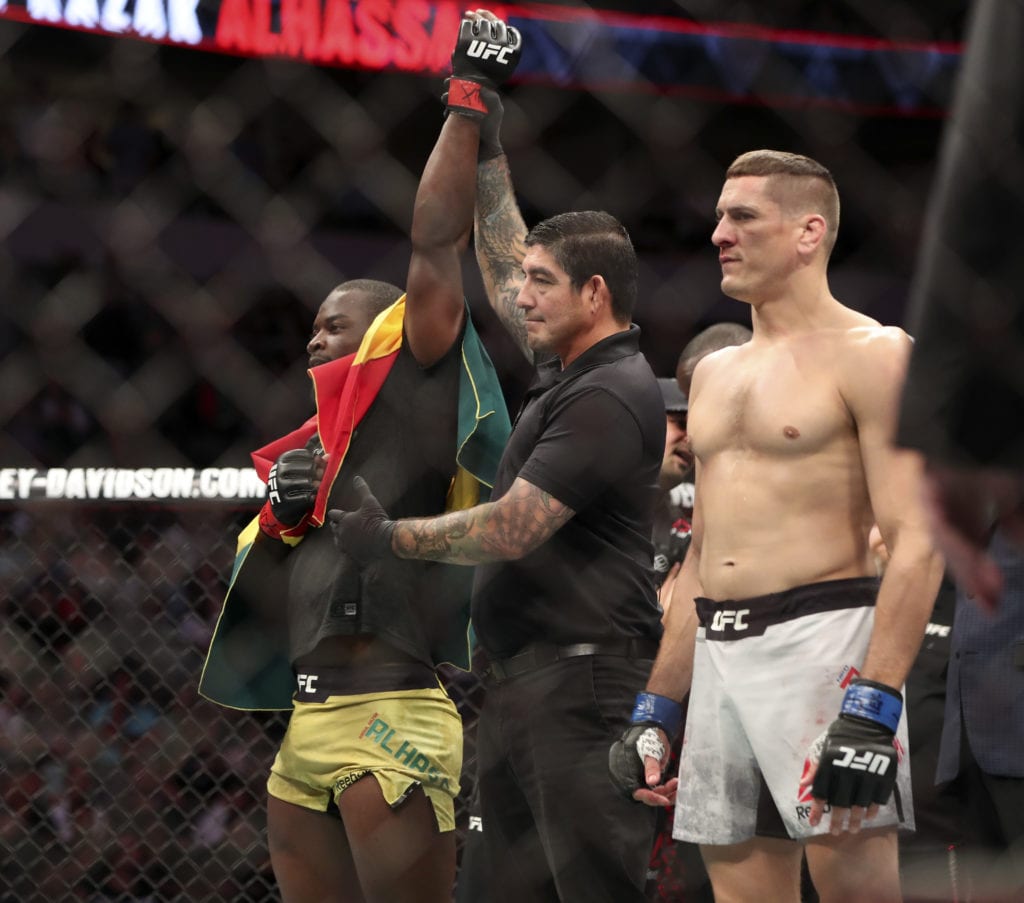 Welterweight Has Some Fresh Blood
Abdul Razak Alhassan may be 33 years old, but when your fights don't get out of the first round you don't seem to age as fast. And Texas's Geoff Neal showed that he has feet of steal to go with his hands.
Both Alhassan and Neal add depth to a welterweight division that has grown a bit stale as of late. In Alhassan you have a 170-pound destroyer that calls Arlington, Texas home. Neal, also a Texas native, landed one of the most vicious head kick KO's you will ever see at UFC 228.
So where do these Texas boys go from here?
For Neal, a matchup with someone in the 15-25 range would be prudent. However, Alhassan presents a more difficult challenge for matchmakers. Most likely Alhassan will draw a top 15-ranked opponent for his next fight.
Either way, the welterweight division has some fresh blood and things should get interesting.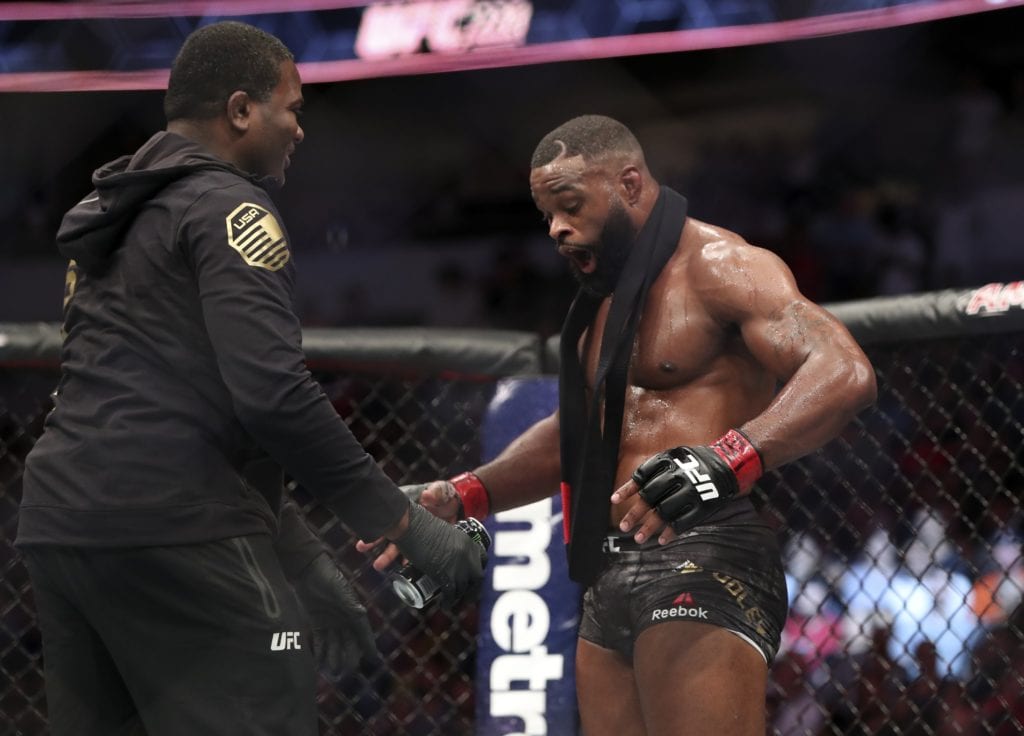 Tyron Woodley Is Underrated And Underappreciated
Reigning welterweight champion Tyron Woodley needed less than two rounds to defeat challenger Darren Till in the main event of UFC 228.
Woodley easily handled the taller Till, landing his patented pull back right hand several times on the chin of the Brit. But it was Woodley's submission skills that earned him a victory and his black belt in BJJ. So what's next for one of the longest reigning UFC champion?
A potential title fight with Colby Covington seems logical but does the UFC go that route? We have to wait and see.
In my opinion, Woodley is the most underrated and underappreciated champion the UFC has ever had. His fights might not always be exciting but he gets the job done. I'd like to see the "Chosen One" in a super fight against Georges St. Pierre next.
All in all, UFC 228 was an amazing card with an aciton-packed mix of results. Let us know what you think.