There's a lot on the line at UFC 202 on August 20. The rich back story behind the main event attraction has fans salivating with 11 days left to wait. Nate Diaz and Conor McGregor are currently dominating the headlines in the lead up to their second fight, as the Irishman sets out to avenge his first UFC loss. Diaz set the MMA world ablaze when he submitted McGregor at UFC 196, and will look to prove it was no fluke at UFC 202. As well as pride, there's a lot of money in the balance for these two titans of modern mixed martial arts.
Super stardom is something 'The Notorious' has grown used to, but for the Stockton brawler Diaz it's all quite new. There's no doubt he's been one of the most exciting and skilled lightweights on the UFC roster or a while, but he never really had the backing of the promotion until now.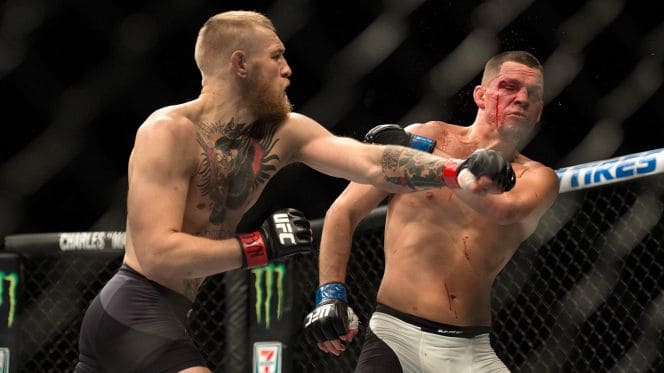 Now that he is in the limelight, Diaz has been making the most of it. One huge question that's been raised over the recent weeks is regarding a potential third fight. Both Diaz and McGregor agreed that they would fight again should the Irishman get revenge at UFC 202. These comments probably won't sit right with the interim featherweight champion Jose Aldo, but we all know the reasons why that fight would indeed happen.
Money talks, and in the UFC today it seems to be the only language in circulation. Speaking during the Jon Anik and Kenny Florian podcast, former lightweight and featherweight contender 'Ken-Flo' says there's going to be much more money for Nate Diaz if he loses at UFC 202.

Kenny Florian
"Heading in to (UFC 202), I feel like Nate (Diaz) has nothing to lose. Because if he loses, can you imagine having a trilogy here? There's more money in it for him if he loses."
"Here's the problem man, if you're telling me that there's no money involved and they are just fighting, Nate Diaz wins. But there's an obscene amount of money, and that part of it scares me a little bit."
These guys are potentially scratching the surface of a very controversial subject here. Let's be frank here, if anyone is going to do the exact opposite of what Florian and Longo are dancing around, it's Nate Diaz. The anti-BS crusader of the UFC, in my personal opinion, would rather beat Conor McGregor 10 times for free than take a loss for any amount of money.
Thoughts?