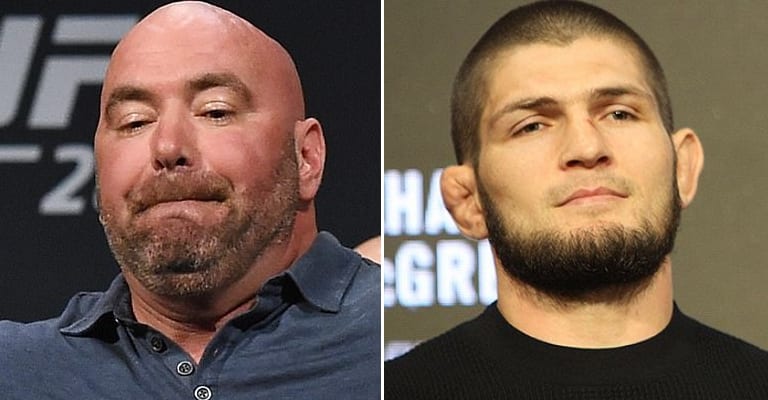 UFC President Dana White is often accused of being a lot of things. One thing you can't deny he has is a sense of humor.
The polarizing UFC executive is currently dealing with the aftermath of the infamous UFC 229 brawl from Las Vegas last Saturday (Oct. 6, 2018). There, UFC lightweight champion Khabib Nurmagomedov jumped into the crowd to fight Conor McGregor's teammate Dillon Danis.
The outburst came seconds after he submitted the Irish star in the fourth round of their anticipated grudge match. Now, the MMA universe awaits his punishment. The Nevada State Athletic Commission (NSAC) withheld Khabib's $2,000,000 purse for the fight. He and McGregor are facing complaints from the commission. They've also been temporarily suspended due to the incident. Khabib could even have his belt stripped. Indeed, there are a few real reasons why he could be.
The scene was one of pure madness. White chose to not put the belt on Khabib as a result. He feared the crowd would pelt his champion with whatever rubbish they had close at hand. He was probably right. White believes the NSAC shouldn't keep his whole purse and should only fine and suspend his star.
The backlash on Khabib has been a mixed one. Khabib's historically tough father, Abdulmanap, promised to "punish Khabib tougher than the UFC." Meanwhile, he forgave McGregor because of his religious background.
Through it all, the normally cold and stoic Khabib has a sense of humor as well. He called out White on Instagram with a joke that he would have smashed his expensive sports car had he not given him the belt.
To that, White offered a hilarious response. Check it out here: