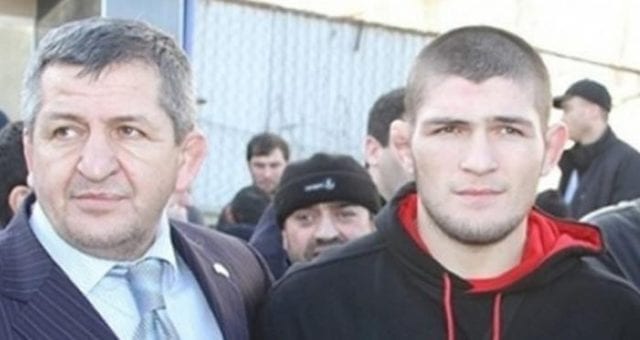 Khabib Nurmagomedov vs. Conor McGregor is in the rear-view mirror. And with it, Khabib's father, Abdulmanap, wishes to put the beef there as well.
In the lead-up to UFC 229 this past weekend (Sat. October 6, 2018) McGregor made some harsh comments about Khabib's family, religion, and character. This likely played a huge role in the brawl that spilled out after the conclusion of their bout in Las Vegas. Khabib defeated the Irishman via fourth-round submission by way of neck crank.
One of McGregor's digs to get under Khabib's skin was calling his beloved father a " coward" in an Instagram post:
"Abdulmanap Nurmagomedov I can see you. Cowering behind fake respect. Just like your middle child. A quivering coward."
Now, in the aftermath of UFC 229, Abdulmanap took to his own Instagram to comment on the rivalry between McGregor and his son. He forgave McGregor for his past comments and antics, and hopes everyone can learn lessons from the ordeal:
"I forgive Conor McGregor, all in the past. It is necessary to make an analysis of everything that happened and learn lessons. After talking with Aqsaqals (male elders of the community) and wise countrymen, they decided to move to other heights. I hope this is a blessing."
Those involved will certainly learn lessons. McGregor and Khabib are both facing complaints from the Nevada State Athletic Commission (NSAC) for their involvement in the post-fight brawl.
Khabib's fight purse is currently being withheld, while McGregor has reportedly already been paid. However, it will take several weeks before exact details of punishment are laid out.
If you enjoyed this story, please share it on social media!