Master Pedro Sauer is a highly revered legend in the world of BJJ. One of the original five Rickson Gracie black belts that helped spread the martial art across the US.
Here is the story of BJJ legend Pedro Sauer and how he became one of the world's most respected instructors. Going over his time training under Rickson and how he influenced Jiu Jitsu's growth in the US and Europe.
| | |
| --- | --- |
| Name: | Pedro Sauer |
| Date of Birth: | October 5, 1955 |
| Place of Birth: | Rio de Janeiro, Brazil |
| Rank: | 8th degree coral belt in Brazilian Jiu-Jitsu |
| Height: | 5'9″ |
| Weight: | 150 lbs |
| Stance: | Brazilian Jiu-jitsu |
| Trainer Coach: | Gracie brothers |
| Team: | Pedro Sauer Brazilian Jiu-Jitsu Association |
| Foundation Style: | BJJ, Taekwondo, Boxing, and Judo |
| Lineage: | Mitsuyo Maeda > Carlos Gracie > Helio Gracie > Rickson Gracie > Pedro Sauer |
Pedro Sauer's Early Days Training
Pedro Sauer grew up in Rio de Janeiro and started learning martial arts from a young age. Starting with boxing at the age of five, then later adding on Taekwondo and Judo training.
Growing up, one of Pedro's close friends was the legendary Rickson Gracie. When Sauer was 15, Rickson invited him to train at the Gracie Academy with him and his brother Royler Gracie.
At the time, Royler was only nine years old, but was able to beat 15 year old Pedro. After their experience, Pedro was convinced of the effectiveness of Jiu Jitsu and joined his friend's school.
Whenever Sauer wasn't attending school, he was on the mat improving his skills. Even when he was attending college for an Economic and Business Administration degree.
The Famous Five
Sauer was part of a group of Gracie Jiu-Jitsu students known as "The Famous Five." The first five black belts under Rickson Gracie.
Along with Sauer, the other four grapplers included Royler Gracie, Rolker Gracie, Rillion Gracie, and Romero "Jacare" Cavalcanti.
All five Rickson Gracie students would go on to become highly touted grapplers and teachers.
Pedro Sauer Earns His Black Belt
In 1985, Sauer had graduated from college and was working as a stock broker. After work one day, Rickson would surprise his friend by presenting him with his BJJ black belt. Helio Gracie and most of the Gracie clan were present for the graduation.
After receiving his black belt, Pedro would begin his career as a part-time coach. The first academy that he worked at was Academia de Quatro in Copacabana.
A legendary school that other BJJ legends like Sergio Bolao and Alvaro Barreto had previously taught. Pedro would coach part-time for the next few years until he would make a life changing decision.
Pedro Sauer Moves to the US
In 1990, Sauer grew tired of working as a stockbroker in Rio de Janeiro. After he saw his friends the Gracie brothers move to California, Pedro would also take the leap.
Leaving his country to teach Jiu Jitsu in the US. At first, he would join the Gracie Academy in Torrance, California. Living with Rickson and training all day at the academy.
Later that year, Pedro decided to move out on his own to start his own academy. He decided to set his home base in Salt Lake City, Utah.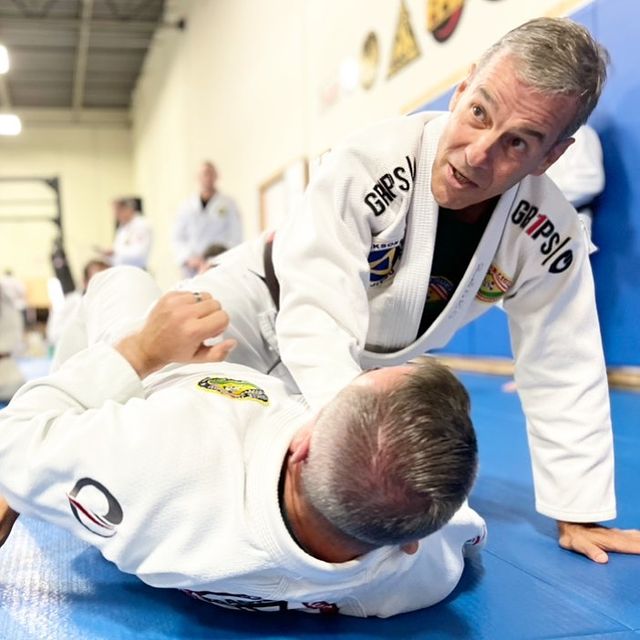 Pedro Sauer Opens His Academy
As Sauer was introducing Jiu Jitsu to the region, he was seeing his academy steadily grow. His classes were starting to get more students and then he started to get some challenges.
One notable challenge that Pedro received was from a man named Lance Batchelor in 1994. Batchelor was a bodybuilder that won Mr. Utah in 1992.
Being a hundred pounds heavier than Pedro, he believed that Jiu Jitsu didn't work. He would barge into Sauer's school and challenge him to a fight.
Pedro, being a student of Rickson, gladly accepted the challenge. But before they were set to fight, Sauer got a student to grab a camcorder and record their fight.
Little did Batchelor know that Pedro also had ten years of boxing experience along with his grappling. After cutting Batchelor open with a few strikes, Sauer allowed Batchelor to take him down.
On the ground, Sauer had fuel control over the bodybuilder and continued to pummel him. His gi was completely covered with Batchelor's blood.
After a few minutes, Sauer would lock in an armlock and win the challenge.
Pedro's School Expands
Being a great teacher and one of the first BJJ black belts to travel to the US southwest, Pedro was very successful. His academy would grow rapidly and he would have hundreds of students.
After awarding his first batch of black belts, his students would open their own academies. Turning Sauer's school into a full fledged affiliation.
Numerous Pedro Sauer Brazilian Jiu Jitsu Associated schools would open across the southwest.
In 2005, Sauer would get recognized for his work by the ADCC. The federation conducted a worldwide poll to vote on who was the best BJJ instructor. Sauer would win the poll and receive the award for his hard work.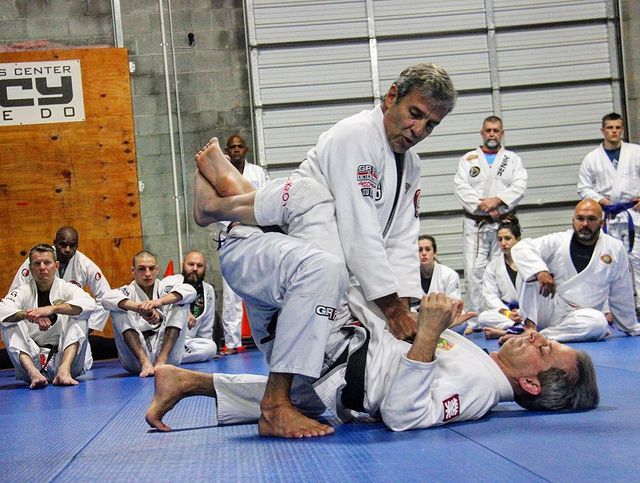 Pedro Sauer's Style
Pedro Sauer's Jiu Jitsu style is the epitome of classic Jiu Jitsu. Being a black belt under Rickson, Pedro is a firm believer in fundamentals.
Everything that Sauer teaches is basic Jiu Jitsu with a focus on self-defense. His approach to Jiu Jitsu and the way he teaches have been the key to Sauer's success.
But along with teaching BJJ, Master Sauer also stresses the importance of humility and self improvement.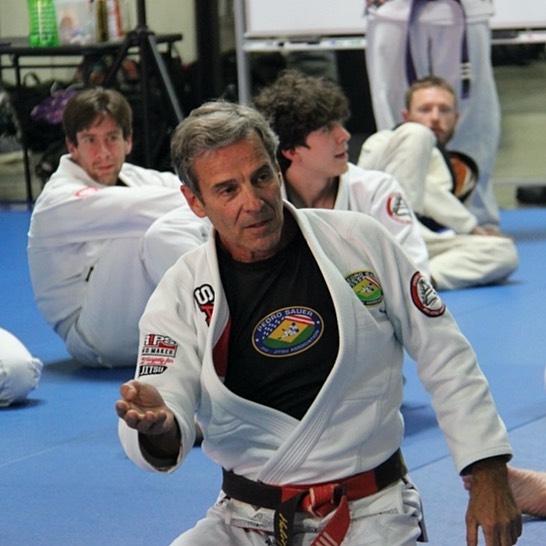 The Legacy of Pedro Sauer
Pedro Sauer is one of the most respected BJJ practitioners in the world. The 8th degree coral belt has dedicated his life to the grappling art and his work has more than paid off.
Master Sauer is a great example of when you're a good person and you work hard, you will be rewarded. Today, he runs one of the most successful BJJ affiliations in the world and has produced many respectable instructors.