Nate Diaz slams the grapple-heavy style of Daniel Cormier and Khabib Nurmagomedov: 'I Like real fighters'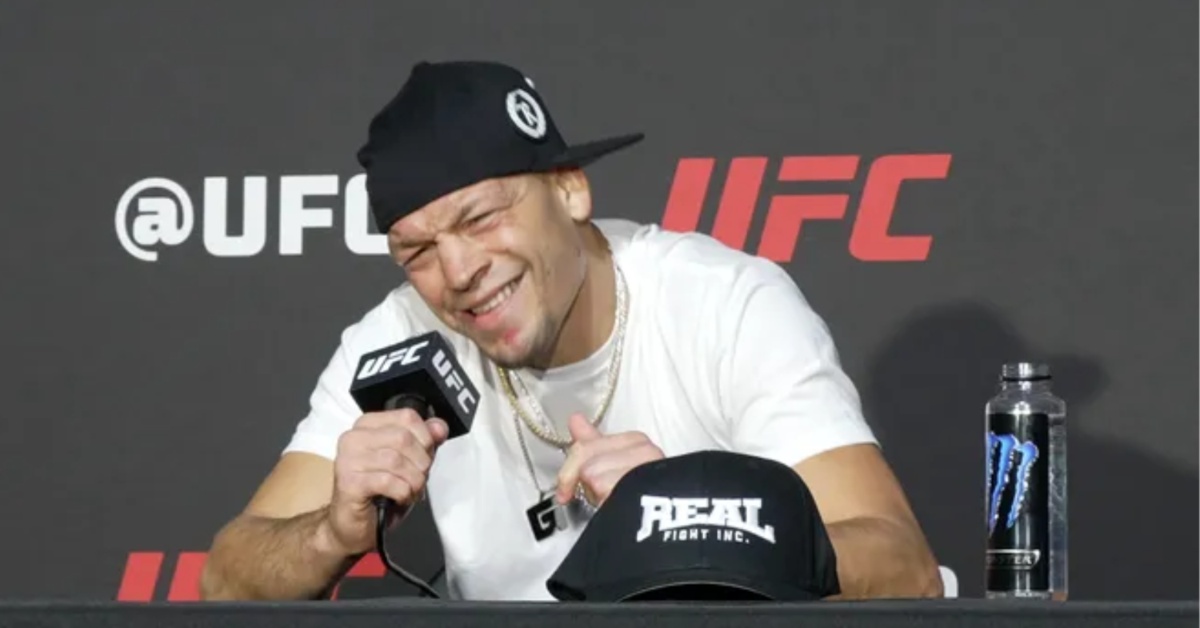 Nate Diaz offered up his honest opinion on retired UFC Hall of Famer Khabib Nurmagomedov just days before his highly anticipated squared circle debut on Saturday night.
On August 5, the Stockton Samurai will strap on a pair of eight-ounce gloves for a clash with social media and combat sports sensation Jake Paul inside Dallas' American Airlines Center. The bout comes nearly a year after Diaz's final appearance inside the Octagon at UFC 279 where he scored a fourth-round submission victory over former interim lightweight world champion Tony Ferguson.
Next, Nate Diaz will attempt to secure a win in his professional boxing debut. But first, the TUF alumnus sat down for an interview with Full Send to talk about all things UFC, including his dislike for former UFC titleholder Khabib Nurmagomedov and fighters alike.
"F*ck him. Khabib's the worst. Because he's like… Look at him. He ran off," Diaz responded when asked what his beef is with Nurmagomedov. "He's a jock. It's not my style of fighting. I don't like it. The style of fighter in general, he's not a real fighter. Him, [Daniel Cormier]. Certain guys are just like… I'm not interested in that kind of fighting at all. Not wrestling, because I love wrestling. It's the jockey attitude. I'm a real fighter and I like real fighters. People who fight for real and take it."
While Nate Diaz never shared the Octagon with 'The Eagle,' he had the honor of throwing hands with Nurmagomedovo's highest-profile opponent, Conor McGregor.
Diaz and McGregor mixed it up twice in 2016 with the Stockton native handing the Irishman his first career loss in the UFC via a second-round rear-naked choke. McGregor evened the odds five months later, scoring a majority decision. Since then, fans have been clamoring for the long-awaited trilogy bout. Asked if he sees a third fight with McGregor materializing before they both walk away from the sport, Diaz answered in the affirmative.
"100%. Yeah, I'm ready to see him get back and do something cool too," Diaz said.
Nate Diaz Reveals His Relationship with Dana White
Of course, for that fight to happen, Nate Diaz will likely have to re-sign with the UFC. That's exactly what the Stockton scrapper hopes to do once he takes care of some business with Jake Paul this weekend.
After his split with the promotion was anything, but amicable, some have questioned whether or not Dana White would even welcome Nate Diaz back to the Octagon. Speaking on his relationship with the UFC President, Diaz revealed that the two are generally very cool with one another, but they have a tendency to lock horns when it comes to the business side of things.
"Me and Dana has always been real cool. From the business side, people got their complaints and sh*t like that, but it was never like me and him going, 'F*ck you, f*ck you.' But you know, he said sh*t that p*ssed me off. I said sh*t that p*ssed him off and I got fined all kinds of times for it," Diaz continued. "But on the most part, if we hung out… We hung out a bunch of times. He took me gambling. He takes a bunch of guys gambling, drops a bunch of money. He's always pretty cool and we're just chillin'. So we actually got a good relationship."