Jake Paul claims Nate Diaz's team is lawyering up following press-event brawl: 'Boo-hoo, you f*cking b*tch'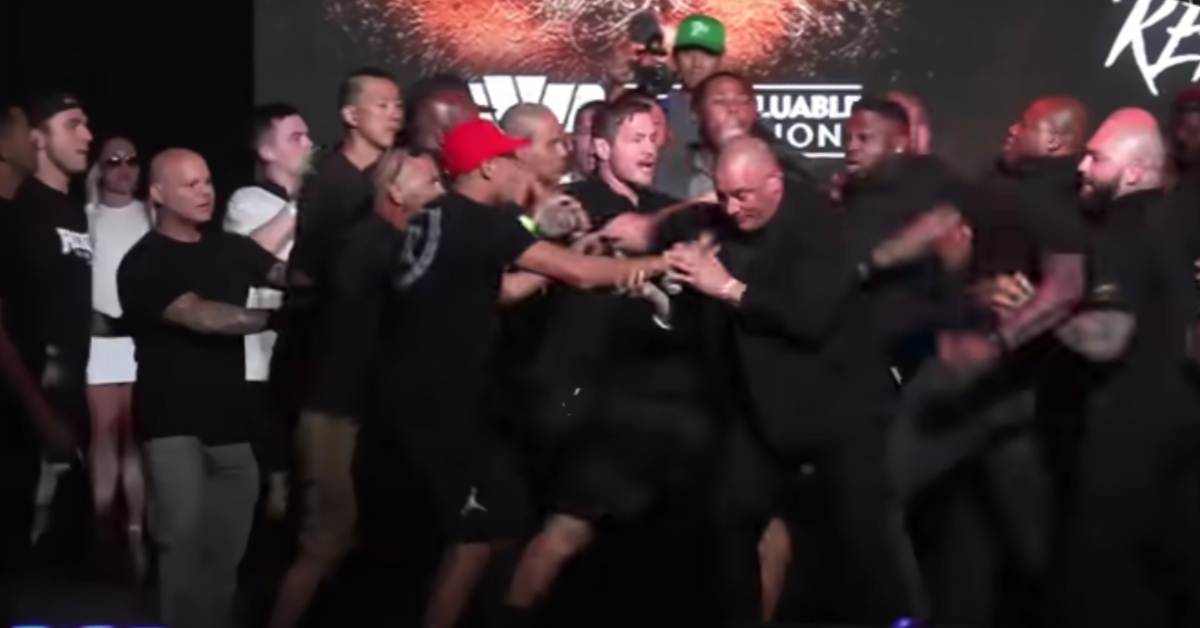 After months of little to no buildup for their clash inside the squared circle on Saturday night, Jake Paul and Nate Diaz's teams finally gave fans something to chew on.
Two days before 'The Problem Child' makes his return to the ring for a showdown with ex-UFC standout Nate Diaz, the two fighters went face-to-face during a pre-fight press event, and while things got a little chippy between the two fighters, they maintained their manners for the most part.
However, the same could not be said for their teams.
Nate Diaz's Team Instigated Brawl According to Jake Paul
As the fighters separated and began leaving the stage, Jake Paul's security got into a scuffle with Nate Diaz's entourage, leading to a knockdown, drag-out brawl that could ultimately lead to some legal ramifications. Taking to social media after the incident, 'The Problem Child' revealed that one of Diaz's teammates had to get stitches following the incident and is now looking to lawyer up despite allegedly throwing the first punch.
"Nate's team started throwing punches at my security guards," Paul said in an Instagram story. "My security guards dropped his team and it's just a little warm-up for what's gonna happen Saturday night, b*tch.
"You guys are not going to believe this," he added. "I swear on everything. Nate's team, the guy who swung first who got pieced up after he swung first, is now getting lawyers involved, emailing my team to claim assault. The big bad Stockton gangsters who swung first are trying to get lawyers involved to claim assault. He apparently has to get stitches and go to the hospital. Boo-hoo, you f*cking b*tch. You swung first. This is embarrassing."
It's certainly not the first time Nate Diaz and his team have been involved in such incidents. In April, the Stockton Samurai was seen choking a man unconscious during a brawl on Bourbon Street. Though it should be noted that Diaz was not identified as an instigator in Thursday's impromptu rumble.