When it comes to establishing who MMA's all-time hardest hitters are, nobody is better placed to make the call than the fighters who have had the misfortune to experience that punching power firsthand.
With that in mind, in this article, we'll be going beyond just the facts and figures about who hits the hardest by taking on board the opinions of some of mixed martial arts biggest stars as they reveal from personal experience who has the heaviest hands in the sport.
Check out the 10 hardest-hitting fighters in MMA according to the fighters themselves.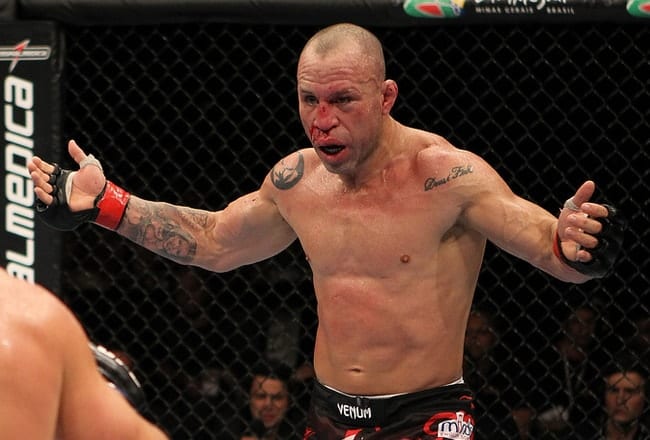 Wanderlei Silva
In his heyday, Wanderlei Silva was arguably the most intimidating fighter in the sport, known for his berserker style of brawling that saw him demolish 27 opponents with strikes as he beat opponents from middleweight all the way through to heavyweight.
Hall of Famer Tito Ortiz has said that the hardest punch he ever felt was delivered by Silva, who, "threw an overhand right and caught me right on the chin," during their fight at UFC 25. "It literally felt like the earth had been turned upside down."
Another ex-UFC light-heavyweight champion Forrest Griffin also gives the nod to Silva after having a traumatic experience going up against him in training.
"Who hit me the hardest consistently was definitely Wanderlei," Griffin said during a fan Q&A. "Sparring with him is a horrible idea – it takes years off your life. Don't do it!"
Former heavyweight champion Fabricio Werdum can vouch for that, as he's gone on record that the first time he sparred Silva he was flash-KO'd twice by him in quick succession despite being in top control at the time.
The granite-chinned Dan Henderson has also claimed that Silva was his toughest-ever opponent, having suffered the first loss of his career to him at PRIDE 12, while he went on to tell MMAJunkie that, "hardest hitter might go to Wanderlei also."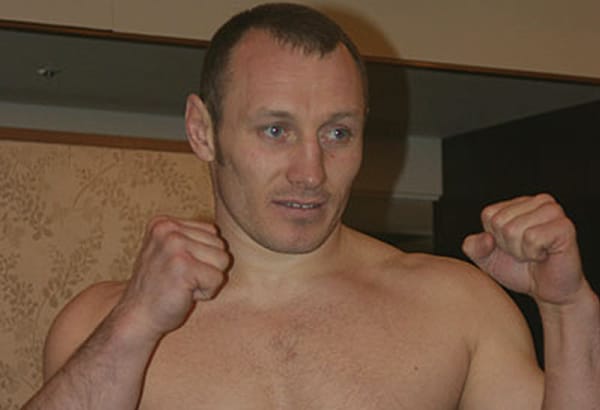 Igor Vovchanchyn
When it comes to raw power, few heavyweight fighters can hold a candle to MMA pioneer Igor Vovchanchyn, who could put anybody to sleep regardless of their size with a staggering 41 wins via T/KO in MMA and a further 48 in kickboxing despite being only 5′ 7" tall and having a 68" reach.
One of his most famous victories was a horrifying beatdown of Japanese icon Enson Inoue, who has likened being hit by Vovchanchyn to being struck by a train, and when considering the life-threatening injuries he emerged from his fight with the Ukranian in PRIDE, it's not hard to see why he calls him the hardest hitter he ever encountered.
"I sustained a broken jaw, a fractured finger, perforated eardrum, swollen brain, a liver count 2000x the normal person and spent 2 days in intensive care," Inoue said.
UFC and PRIDE veteran Gary Goodridge has been stopped by some of the biggest names in the sport during his turbulent career, including another Russian legend in Fedor Emelianenko, but having had the misfortune to have faced Vovchanchyn twice he once claimed that, "Igor hits harder [than Fedor]. That guy is insane."
Francis Ngannou
Ngannou has punched his way to primetime status in the UFC's heavyweight division over the past couple of years, leaving a trail of bodies in his wake.
Even before he had fully made a name for himself in the division, another devastating striker, Anthony 'Rumble' Johnson was already praising him for being the heaviest hitter he had ever come across.
"It might not be the best technique, but it's so much power and so much speed behind it," a wide-eyed Johnson told the media back in 2016.
A year later, a Sports Science study declared that Ngannou had registered the hardest punch ever recorded on their high-tech equipment, but Alistair Overeem branded the story, "fake news."
However, Ngannou forced 'The Reem' to eat his words as he practically sent his head into orbit with one of the most brutal uppercut knockouts in UFC history at UFC 218 last year.
Another rising force in the division, Curtis Blaydes, has also come up against Ngannou's heavy hands in the Octagon and came away with no doubt that no one strikes harder than 'The Predator.'
"He is the heaviest hitter I've ever faced," Blaydes confirmed. "He hits harder than Mark Hunt. No disrespect to Mark Hunt, they both hit hard, we are splitting hairs here, but Ngannou hits harder."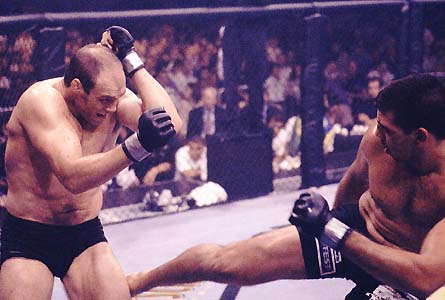 Pedro Rizzo
Back in the day, one of the most dangerous strikers in the sport was heavyweight fighter Pedro Rizzo, whose hands were responsible for KO'ing stars like Josh Barnett, Andrei Arlovski and 'Tank' Abbott, while he also racked up a staggering 30 knockouts in 31 professional kickboxing bouts.
What really set Rizzo apart, however, was the fact that many people believed he had the hardest low kicks in the business as the legendary Dan Severn can testify, having been forced to submit to him in the first round at UFC 27 after being blasted by the Brazilian's tree-trunk legs.
Another UFC Hall of Famer, Randy Couture, has claimed that his fight with Rizzo was "the toughest of my career," due to bone-crunching leg kicks that resulted in him being unable to walk properly for six weeks and left a permanent divot in his leg.
Bas Rutten also namechecks Rizzo as being one of the heaviest punches he ever encountered, while UFC color commentator Joe Rogan has claimed the hardest kicks he ever witnessed in person were delivered by the Brazilian.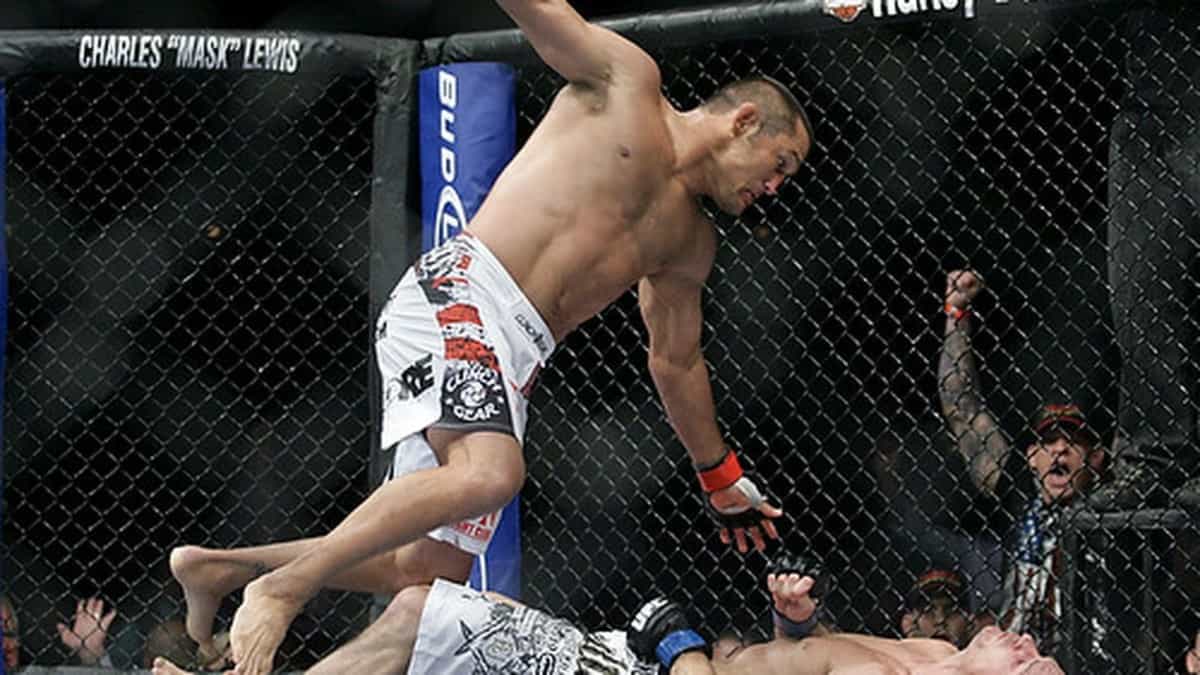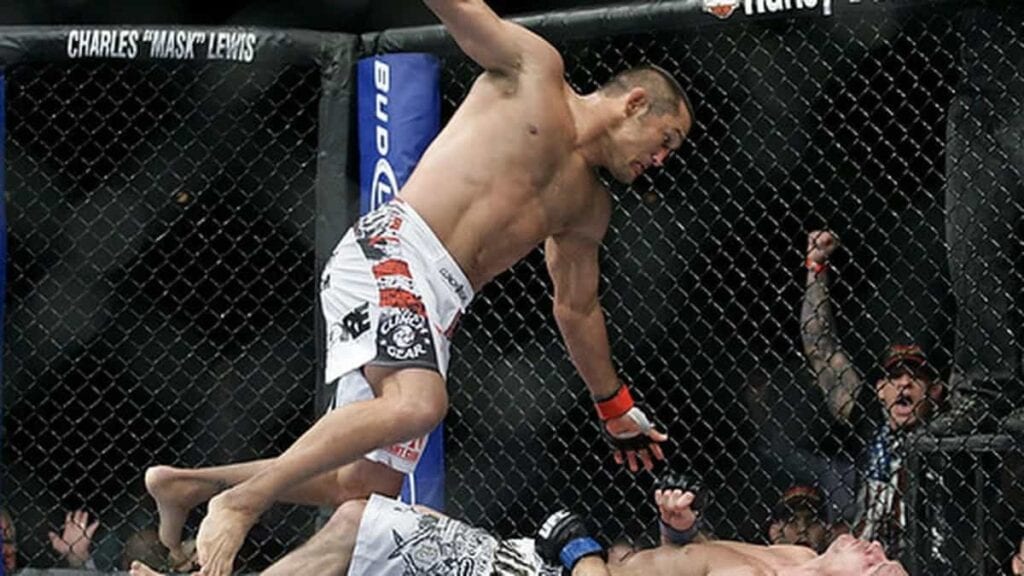 Dan Henderson
Dan Henderson's right hand is so lethal it has its own nickname – "The H-Bomb" – and it's been responsible for obliterating many stars over the years.
The likes of Fedor Emelianenko, Wanderlei Silva, Mauricio 'Shogun' Rua, and Hector Lombard have all fallen to it, but of course the one that's most talked about is scary demolition of Michael Bisping at UFC 100 which left 'The Count' reluctantly admitting he's never been hit harder, though even nine years later he confesses he still can't actually remember much of what happened that night.
Jake Shields also said 'Hendo' was the hardest-hitting opponent he ever faced, while Daniel Cormier came away from his fight against the veteran declaring he is one of the most powerful punchers of all-time.
"Dan Henderson, even when you're close and he hits you from very very close, you can feel how heavy his hands are," Cormier recalled.
Retired UFC fighter-turned-analyst Kenny Florian once ranked Henderson at No.1 in his list of the hardest hitters of all-time, while Randy Couture has confessed that the first time he was ever knocked out came at the hands of 'Hendo' during a sparring session.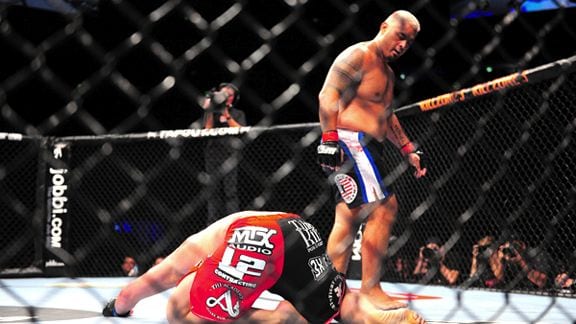 Mark Hunt
Fan favorite Mark Hunt has wrecking balls for fists, and throughout his career fans have become accustomed to watching him deliver his trademark 'walk-off KOs,' casually strolling off after one-punch finishes like it was no big deal.
Few fighters are better placed to answer the question of who the sports heaviest hitter than Frank Mir, given that he has more fights in the Octagon than anyone else.
"I've now been hit by Roy Nelson, Junior Dos Santos, you name it," Mir told FOX Sports. "I've been hit by some of the most powerful guys in the division and I was never really able to answer that question when someone asked me, 'Who hits the hardest?' And now, I'll tell people, I've never been hit like I was hit by Mark Hunt."
Hunt's sparring partners agree, such as UFC heavyweight fighter Tai Tuivasa.
"He's the hardest person I've ever been hit by," Tuivasa told the media down under. "It's like running into a wall or let someone hit you over the head with a bat."
Joe Rogan is also an admirer of Hunt's ability to switch people's lights out, nicknaming him, 'Captain Concussion' on his JRE podcast while claiming that, "he hits like a f***ing asteroidal impact."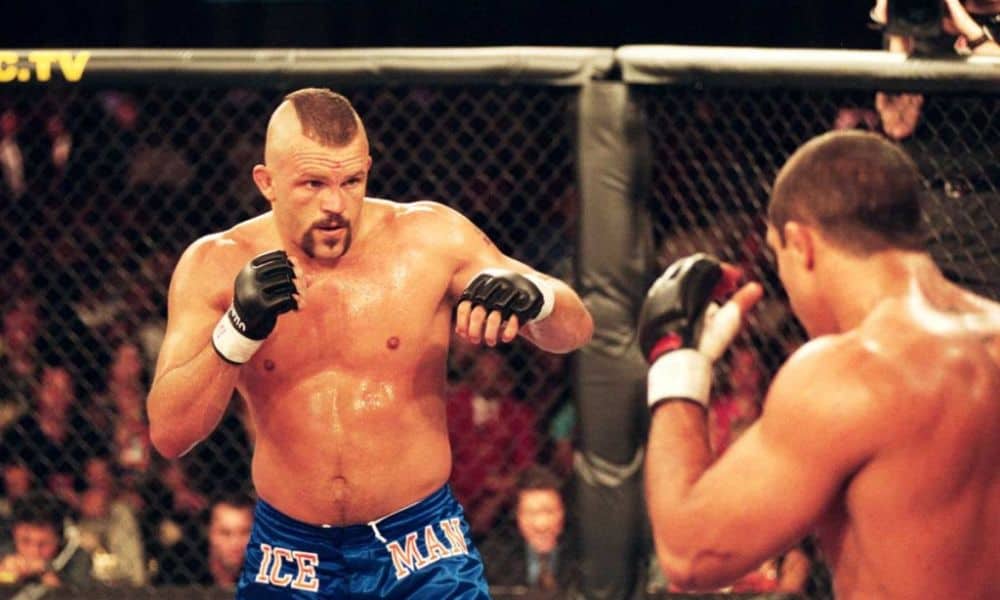 Chuck Liddell
UFC Hall of Famer Chuck Liddell's awe-inspiring ability to knock people out helped make him one of the biggest stars the sport has ever seen.
Liddell's heavy hands were epitomized by a seven-fight winning streak peak of his career in which he reeled off devastating highlight reel finishes against Randy Couture (twice), Tito Ortiz (twice), Renato 'Babalu' Sobral, Jeremy Horn, and Vernon White.
"In terms of who hit the hardest, it had to be Chuck Liddell," Couture once told Coachmag. "I've been knocked on my can a few times in my career, but he was the only guy to knock me completely unconscious, to the point where you're fighting one second and the next you're looking up going, "Who the fuck are you guys?"
Quinton 'Rampage' Jackson fought Liddell twice and once claimed that "Chuck hit me with the hardest body shot ever in PRIDE."
Former middleweight champion Rich Franklin has also named Liddell as the hardest hitter he went up against.
"Chuck had very, very heavy hands," Franklin recalled. "…I mean he kicked me and broke my arm – so every time he hit me, it just felt like he was like swinging a sledgehammer."
Another fan favorite, Bas Rutten also confirms Liddell's famous punching power is everything it's been hyped up to be.
"Chuck is somebody who I held the focus mitts for one time only, and man, I am not lying, he's the hardest hitter I felt, and I felt MANY hard hitters," Rutten wrote on Facebook.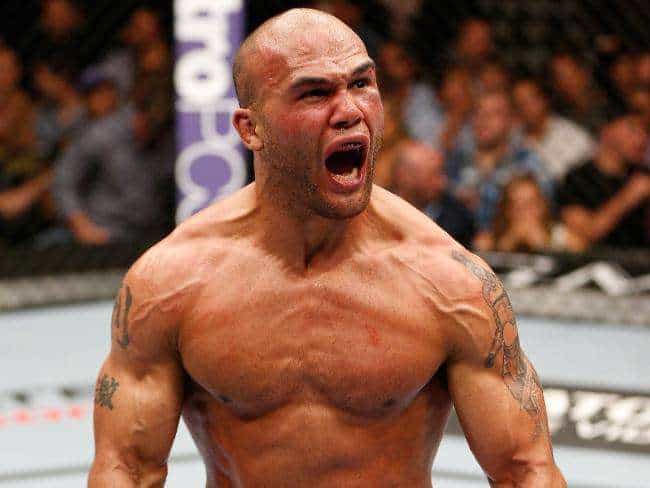 Robbie Lawler
Robbie Lawler's punches are as every bit as "Ruthless" as his nickname suggests, to the extent that even someone as fearless as Nick Diaz has no desire to fight him again.
"The last thing I want to do, win or lose, is get hit by more Robbie Lawler punches," Diaz once declared. "That's not good for your head!"
With 20 T/KO wins under his belt, Lawler has made a career out of rearranging people's faces, including Rory MacDonald, who stated 'Ruthless' has the hardest punch he's ever experienced after having his nose shattered by him during a TKO loss.
The star's longtime coach and former UFC champion Pat Miletich says Lawler is the hardest hitter he's ever worked with and claims he KO'd so many sparring partners that he'd only put him in against light heavyweight and heavyweights.
Meanwhile, Tim Kennedy even named Lawler in his retirement speech.
"To Robbie Lawler: you hit me harder than anyone ever has. Seriously, that really hurt."
And even though he knocked him out in the first round, heavy-handed current welterweight champion Tyron Woodley still believes that Lawler hits harder than he does.
"If you say, 'Nobody move, just stand still, don't use your body. just throw your arm and punch this thing as hard as you can,' then Robbie's probably gonna be the motherfucker that hits the hardest," Woodley told bloodyelbow.com.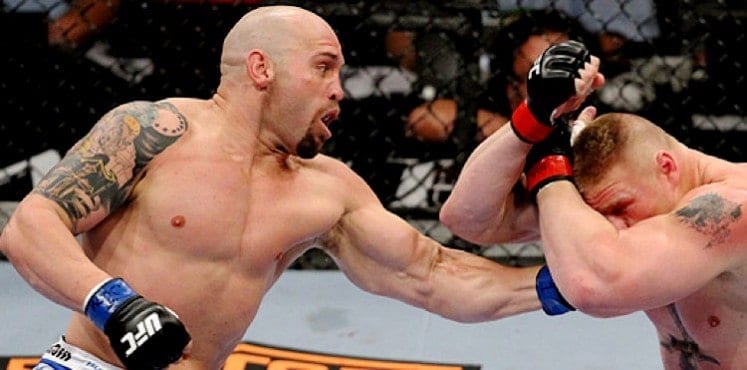 Shane Carwin
One of the biggest, most imposing physical specimens ever to step into the Octagon, Shane Carwin literally has the heaviest hands in the sport, with his paws being so abnormally big he had to wear 5XL gloves.
Junior dos Santos is one of the few fighters who went up against Carwin in the Octagon and lived to tell the tale without being rendered unconscious, but he came away full of admiration for the damage he can dish out.
"I think [he has] the heaviest punches I have ever felt," JDS claimed after their fight.
That power also made him an unenviable training partner, with MMA veteran Jeremiah Constant once recalling that Carwin cracked a bone in his face with the first jab he ever threw at him, while coach Trevor Witman says he was the only fighter to have destroyed his boxing mitts.
Todd Duffee is an enormous, hard-hitting heavyweight in his own right, but having also trained with Carwin he says, "Shane has by far the most natural power. I think it's simply the size of his hands."
The fighter who had the unenviable task of being Carwin's main sparring partner for several years was Brendan Schaub, who credits him for his good footwork since he was always attempting to get out of the way of the bone-crushing punches in the gym.
"Shane's by far the hardest hitter in the world," he concluded.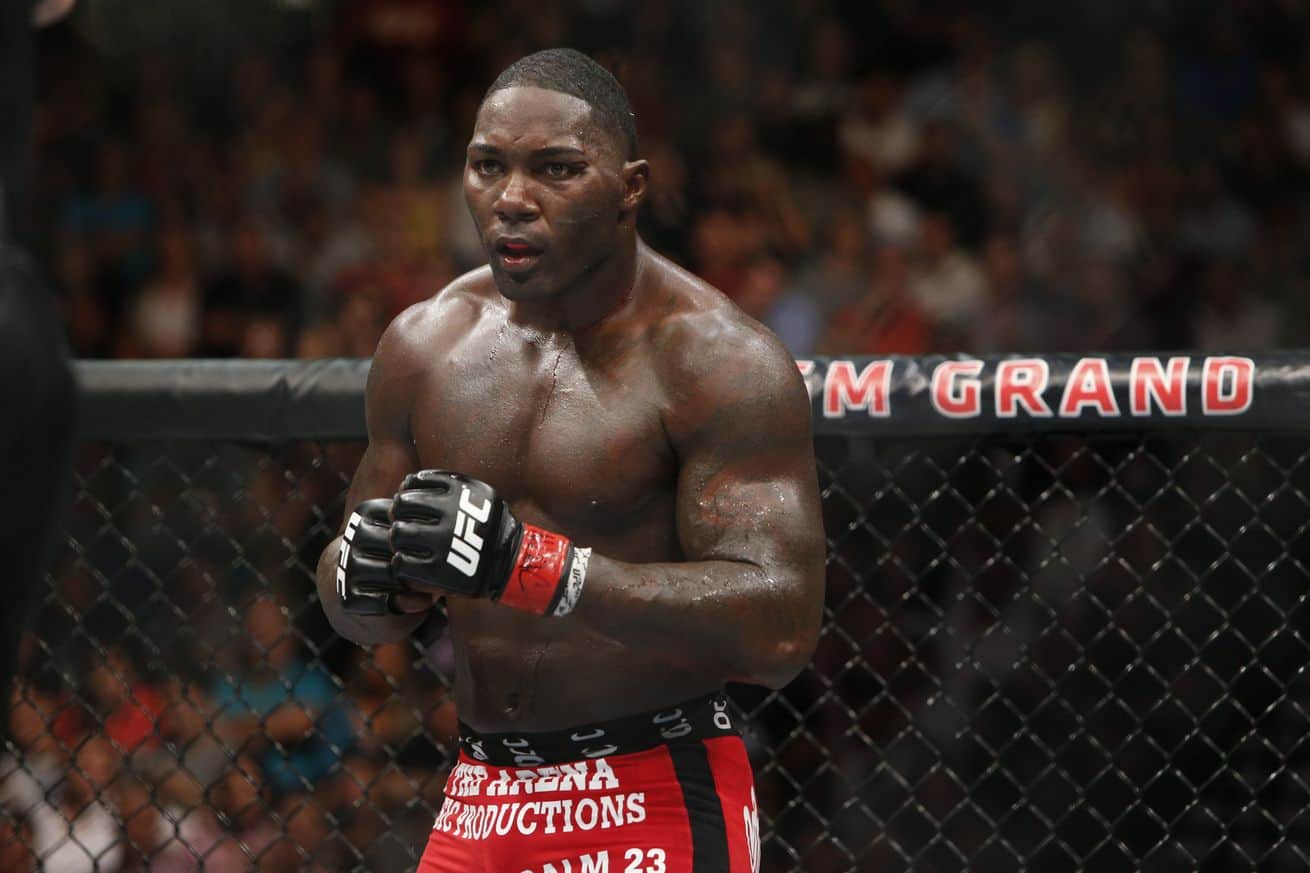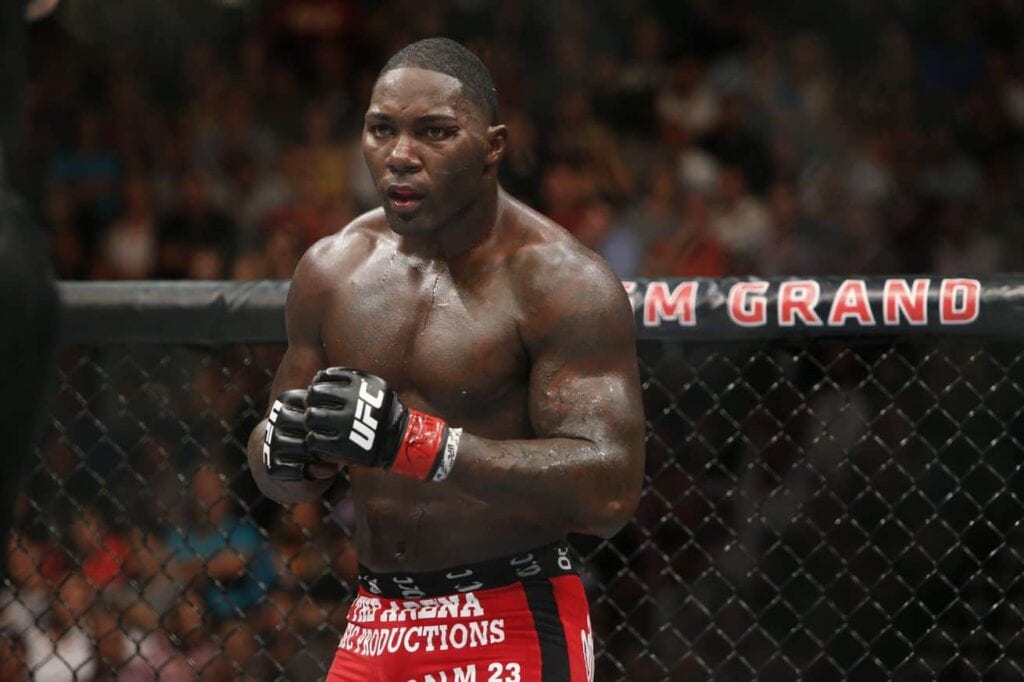 Anthony Johnson
You only need to glance at Anthony 'Rumble' Johnson's resume to realize that he's one of the greatest knockout artists the sport has ever seen, with 10 out of his 12 UFC victories coming by way of strikes, stopping stars like Alexander Gustafsson, Antonio Rogerio Nogueira, Ryan Bader, Jimi Manuwa, and Glover Teixeira along the way.
What makes his record even more impressive is that he was initially knocking out opponents at 170 pounds, yet he somehow managed to maintain his punching power all the way up at 205 pounds and beyond.
One of Johnson's frequent sparring partners, former light heavyweight champ Rashad Evans knows only too well how hard he hits, and he said without hesitation that, "He's the hardest puncher I've ever experienced, for sure. No doubt about it,", while adding that, "I've watched him knock out countless people in the gym."
Somebody who has survived the best Johnson has to offer is current light-heavyweight champion Daniel Cormier, but even he recognizes that A.J. wields a different kind of power.
"Anthony Johnson hits harder than any other person, no doubt," DC told the Opie & Jim Norton Show. "Every time he hit me, it made me kind of like fly all over the place. He was trying to take my head off. Even when he'd miss, you can hear it."