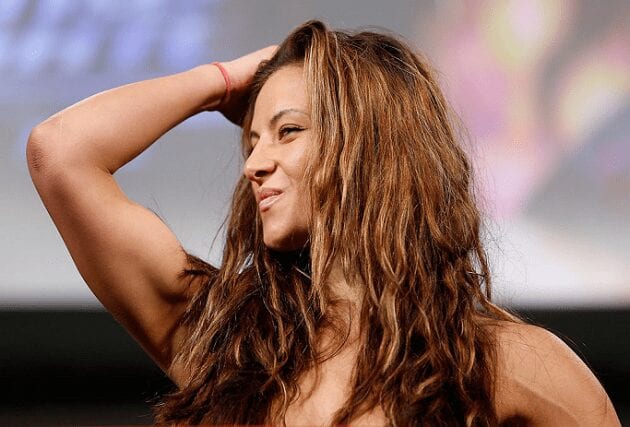 This week, the MMA world was beset by a surprising drama between UFC vet Donald Cerrone and his longtime gym JacksonWink MMA. Now it's time Miesha Tate goes off on the bitter feud.
The drama fixated on a disagreement centered on the direction of the gym. Cerrone said he wanted the Albuquerque, NM-based MMA mecca to remain true to helping top fighters. He thinks the team's decreased win percentage is a testament to how they've fallen.
But JacksonWink co-owner Mike Winkeljohn soon responded. His stance focused on his idea that 'Cowboy' is only about himself and could not be more narcissistic. It's created a heated debate in MMA circles due to the personal nature of the conflict.
A Top Name Supports Cerrone
Some have sided with 'Cowboy,' others with one of the sport's top gyms. A prominent name who sided with the former is former UFC women's bantamweight champion Miesha Tate. Tate opened up on the situation on Sirius XM Fight Nation's MMA Tonight (via MMA Fighting), noting that JacksonWink has been in this precarious spot before:
"This is reminiscent," Tate said. "I feel like we've heard this story about this camp before when it was Rashad Evans and him feeling like he was pushed out of the spot with Jon Jones coming in.

"What I think is not cool, if it had been someone that had been training there like Carlos Condit or someone like that who had been training there a long time and they were gonna fight each other and both had that mutual respect, and mutual foundation at that gym, that's different. But when the new guy is coming in and he's like, 'I wanna fight Cowboy' and he comes to Cowboy's gym, I think that the right thing to do by the gym – I think there's some loyalty that should be towards Cowboy. He's been there a really, really long time."
Loyalty In Question
Much of the beef between Cerrone and JacksonWink centers around 'Cowboy's' upcoming UFC Denver opponent Mike Perry. "Platinum" was fixated on fighting Cerrone as he began training at JacksonWink. Cerrone wasn't happy about that.
Tate believes the gym should have been more loyal to their longtime flagship member. She suggested they should not have accepted Perry into their fold right before he fought Cerrone:
"'This is probably not the camp for you to come in, Mike, because you're fighting our boy. Cowboy has been with us forever. We'd love for you to come in for the next camp but Cowboy's our dude,'" Tate said. "That's how I think. Even though I know Cowboy doesn't drive there every single day, he doesn't train at the gym – there are some other reasons I think behind that, I think – that's just me. That's how I hope my gym would operate if I was under those circumstances."
The drama has boiled over into many different perspectives. Longtime JacksonWink MMA fighter Diego Sanchez supported the gym. Perry promised he would send Cerrone to a 'beautiful death' when they fought.
The discord is quickly becoming personal as it takes over MMA headlines for this week. Where do you stand with this heated faceoff?