Max Holloway has finally achieved his life-long dream of capturing UFC gold, as the 25-year-old Hawaiian defeated former lightweight champ Anthony 'Showtime' Pettis in the main event of UFC 206 this past Saturday (December 10, 2016), to become the interim 145-pound champion and extend his win streak to 10 fights.
The win most likely sets up Holloway with a unification bout with featherweight champion Jose Aldo who was recently promoted undisputed champion, after defeating Frankie Edgar for the interim title at UFC 200 this past July, after Conor McGregor was stripped of his 145-pound strap.
Holloway recently joined MMA Fighting's Ariel Helwani on The MMA Hour today (Monday, December 12, 2016) to discuss his win over Pettis, and broke down his third-round finish over 'Showtime' stating that it all started with a spinning back kick:
"It all started with the spinning back kick — nobody chose the spinning back kick in all the highlights," Holloway said. "That's where I started. I landed it and he stepped into me, he stepped into the spinning back kick, and I was like holy sh*t how the hell did he not fall down from that? And then I round house'd him and I saw him moving away, then when I round house'd him the second time I said 'Oh he's definitely hurt.'

"He put his head down so I thought he was gonna shoot, if you see before I start the flurry I go for a guillotine. Then I think 'Oh wait he's not even shooting he's just covering up.' So I told myself 'It's go time, it's now or never Max. Get this guy out of here, he opened the door so it's time to kick him out through it. We got the job done and it is what it is man. I'm blessed."
Immediately after the bout with Pettis, it seemed as though people began booking 'Blessed's' next Octagon appearance before he even walked out of the Air Canada Centre cage, as UFC 208 from Brooklyn began getting tossed around as a possible landing spot for an Aldo vs. Holloway title bout.
Before Holloway steps back into the Octagon, however, he would like to first sit down with UFC President Dana White and the new owners from WME-IMG prior to making anymore decisions:
"Man I don't know, like I said to everyone man — I didn't care, I was on cloud nine," he said. "I wanted to fight but at the end of the day I didn't meet the new owners yet. I want to have brunch with Dana and the new owners, Sean Shelby, I think so — A wise man once told me 'This is big game hunting' and I think I just brang in a lion on Saturday night.

"It's time to cash in man, we'll see what happens. I want to go talk to them first and talk business. This is business and this is fighting so, we got something up our sleeves so we'll see what happens."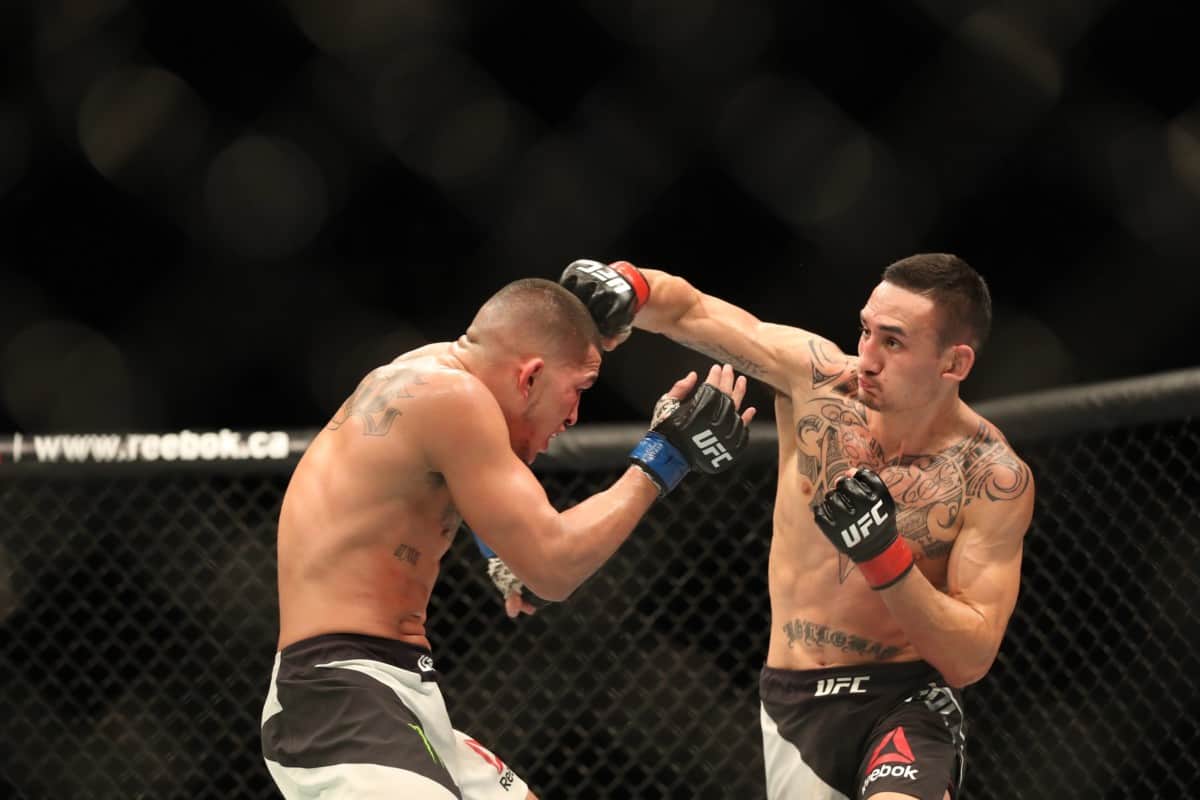 Aldo himself has already stated that the bout is set for February 11 of next year, but Holloway says that's news to him as he has yet to be told of an official fight date and is reluctant to commit to the date as he fears 'Scarface' will pull out:
"I don't know, we got Jose Waldo over here saying February 11th, he wants to retire, he wants to be a soccer player, now he's a fu*cking match-maker. Like I said before, UFC needs to send his ass to the Cleveland Clinic and check his brain out. They've been sending me out a bunch of times and it seems my brain is fine, I've got no problem talking with you guys and doing all this sh*t.

"So yeah we'll see what happens but I've said it before that I don't want to give up my Christmas, I don't want to give up my son's birthday on January 4th for February 11th and the guy don't show up. The hashtag #wheresjosewaldo has been working because he's popping up here and there, but we gotta keep turning the page and keep finding him. We'll see what happens."
Holloway has racked up a legendary win streak inside the Octagon at 145 pounds, and has the potential to go down as one of the greats in the sport of mixed martial arts (MMA) while astonishingly enough only sitting at the age of 25. If Holloway is able to get past Aldo in their potential fight at UFC 208, the sky will be the limit for the talented young Hawaiian.

But as usual, there are some roadblocks to this featherweight barnburner being made.