Luke Rockhold Wants Light Heavyweight Title Shot After Beating Weidman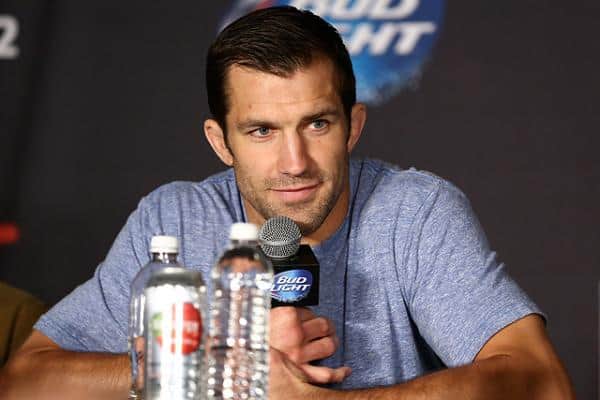 UFC middleweight contender Luke Rockhold has been steadily rising through the middleweight rankings recently, racking up four straight wins, all with devastating finishes. Submission wins over Lyoto Machida, Tim Boetsch and Michael Bisping, coupled with a body kick TKO over Costa Phillipou have showcased 'Rocky' as a likely next contender to Chris Weidman's middleweight belt. 'The All-American' just erased Vitor Belfort at UFC 187, so it's really between the AKA (American Kickboxing Academy) star and Jacare Souza.
With UFC president Dana White warming to the idea, Rockhold is likely on his way to a Las Vegas title fight, but 185 pounds isn't the only weight on 'Rocky's' radar. Check out what he told Kenny Florian and Jon Anik, via MMAMania.com:
"If I'm going to 205, it's going to be nothing except to challenge for the title. I'm not going up for any fights in between. I would definitely be… I mean I have a lot of work to do here at 185. But as long as I have the belt there and the belt's on the line at 205, I'd be happy to move up and take that shot."
Current light-heavyweight champion and AKA training partner Daniel Cormier may have to be retired by the time Rockhold makes that transition, if he does, as 'DC' himself moved from heavyweight to avoid fighting Cain Velasquez. Of course his title shot against 'The All-American' isn't a sure bet yet, as he explains:
"Things are looking hopeful but I can't read their minds. But I know they believe in me, I know that I'm gonna get my shot. I think it's just a matter of when and where."
"Weidman's a tough individual. He's strong-minded, he's well-rounded. I just think I'm better than him in so many ways. He's got some decent wrestling, some good offensive wrestling but it's going to be a non-issue when it comes to fighting me. He's not going to be able to take me down, he's not going to be able to take advantage on the ground. I'm better than him on the ground, I'm better than him on the feet, I have more weapons."
Better on the ground than Chris Weidman? A bold statement by the former Strikeforce middleweight boss, but he has been known to back his talk up many times in the past, except maybe against Vitor Belfort. It's clear that Rockhold has grown since then, but will he be able to bring it all together against a beast like Weidman?
The Serra-Longo trained champion is looking stronger every fight, and has proved many times now that he can survive adversity inside the UFC octagon. As long as Luke Rockhold keeps talking, this fight will likely get made soon. The question is, will 'Rocky' regret his comments when the octagon door slams shut?