Jorge Masvidal doubles down on challenge to Ben Askren: 'You can't do anything but try to sniff my crotch'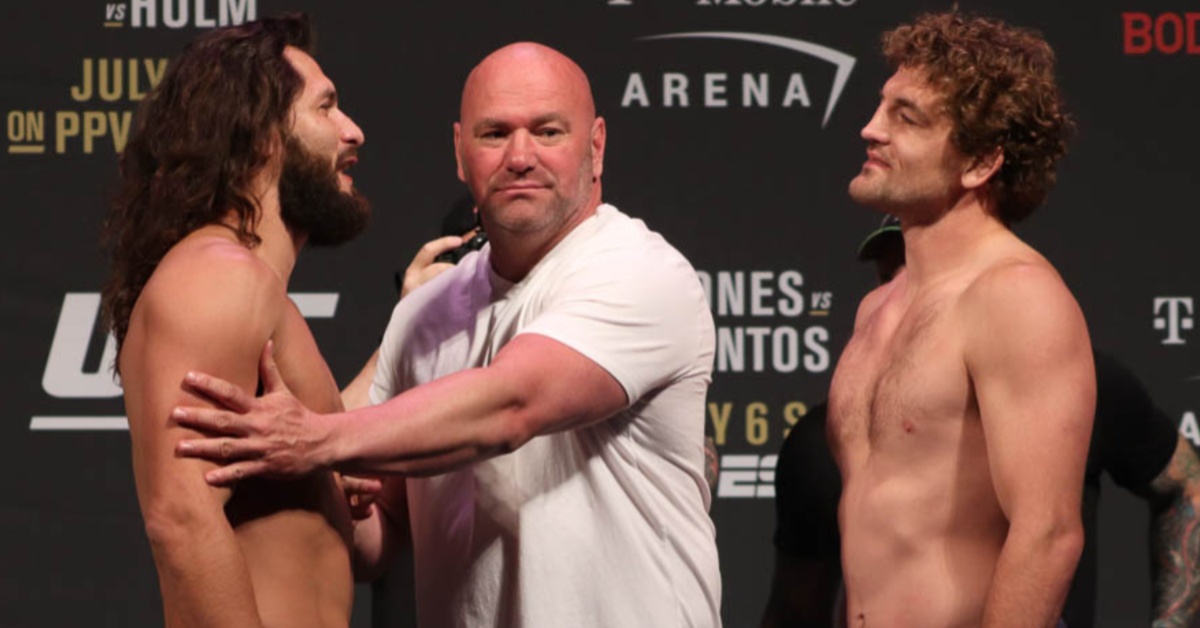 Jorge Masvidal doubled down on his boxing challenge to former UFC opponent Ben Askren.
'Gamebred' and Askren have been in the headlines recently after Jorge Masvidal seemingly called out 'Funky' to run back their UFC 239 clash inside the squared circle. However, while speaking with TNT Sports, the former BMF titleholder suggested that his boxing match challenge was in response to Askren who took the first shot in their renewed rivalry.
"He called me out first. I didn't say I wanted to box him. He called me out," Masvidal said while backstage at UFC 291 on Saturday night. "He said I would come out of retirement and fight this… Whatever. Nerd jokes he used and I was like, bro, why are we going to do MMA? We know the outcome already. You can't do anything but try to sniff my crotch and I have a decent knee so I'm gonna be able to stop you every time you do that.
"And then I can do the same opening three other different times because the rounds start the same every time. So I'm trying to help him out. If we box, you f*cking moron, there's no knees. They're illegal. You understand me? There's no knees allowed in boxing. So I was like, let's box, man. I'll do that because I'm retired from MMA."
Jorge Masvidal's victory over Ben Askren in 2019 is the most revisited highlight in UFC history. 'Gamebred' scored a five-second flying knee knockout in what would be a star-making moment for the Miami native. Four months later, Masvidal would go on to secure a TKO victory against Nate Diaz to capture the newly-introduced BMF title.
Jorge Masvidal Lost $100,000 Betting on Poirier vs. Gaethje at UFC 291
Unfortunately, Jorge Masvidal was never able to replicate those results again, dropping four straight fights, including back-to-back losses to then-welterweight champion Kamaru Usman. After falling short in bouts against Colby Covington and Gilbert Burns, 'Gamebred' walked away from the sport. Today, Masvidal focuses on promoting his own organization, Gamebred Fighting Championship, and the popular offshoot, Gamebred Boxing.
"Promoting all the time. Working out when I get a chance," Masvidal responded when asked how he has been spending his retirement.
Gamebred' also revealed that he had dropped a fat sack of cash on teammate Dustin Poirier at UFC 291. "I put $100,000 on DP, Dustin Poirier," he revealed. "Kids, I'm sorry. Got to go to public school now."
'The Diamond' came up short in his BMF title bid, suffering a vicious second-round head kick KO against fellow fan favorite Justin Gaethje.