Jon Jones is having nightmares about fighting Stipe Miocic at UFC 295: 'I still get really nervous'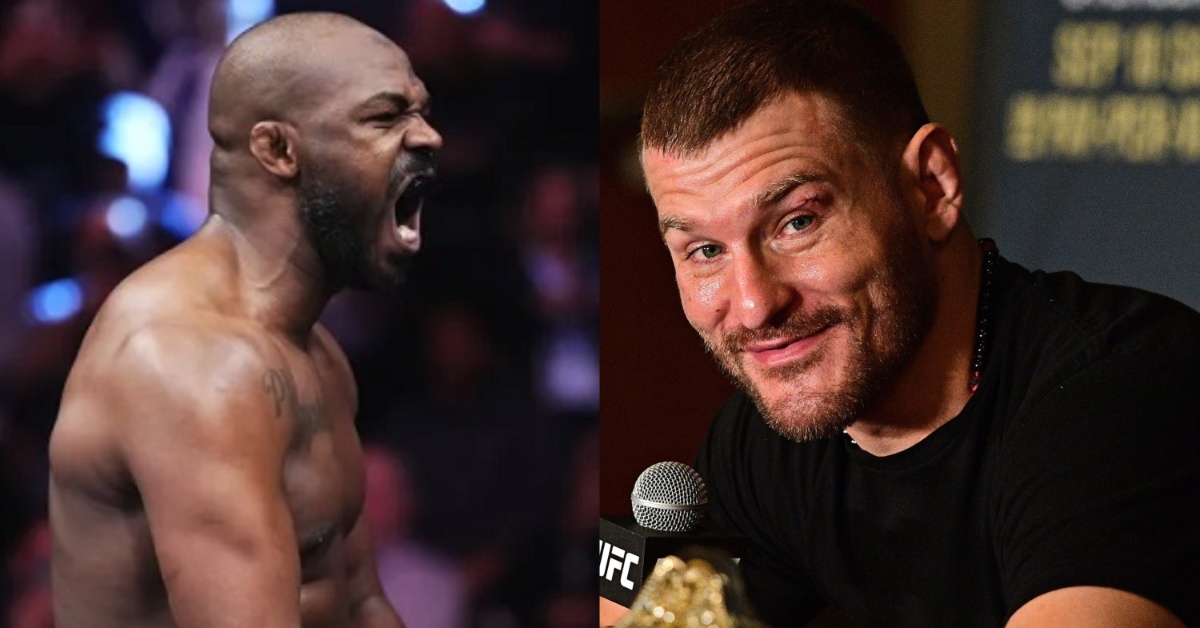 Jon Jones has Stipe Miocic on his mind.
In March, 'Bones' made his triumphant return to the Octagon, securing a slick first-round submission against Ciryl Gane to capture the UFC heavyweight title. Next' Jon Jones will attempt to solidify himself as the greatest fighter in the history of mixed martial arts as he puts his title on the line against the general consensus heavyweight GOAT, Stipe Miocic.
The pair will square off on November 11 when the promotion returns to the world's most famous arena, Madison Square Garden, for UFC 295. With a few months to go before their highly anticipated showdown, Jon Jones is already getting mentally prepared for his next fight, revealing in a recent interview that Miocic is already weighing heavily on his mind.
"I feel like when you get to a place when you don't feel anything is probably when it's time to hang it up and try something different," Jones said on the OverDogs podcast. "At this point, I still get really nervous, man. I have nightmares about my opponents. About every hour, Stipe Miocic will cross my mind. He will cross my mind. I could be having a drink, you name it, he crosses my mind. I could be at my kid's volleyball game and I thinking about Stipe. There's a lot of mental that goes into it that I don't think people realize. But the goal is to just conquer that" (h/t MMA Fighting).
Jon Jones Expects Stipe Miocic to Come into UFC 295 as Dangerous as Ever
Miocic, 41, will likely walk away from the sport no matter the outcome at UFC 295, but Jon Jones knows that the former two-time heavyweight champ will come into their clash at MSG ready to put a stamp on his already illustrious career, regardless of his of age or post-fight plans.
"Stipe has balls. He has courage," Jones said. "He's not the youngest fighter, but that is a man. That is a man. I'm not the youngest either. In sports years, I'm over the hill, that's for sure. Especially in combat sports. Stipe, he's an honorable dude, and I know that he's a man at the end of the day, and I know that he wants this fight. Everyone else thinks that his back's against the wall and this is a David and Goliath situation for him, I disagree.
"I think Stipe is a very capable athlete and I think I owe it to Stipe to give him that chance to fight the best fighter ever. And I think Stipe owes it to me to give me a chance to fight the greatest heavyweight ever. I think we owe it to each other. I feel like we both would feel like we have unfinished business if we walked away not competing against each other.
"I understand where Stipe is at, just being looked past by a lot of people, and I respect him even more for training his ass off. I know that in his camp, he expects to win, so I respect him."
Jon Jones Looks at the Future of the Heavyweight Division
Many fight fans automatically assume that Jon Jones will walk away from the sport following his showdown with Stipe Miocic at UFC 295. Honestly, nobody could blame 'Bones' for packing it in. After dominating the light heavyweight division for years, Jones made a successful transition to heavyweight. If he comes out on top against Stipe Miocic, it would be hard to argue against Jones being dubbed the greatest fighter in the history of the sport.
But Jon Jones is admittedly intrigued by some of the young talent coming up through the heavyweight division. Specifically, Tom Aspinall. The UK standout established himself as a bonafide contender following his first-round destruction of Marcin Tybura in July. But are fighters like Tom Aspinall and Sergei Pavlovich big enough names to be worth Jon Jones' time and effort given everything he's already accomplished?
The champ isn't so certain.
"As far as these younger fighters, I look at guys like Aspinall and I look at guys like Sergei [Pavlovich], dude, they're amazing," Jones said. "Don't get me wrong, these guys are amazing. They're starching people in the first round. But as I get older I have to look at it as a business and not just speak out of pride, I have to speak out of my legacy and as a business.
"If the hardcore fans know who these guys are, that's great, but at the end of the day, I need to fight people that the mainstream public is going to be excited about, because there's always going to be this new challenge that's younger than you and everyone is going to want to see if you can do it one more time. It is what it is."
Tom Aspinall certainly got the attention of Jon Jones after his impressive win over Tybura, but whether or not they ever share the Octagon remains to be seen.
"Tom Aspinall, I think he has the potential to do something really special in the heavyweight division," Jones said. "I think he's going to be hard for the majority of guys to beat, I really do believe that."