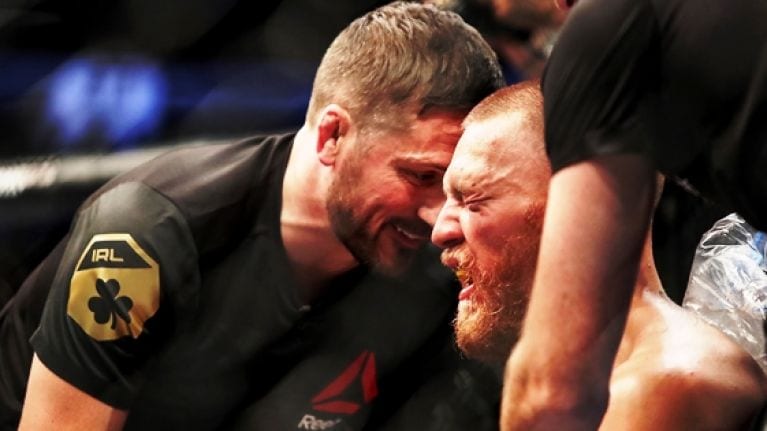 As UFC 229 fades into MMA infamy, Conor McGregor's coach John Kavanagh reveals their not-so-good game plan for fighting Khabib Nurmagomedov.
McGregor was submitted in the fourth round of his championship fight against Nurmagomedov on Saturday (Oct 6, 2018) night. By all accounts, McGregor and company thought they had the right game plan to defeat the unbeaten Dagestani. They were wrong.
Appearing on the latest episode of the Joe Rogan MMA podcast, coach Kavanagh revealed what he would do differently to prepare McGregor if given another shot.
"If there's one thing I could change it would be that I was too defensive in my mindset for this training camp, Kavanagh revealed.

"But, Khabib has very specific types of takedowns depending on where he is, whether it's shooting on the low single in the middle and on the fence."

"Long before Conor was due to fight him I loved watching him. That's kind of my area is the fence. I just love right from the Randy Couture days, how to use the fence and Khabib does it to a new level.""
Despite the loss, coach Kavanagh is a true professional. He harbors no ill will toward Khabib or his crew.
As a matter of fact, he lauded over one of the Dagestani's takedowns. Fully believing that his AKA teammate Daniel Cormier may have had something to do with it.
"One of the takedowns on Conor, he hadn't actually done it until the Iaquinta fight. It was nice that we got to see that high crotch, I see a bit of "DC" (Daniel Cormier) in that, the high crotch and then the trip on the far leg.

He did block it once, but he did catch him with it. So you know, there's very specific takedowns, definitely for this training camp was the most specific that we went."
Kavanagh also echoed what UFC President Dana White stated earlier today (Oct 8, 2018). That is, McGregor wants a rematch and he promises a different outcome.
"He's screaming and shouting for the rematch within minutes. I do think round three showed promise. I would've liked to have changed things up a little bit, specifically a more offensive mindset. Defensively I thought we did quite well."
Many fans noticed that McGregor did not look like his usual self during the main event. The SGB coach admits Conor lacked his usual spark but fully believes that's because they focused on defense.
"Offensively we weren't really were we usually are, and you know right when the fight was over I was thinking, I kind of went into this (trying) not to lose and not, to win.

"His shots weren't as crisp as they normally are. He had opportunity to hit him especially in the third round, but something was off."
Rogan finally asked Kavanagh if the two-year hiatus played a factor in the outcome. The coach conceded that ring rust did play a part. He added that they tried to duplicate the fight setting in the gym, but ultimately that's impossible.
"Absolutely, of course, of course.

"We tried to mimic as close as we could in the gym, I brought in guys that he didn't know and I would say this is fight day, He would do exactly what he would do on fight day to get that feel, but it's still the gym."