John Gotti III squashes beef with Floyd Mayweather following post-fight brawl, rematch in the works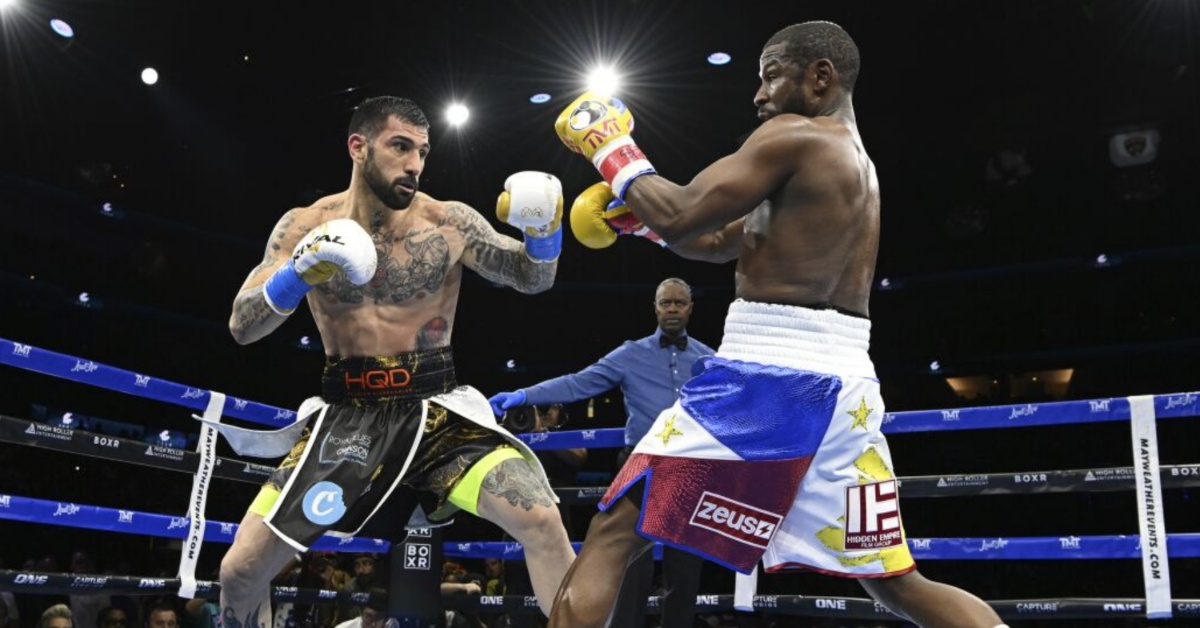 John Gotti III may not consider Floyd Mayweather his enemy for life anymore, but that doesn't mean he isn't chomping at the bit to run it back with the boxing icon after their first meeting ended in utter chaos.
On June 11, Mayweather continued his exhibition world tour, stepping back inside the squared circle for a clash with mixed martial artist John Gotti III, grandson of notorious New York mob boss John Gotti. In the sixth round of their contest, referee Kenny Bayless abruptly stopped the bout and disqualified Gotti for repeatedly clinching and ignoring orders to break when prompted. Upset, Gotti quickly moved around Bayless and resumed his attack on Mayweather. Seconds later, dozens of individuals from each team poured into the ring, causing an all-out brawl that eventually spilled into the backstage area.
John Gotti III took to social media shortly after, calling Mayweather his "enemy for life." More than two weeks removed from the chaotic scene, cooler heads have prevailed thanks in part to Gotti's father, who hashed things out with Mayweather shortly after the incident occurred.
"He wanted to talk, and I wanted no part of it," Gotti told Ariel Helwani on The MMA Hour. "I didn't want to talk to him. My father, however, went to his locker room, and they talked and hashed it out. Listen, there's no animosity toward Floyd. I said he was my enemy for life out of anger, but he's not my enemy.
"He did his job. His job is to entertain and box, and so is mine. I still have respect for Floyd. Even at 46, you see him in the ring. How great he is. At 46, his reflexes are phenomenal…his speed. Listen, it was a great experience to share the ring with Floyd. It's a memory I'll never forget for the rest of my life, that's for sure.
"It got diffused," Gotti continued. "We're good. We've been speaking. My father's been in touch with their team, and there's no bad blood here. It's business. We did what we had to do, and we squash it and move on" (h/t MMA Fighting).
John Gotti III Confirms a Rematch with Floyd Mayweather is Already in the Works
In fact, John Gotti III and Floyd Mayweather are on such good speaking terms that they are already plotting a rematch to capitalize on all the free publicity their first fight generated.
"We're in talks right now, actually, to do something," he said. "So we'll see where it goes. From what I understood, after the fight, it was the most Googled thing in the whole world. Floyd's a businessman. Floyd wants to capitalize on that. He wants to make money. So if they want to do it again, I'm here, and I promise you this time, I'm going to come out guns blazing as soon as that bell rings, and we're going to fight now."
Though they may have buried the hatchet, there is certainly no love lost between the two, and John Gotti III has every intention of bringing the fight to Floyd Mayweather when they inevitably meet again.
"Now I'm going into the next fight, and it's personal," he said. "Now we're going to fight, and I'm going to take it to him every second of the round. Going into the first fight, I did have that admiration for Floyd and that love and respect. It's different now. When you cross certain lines with the talking, now it becomes personal for me. Floyd didn't have to go there. Neither did I. … It became personal for both of us. Now, it's war between me and Floyd."