Video – Floyd Mayweather, John Gotti III fight erupts into ugly brawl between camps after controversial finish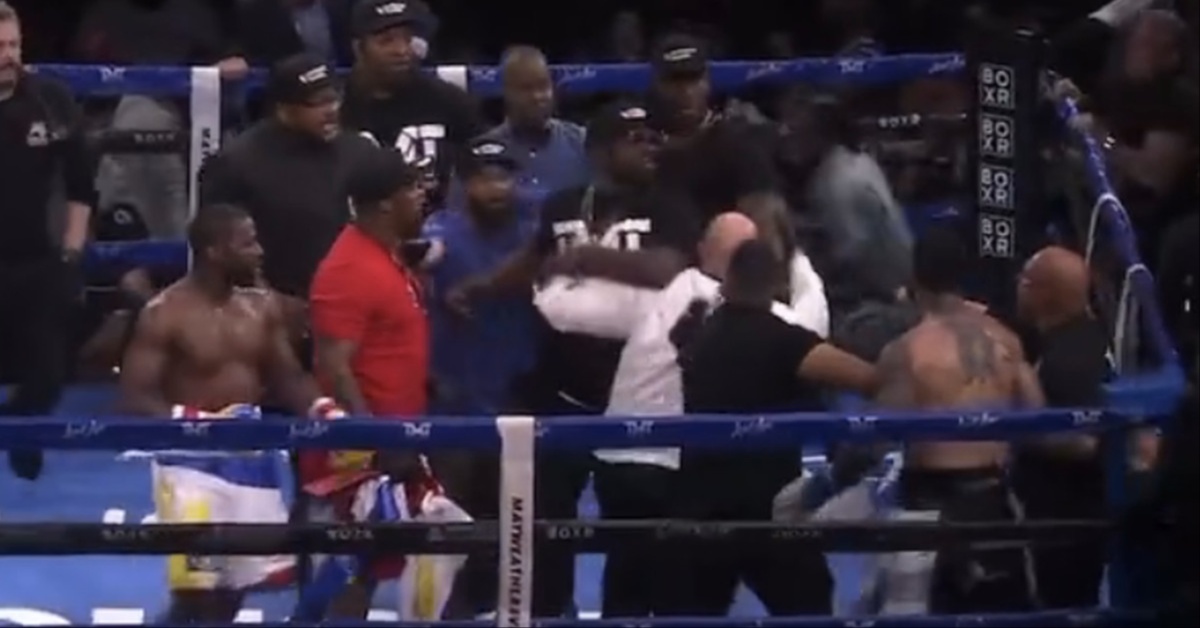 Former undisputed boxing world champion, Floyd Mayweather saw last night's exhibition boxing match return against mixed martial artist, John Gotti III – the grandson of the late ex-crime boxx, John Gotti – erupt into chaos in the ring, as both camps stormed the squared circle, with a full-scale brawl breaking out.
Mayweather, a former undisputed world champion across a host of weight classes in professional boxing, toyed with mixed martial arts fighter, Gotti across the four-round limit of their fight, landing at will and mocking the former on occasion. 
Ultimately, the bout was then called off by veteran referee, Kenny Bayliss, who accused Gotti of holding, leading to an angry response from the latter.
Floyd Mayweather continued to antagonize John Gotti III throughout the bout
Attempting to get by Bayliss in pursuit of Floyd Mayweather, who was still mocking him, Gotti forced the former world champion to the ropes as the bout was already over, with the duo trading punches as the ring began to fill up.
With members of both Mayweather's camp and entourage now entering the ring, Gotti was held in his opposition corner as both camps began to trade punches and a full-blown brawl ensued.
Furthermore, footage has emerged showing a slew of arguments and brawls between the camps and security outside the ring and in the actual lobby of the reception itself with the scheduled exhibition fight descending into chaos.
Mayweather was making his return to the squared circle for the first time since he featured in a non-scored bout with former reality television feature, Aaron Chalmers at The O2 Arena in London, England earlier this year.
In his most recent professional boxing match, Floyd Mayweather improved to 50-0 as a professional, lodging an infamous tenth round standing TKO win over former undisputed UFC featherweight and lightweight champion, Conor McGregor.