Jake Paul says Nate Diaz won't risk his reputation in MMA rematch: 'He knows it would be a really tough fight'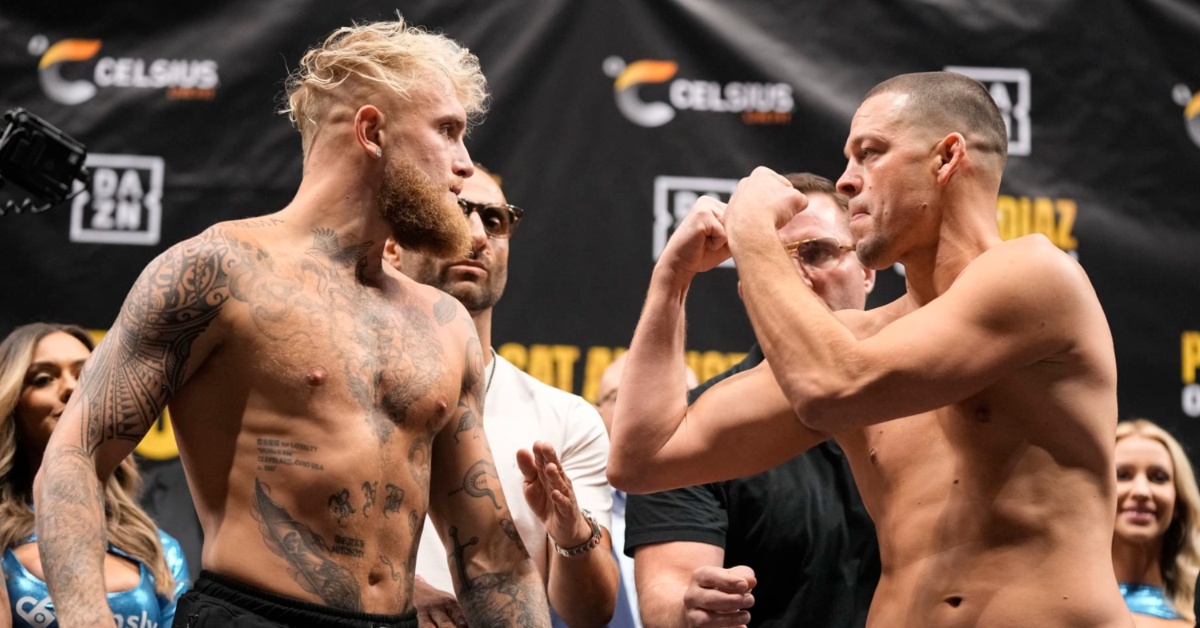 Jake Paul is accusing Nate Diaz of ducking an MMA rematch for fear of tarnishing his reputation.
This past August, 'The Problem Child' scored a unanimous decision victory over Diaz in a 10-round boxing match. Immediately following the fight, Paul laid down a $10 million offer to the 'Stockton Samurai' suggesting they run it back inside the PFL Smart Cage.
Diaz has seemingly declined the MMA offer, but the former UFC star's Real Fight Inc. shared an official-looking poster for a December 15 rematch with Paul inside the squared circle which Paul and his team quickly denied.
"I don't know, I think they're just begging," Paul told MMA Junkie. "Pretty desperate, I guess. Wanting to make money but not actually wanting to make things happen. We're ready, MMA, end of 2024, $10 million, which is more than he's ever made for an MMA fight – ever. He's sitting there asking for more money basically drunk tweeting random sh*t and random fight posters, making himself look like a fool.
"I just can't comprehend what they're trying to do or what they're saying, but this is the fight game. Everyone says they want to do things, everyone calls people out, everyone blah, blah, blah, but no one actually makes sh*t happen. And that's what I've looked to change in this sport and to just provide transparency to my audience about what's actually going on with these negotiations and not being afraid to fight anyone anywhere, anytime, any place."
Jake Paul Accuses Nate Diaz of Being Scared to fight him inside a cage
Jake Paul is more than ready to sign on the dotted line for an MMA debut against Nate Diaz, but, 'The Problem Child' is convinced that the TUF alumnus is afraid to put his legacy on the line against a newcomer to the sport.
"I'm going to start throwing knees and kicks and getting back to my Ohio Wrestling roots, shooting takedowns. I truly believe that he knows it would be a really tough fight for him, and I think that's the thing for him where he's like, 'Damn, do I risk my whole MMA reputation by giving this kid a chance here?'"
Paul's return to the boxing ring will be on December 15, but it won't be against Diaz. Instead, the social media star will face 10-1-1 fighter Andre August in an eight-round cruiserweight bout. The fight will emanate from the Caribe Royale Resort in Orlando and is expected to headline MVP's Most Valuable Prospects IV card.