Israel Adesanya coy after UFC 293 title fight loss to Sean Strickland: 'Win or lose, I wasn't going to say much'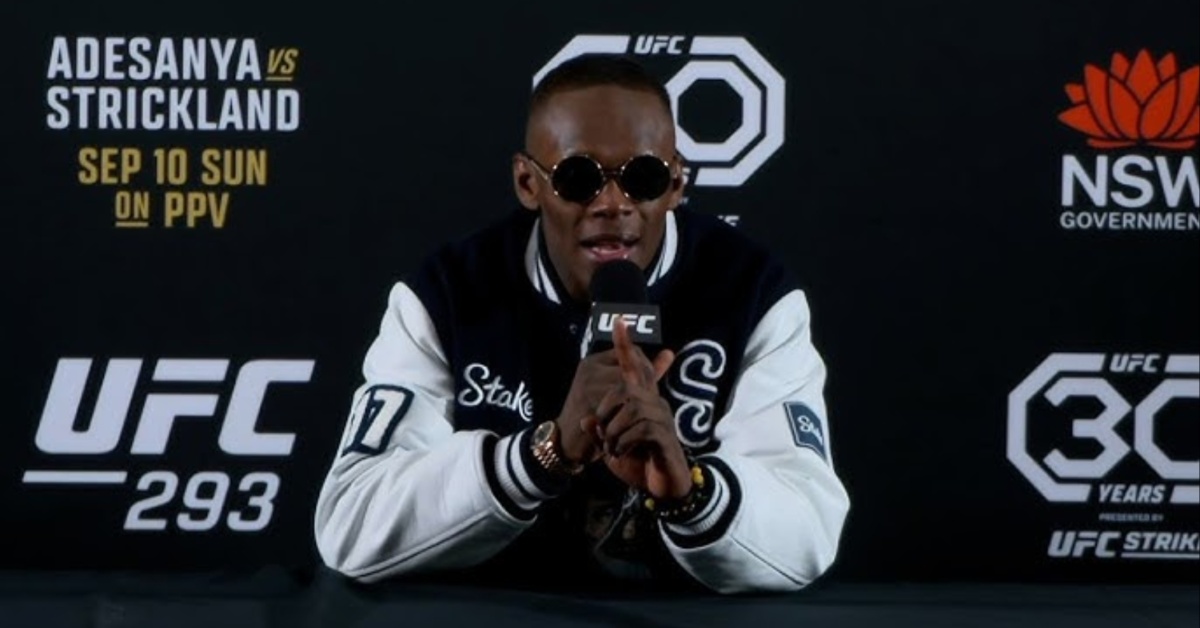 Appearing defeated morally and literally following the culmination of UFC 293 last night, now-former undisputed middleweight champion, Israel Adesanya handed media responsibilities to his head coach, Eugene Bareman off the back of his staggering upset loss to Sean Strickland, claiming that he would have remained coy on the outing regardless of result.
Adesanya, a two-time and now-former undisputed middleweight champion under the banner of the UFC, suffered a wholly shocking loss to Covina native, Strickland in the main event of UFC 293 last night in Sydney, Australia, dropping his crown in a massive upset unanimous decision (49-46, 49-46, 49-46) loss to the outspoken challenger. 
Also suffering his first-ever official knockdown in the Octagon last night, Adesanya, who was pinned to the fence by the boxing-heavy Strickland, was dropped with a clean jab-straight combination late in the opening round, surviving and battling his way back to his corner – before dropping rounds three, four, and the fifth and final on all judge's scorecards.
Israel Adesanya remains hugely coy after UFC 293 loss to Sean Strickland
Electing to carry out media obligations, albeit briefly after UFC 293, Adesanya claimed he was planning to speak less in the aftermath of the event, win or lose, before handing the microphone over to his City Kickboxing coach, Bareman.
"Pause – I had a different plan for this," Israel Adesanya told assembled media after UFC 293. "But life throws curve balls at you. Win or lose, I wasn't going to say much anyway. But right now, I lost tonight to the better man on the night. I just want to go be with people who care about me: my team. They're waiting for me, so I'm going to go do that."
"But, I'm going to leave you in the capable hands of a man who is much smarter than me," Israel Adesanya explained. "I'll admit this on worldwide, national media. I'll leave it with Eugene Bareman. He'll handle this for the first time. I'm going to go chill, have some breakfast, build my family, until next time." 
According to UFC president, Dana White, the promotional head-honcho wants to book an immediate title fight rematch between Strickland and Adesanya following last night's shocking upset at UFC 293. 
What's next for Israel Adesanya after his championship loss at UFC 293?