Eugene Bareman – MMA Coach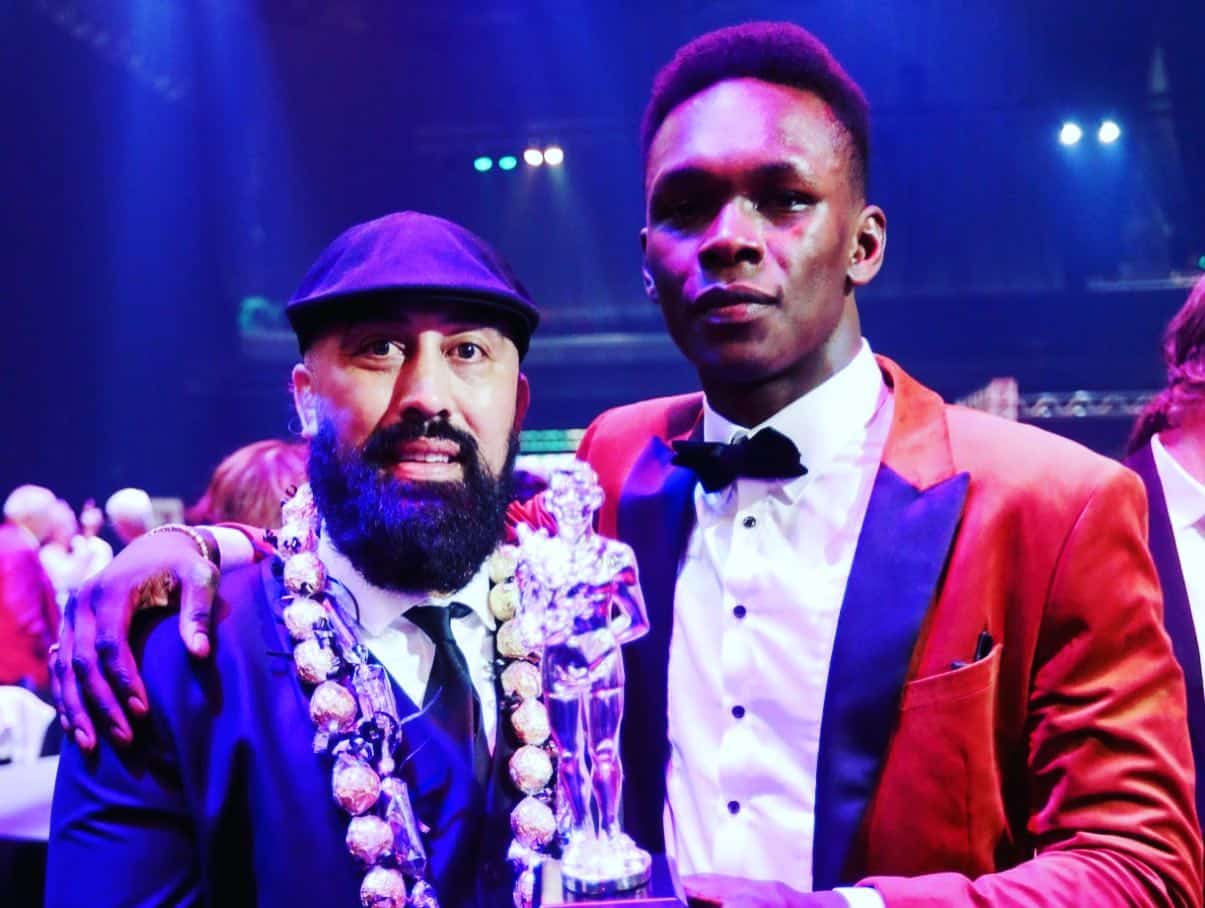 | | |
| --- | --- |
| DOB: | August 26th, 1979 |
| Age: | 43 |
| Place of Birth: | Auckland, New Zealand |
| Gym: | City Kickboxing |
| Location: | Auckland, New Zealand |
| Height: | 1.77 m (5 ft 10 in) |
| Weight: | 191 lb (87 kg; 13 st 9 lb) |
| Sport: | Muay Thai, Kickboxing, Brazilian Jiu Jitsu |
| Martial Arts Background: | Kickboxing/MMA |
| MMA Record: | 7-3 |
| Notable Fighters: | Israel Adesanya, Alexander Volkanovski, Dan Hooker |
Eugene Baremans beginnings in martial arts
Eugene Bareman is an Auckland native that grew up planning rugby like a normal kid from New Zealand. To help him get in shape during the offseason, Bareman began training kickboxing.
Bareman was also attending law school to become a lawyer during this time. Although his plans would change as he became passionate about fighting and dropped out to become a fighter.
He started competing in amateur kickboxing in 2001 competing in various tournaments throughout New Zealand. After starting out in kickboxing, Eugene Bareman then began getting into MMA training.
Pretty soon after taking up MMA and BJJ, Eugene Bareman would frequently compete in amateur events in both disciplines. Winning a few of the big national Jiu Jitsu tournaments held there.
Within MMA, Bareman would add a 4-3 record to his fighting resume.
Eugene Bareman and Doug Viney
One of Bareman''s longtime training partners is Doug "Vicious" Viney. Doug was a champion K-1 kickboxer that also competed professionally in boxing and MMA.
After spending a few years training with one another, Eugene and Doug decided to go into business with each other. They wanted to open up their own fight gym, so they could have a place to train for their fights.
The two would establish City Kickboxing in 2007.
Eugene Bareman becomes a full time coach
Eugene Bareman and Viney soon realized after opening a gym that running a gym is costly. They would need more than just the money they made fighting to keep the gym open.
The two started taking on students to teach them fighting skills. Before they knew it, City Kickboxing was filled with students learning various fighting disciplines from the two.
Since being a coach took up a lot of his time, Eugene Bareman began to gradually transition to a full time coach. Ending his fighting career to solely focus on growing City Kickboxing's fight team.
City Kickboxing becomes a top gym.
In just a little more than a decade after opening City Kickboxing, Eugene Bareman would build an MMA empire. The small Auckland kickboxing gym had become one of the world's most renowned fight gyms.
Eugene along with his partner Doug would go on to train numerous top level fighters. Numerous fighters that would fight in the top promotions in the world from Glory to the UFC.
Notable Fighters
Since 2007, Eugene Bareman has become one of MMA's top coaches. He currently trains two UFC world champions and numerous others that fight in the organization.
Some of Bareman's most notable fighters include Israel Adesanya, Alexander Volkanovski, and Dan Hooker.
Israel Adesanya
The current UFC Middleweight Champion, Israel "Stylebender" Adesanya is one of the world's most elite fighters. Adesanya had dreams of becoming a fighter ever since he was a teen watching the action film Ong Bak.
As a teen, Israel would go undefeated in his amateur kickboxing career before going pro. When he was 21, he moved to Auckland and began training with Bareman at City Kickboxing.
At first, Stylebender would compete professionally in kickboxing, but then transitioned to boxing and MMA. Fighting in all 3 simultaneously at one point in his career.
During his professional kickboxing career, Adesanya would go on to earn a 75-5 professional record. Including winning the Glory Middleweight Championship.
Then after accomplishing everything he could in kickboxing, he went full time into his MMA career. He would enter the UFC in 2018 with a 11-0 record with all of his wins by KO/TKO.
Israel would quickly tear through the UFC middleweight division to earn an interim title match in 2019. Defeating Kelvin Gastelum by decision in a bout that would be one of the best fights of the year.
He would go on to become the undisputed champion, defending the title 3 times. Also attempting to win the light heavyweight title and become a two division champion.
Alexander Voklanovski
Before Volkanovski got into MMA, he was a professional rugby player and weighed around 80 kilos. Like Bareman, Volkanovski took up MMA training to stay in shape for rugby.
Alex also became super passionate about MMA and quit rugby to pursue a fighting career. He would start his career at welterweight and then gradually go down the weight classes until he got to featherweight.
In this time, Alexander would earn an impressive 13-1 record before earning a shot within the UFC. Debuting at a fight night event in 2016 that he would win by TKO.
In 3 years, he would win 9 straight fights to earn a title shot against division king Max Holoway. Volkanovski would shock the world, beating Holloway not once, but twice in their rematch.
Dan Hooker
Dan "Hangman" Hooker is considered one of the toughest fighters within the UFC lightweight division. He has been a fixture within the division since debuting on a fight night show in Auckland in 2014.
During his time in the UFC, Hooker has fought at both featherweight and lightweight. Working his way within the top ten of both divisions and nearly earning a title shot in both.
He has fought some of the toughest fighters in the world from Dustin Poirier, Gilbert Burns, and Michael Chandler. It was assumed that he retired after the bout with Chandler, but has since changed his mind.
Eugene Bareman's legacy
Eugene Bareman is one of the most unlikely to become one of the world's best MMA coaches. He put his small Auckland fight gym as home to some of the world's top UFC fighters.
In 2019, he would help not one, but two of his fighters win UFC titles. Helping him earn MMAJunkie's coach of the year and City Kickboxing gym of the year in 2019. Then as Adesanya and Volkanovski continued to dominate their divisions, he would repeat this award in 2020.
Bareman has proven to be one of the world's best MMA coaches and will look to keep City Kickboxing on top.