Yesterday (Fri., May 11, 2018) the MMA world was entranced with Mackenzie Dern's egregious weight miss for her scheduled bout with Amanda Cooper at tonight's UFC 224 from Rio de Janeiro.
It wasn't so much that the miss itself was surprising; Dern had missed weight twice before in her six-fight MMA career.
No, it was the sheer amount – seven pounds – by which she missed that prompted Cooper to call her out and had the Internet in full-on pitchfork mode, and based on Dern's 'it is what it is' attitude, it's hard to blame them in this specific instance. By the time Cooper snubbed Dern during their intense staredowns during the ceremonial weigh-ins yesterday afternoon, no one was surprised or offended that "ABC" did so.
You may ask why it's such a big deal, as UFC fighters miss weight all the time to the point it's a seemingly weekly occurrence during early weigh-ins for each respective card. True, it is – yet Dern's repeated issues for making weight have now seen her go from making the strawweight non-title fight limit of 116 pounds for her first UFC bout in March to missing it by almost a full weight class for her second may reveal some larger issues at play here.
Dern missed weight for both her second and third MMA bouts against Montana Stewart and Katherine Roy, and her fourth, a submission win over Mandy Polk in LFA last October, was contested at a catchweight bout of 120 pounds. That was a nice concession made by the promotion for Dern in order to retain the hype she brings, but it's not going to be one made every time she steps into the octagon.
The weight issues were bad enough, yet Dern's recent "request to leave" Arizona's MMA Lab, the gym where she got her start in MMA, by head coach John Crouch because of so-called commitment issues suggest Dern may not have all of her mental capacity in the fight game. In fact, she's admitted as much, declaring that she doesn't want to be in the gym training every day and would rather balance that with going to the beach and partying in clubs like a normal 25-year-old woman.
Understandable for sure, but those two things don't really mix with a top-level Brazilian jiu-jitsu champion rising up the fulfill the almost unattainable hype that's been heaped onto Dern as the "next Ronda Rousey" of female MMA ever since she began her pro fight career in July 2016. Add that to the already monstrous pressure of remaining unbeaten due to her accomplished BJJ accolades, and we have a hype machine that may be fighting itself at all turns.
There's an easy fix to all this, however.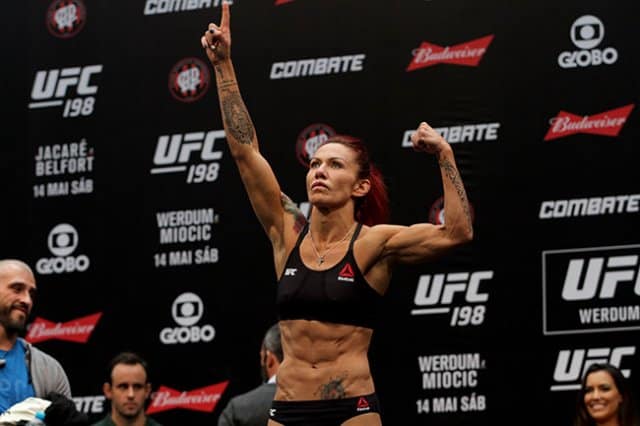 As we've seen with current UFC women's featherweight champion Cris Cyborg, moving up to a more natural class can work wonders for a career.
Cyborg was forced to make absolutely ridiculous cuts to 140-pound catchweight bouts in her early UFC run while there was still an outside possibility she could still fight Ronda Rousey at 135 pounds; the fact that it almost got her killed was well-documented. That nonsense stopped shortly thereafter, and despite still cutting a large amount of weight to make 145, Cyborg has since gone to win the title and defend it while becoming a bankable star for the UFC during a time they need them most.
If Dern is to live up to her potential, it's probably time for her to do the same, and there couldn't be a better time to make the change. The UFC just instituted a women's 125-pound division that is struggling to get off the ground as champion Nicco Montano drags her feet on a title bout with former bantamweight contender Valentina Shevchenko, so injecting Dern into that mix would give the division the instant shot in the arm it badly needs.
Cooper criticized her for not being professional, and while the huge miss made her look bad yesterday, it's the UFC and the athletic commissions sanctioning Dern's fights that will begin to look silly if they continue booking her and letting her fight at strawweight when she comes in so heavy.
The body shaming, Internet hate, and overall disgusting backlash is no doubt unnecessary from fans who may or may not know what it's like to cut a drastic amount of weight – and most certainly don't know what it's like to carry the hype and pressure Dern does, but we can't say that she didn't open herself up to it.
She also made it worse on herself by admitting she didn't want to train every day after the coach at her inaugural MMA gym asked her to leave because she wasn't devoted enough. So aside from missing weight and looking foolish that way, Dern could also start to appear entitled, undedicated, and simply not grateful for the once-in-a-lifetime opportunity she's both worked hard for and been granted by the UFC's hype machine.
We don't know what Dern has done to get here on a personal level, and we don't know how hard it is to maintain the level of success that's expected of her. Few truly do or have in the still-growing sport of women's MMA.
But that's why it's a shame to see her seemingly not respect the opportunity she has.
Thankfully, there's a quick fix. Now it's up to her to make it.