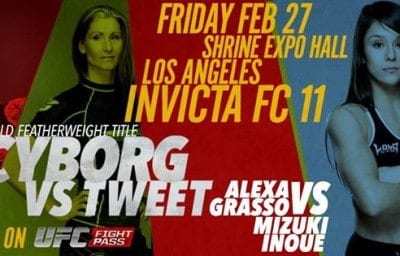 Tonight's (Fri., February 27, 2015) Invicta FC 11 is in the books from the Shrine Expo Hall in Los Angeles, California.
The main event featured a blockbuster featherweight title bout between polarizing champion Cristiane 'Cyborg' Santos and Charmaine Tweet. The championship affair began with huge power shots from Cyborg that dropped Tweet. The champ followed to the ground with hammerfists on a bloodied Tweet, who somehow got survived and got back. It didn't take long, however, as Cyborg unleashed one final huge combo ending with a vicious body shot to earn the stoppage from referee Herb Dean.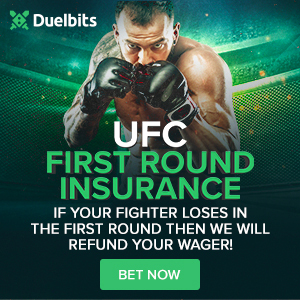 Strawweights Mizuki Inoue and Alexa Grasso battled in the co-main event. They didn't waste any time in getting started as Grasso unleashed her striking early with some crisp punches and a spinning back kick. She landed pinpoint shots to bloody Inoue before springing up from a takedown. Grasso unloaded endless Muay Thai combos on a tough and aggressive Inoue, eventually turning a single leg into a beautiful inverted triangle attempt to close out the round. Inoue got a takedown and sought a choke from top position and attempted to mount Grasso, who reversed to start a ground match. Grasso landed some upkicks and Inoue got the mount on the canvas to finalize the bout. In the end, Grasso took home a unanimous decision.
DeAnna Bennett and Norma Rueda Center faced off in a bout of strawweights who failed to make weight yesterday. Bennett landed a big punch that wobbled Center early on, following with a rushing combo and some strong kicks. Both fighters landed crisp kicks in a back-and-forth second round, with Center opening up her game. She pushed the pace in the last round, landing some knees and taunting Bennett. Ultimately it wasn't enough, as Bennett took home a unanimous decision.
The main card was kicked off by Irene Aldana vs. Colleen Schneider. The bout ended in the first when Aldana capitalized on a slip by Schneider to lock on a tight standing rear naked choke for an impressive submission win.
Main Card:
Cris Cyborg def. Charmaine Tweet via R1 TKO (strikes, 0:46)
Alexa Grasso def. Mizuki Inoue via unanimous decision (30-26, 29-28, 29-28)
DeAnna Bennett def. Norma Rueda Center via unanimous decision (30-27, 29-28, 29-28)
Irene Aldana def. Colleen Schneider via R1 submission (rear naked choke, 1:05)
Preliminary Card:
Jamie Moyle def. J.J. Aldrich via R1 submission (rear-naked choke, 2:20)
Amy Montenegro def. Brianna Van Buren via unanimous decision (30-27, 29-28, 29-28)
Christine Stanley def. Laura Salazar via R1 TKO (strikes, 2:59)
Aspen Ladd def. Ana Carolina Vidal via R1 TKO (strikes, 4:21)