Prior to last night's (Sat., August 27, 2016) UFC on FOX 21 from the Rogers Arena in Vancouver, former UFC lightweight champion Anthony 'Showtime's Pettis' ornately tattooed back was up against the wall, and in no small manner.
In 2015, Pettis was one of the top pound-for-pound fighters in the sport – and also one of its most marketable figures – following two finishes over Benson Henderson and Gilbert Melendez, who were then thought to be the cream of the talented lightweight crop. But as the fight game has been known to do, Pettis was somewhat exposed in his next three bouts, all three losses to Rafael dos Anjos, Eddie Alvarez, and Edson Barboza.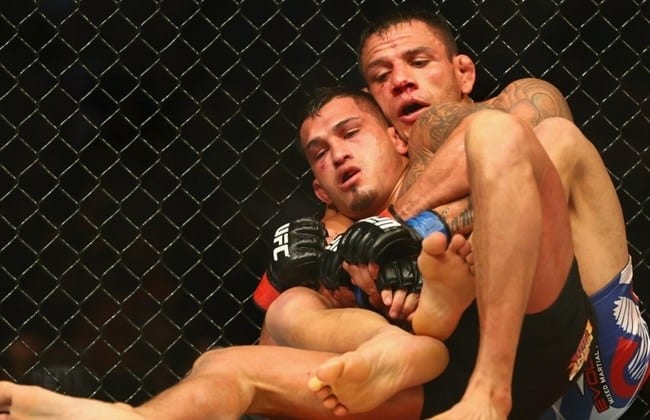 Dos Anjos and, to a lesser extent, Alvarez, found that implementing a pressure-heavy wrestling game left 'Showtime' no space to unleash his fancy finishing moves, and he was then, his confidence potentially reeling, simply outstruck by quite possibly the best pure kickboxer at 155 pounds in Edson Barboza. The surprising downswing lead Pettis to reinvent himself in two ways; the first being switching his camp up a bit by attending Albuquerque's Jackson-Wink Academy part-time, the second a decision to cut down to 145 pounds, a weight class Pettis has long been rumored to compete in.
He was scheduled to meet current interim featherweight champion Jose Aldo in the main event of August 2013's UFC 163, but a knee injury, which some deemed auspicious given that 'Showtime' fought and submitted Henderson exactly four weeks later at UFC 164, saw the dream match called off. But that was when he was in prime bargaining position as one of MMA's most coveted future stars; his move down to featherweight last night was now out of necessity.
And he was given no easy welcome mat to the featherweight arena; no, he was immediately matched against ultra-tricky Brazilian jiu-jitsu whiz Charles Oliveira, a competitor who had submitted four out of his previous six opponents. "Showtime" found a home for his vicious kicks early as many expected (highlights here), bludgeoning "Do Bronx" with his trademark body work to drop the Brazilian early on and dangerously follow with punches on the ground. While he was no doubt playing with fire, Pettis later said he punched Oliveira unconscious and the strikes that followed woke him up.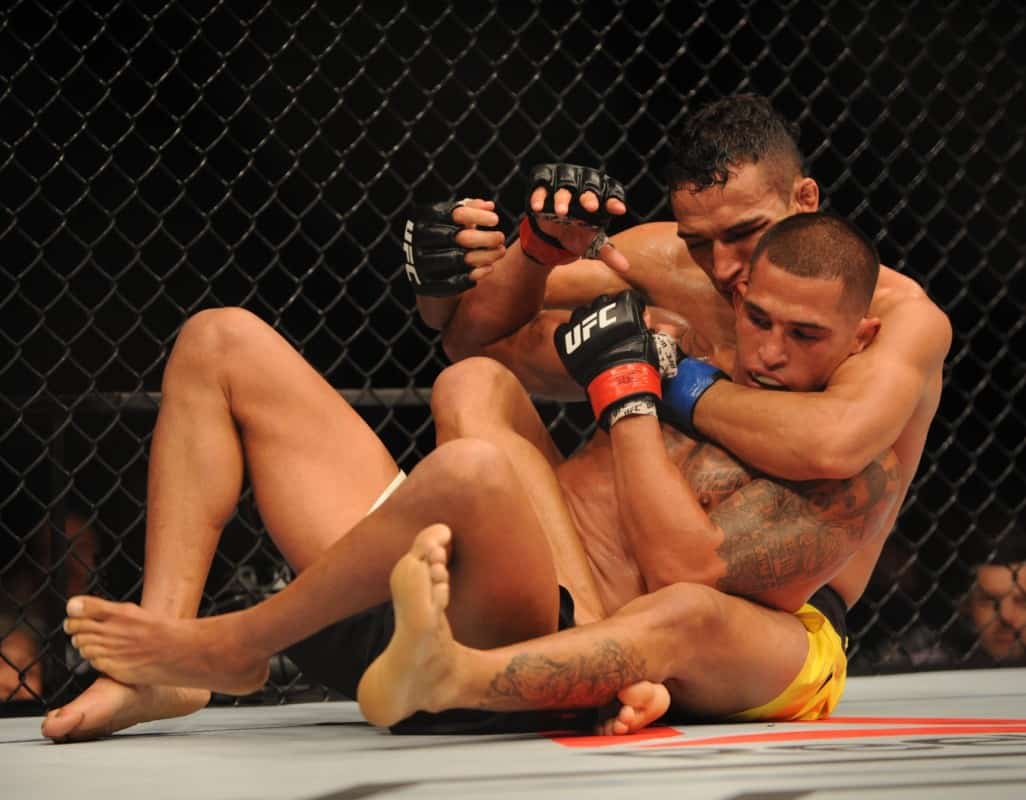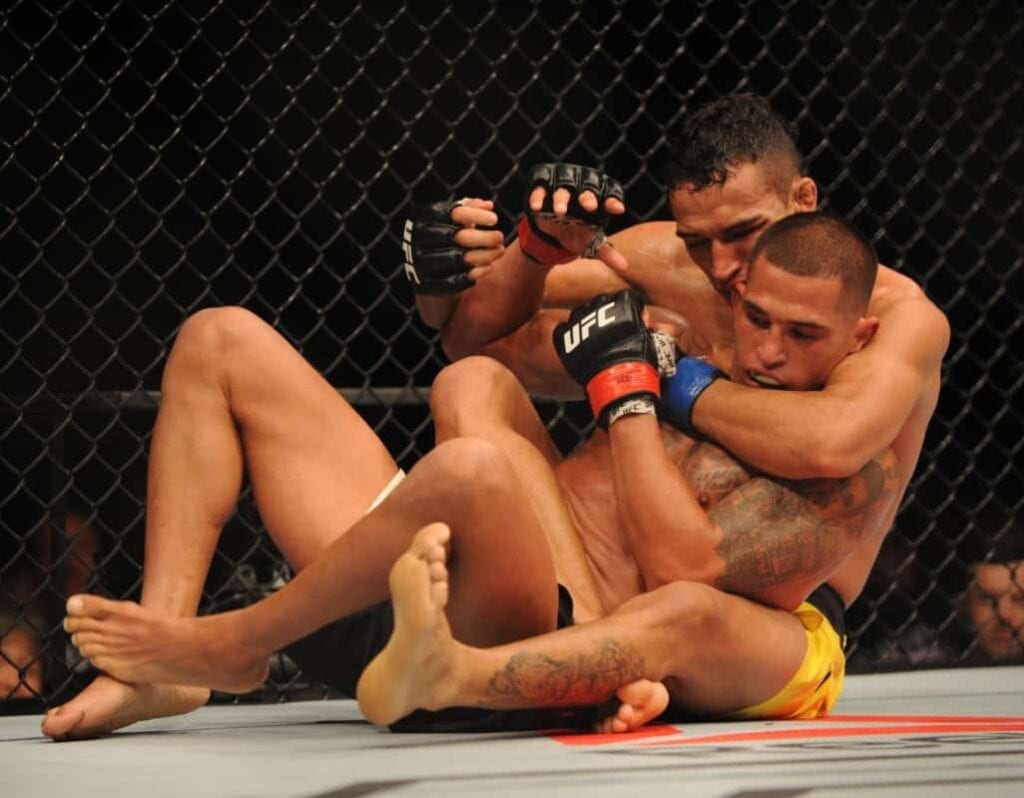 But it was how Pettis responded to that adversity that proves he may be a contender at 145 pounds. "Do Bronx" came back in a big way in the second round, hitting Pettis with varied Muay Thai strikes and taking his back on several occasions. Pettis showed jaw-dropping poise when put in bad positions in his opponent's glaring strong point, surviving dire positions from a fighter who is one of the more lethal submission threats in the sport.
Turning the tables on more than one occasion, Pettis scored a crucial statement win with a third round guillotine, ironically the move that Oliveira had secured his last two wins with. "Showtime" had finally won a dogfight, and he dug deep to persevere despite admitting he was tired from throwing heavy punches in the first. The performance was indicative of a champion's heart, something that was clearly lacking in his recent downswing at lightweight, and he did it versus the No. 6-ranked competitor.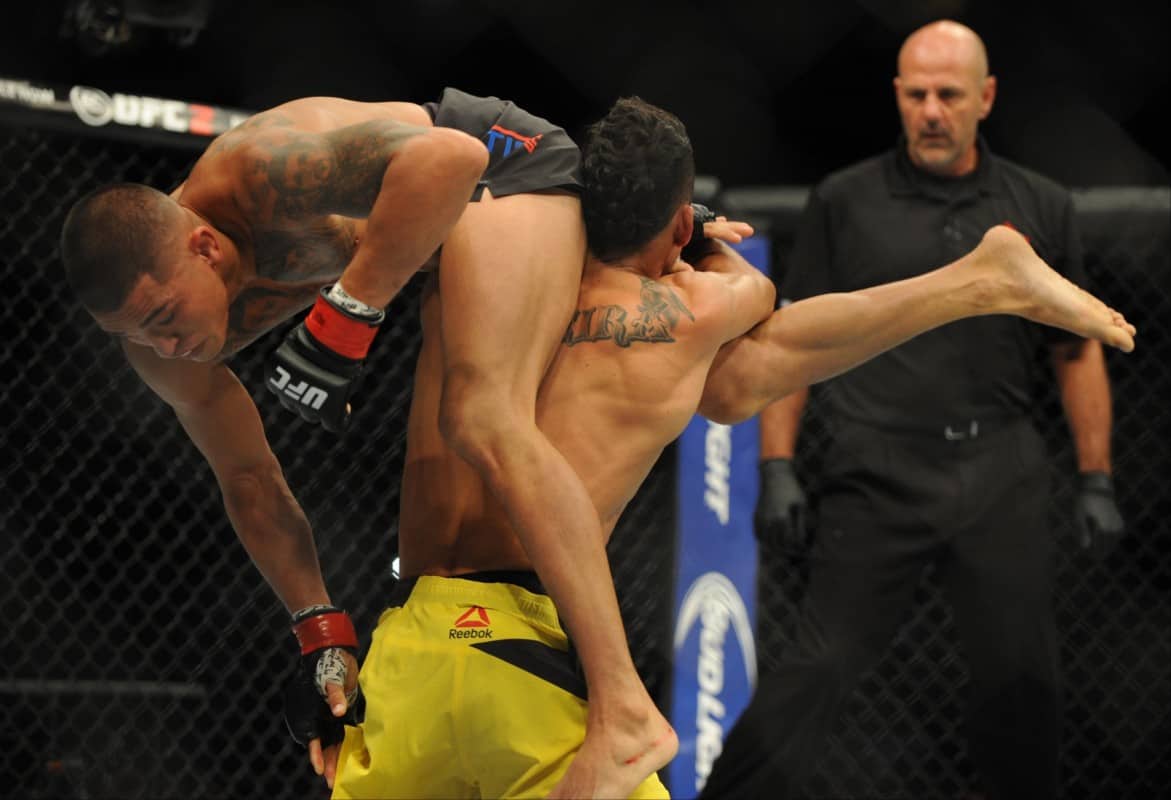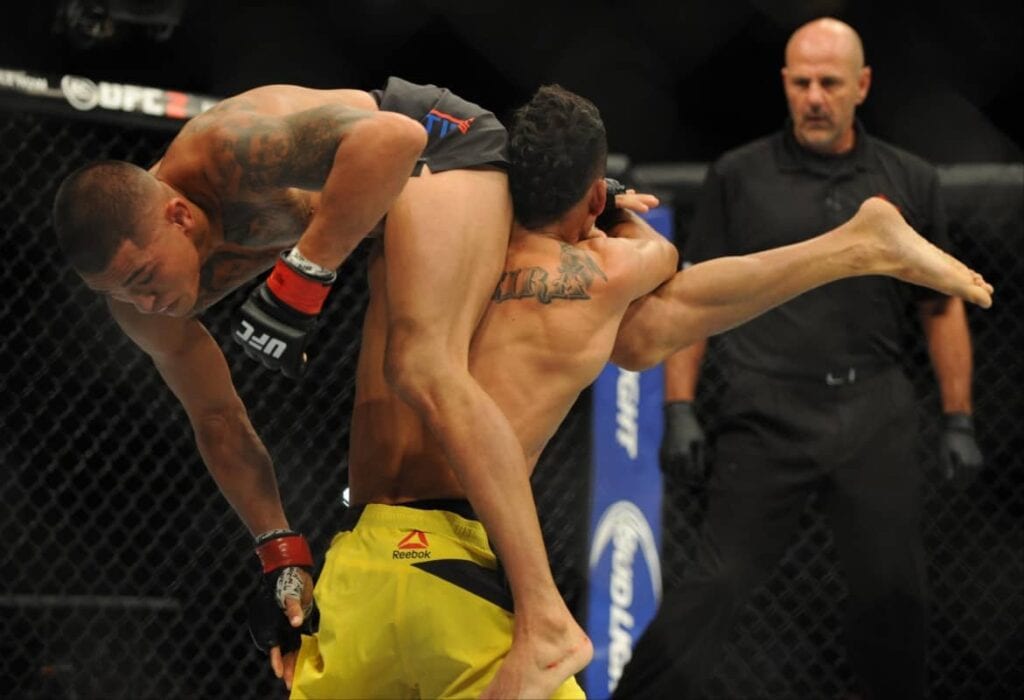 "Showtime" is back in the mix in a new division, and indeed there are some huge fights available. That's not to say he'll be unstoppable, because he won't – Oliveira took him down much easier as he got tired in the late second and third rounds, but truly blockbuster bouts with fighters like Conor McGregor, Aldo, and Max Holloway would be just what Pettis needs to start "Showtime" back up again.
Of course Pettis will have to continue to shore up the deficiencies in his game, namely wrestling and dealing with pressure, yet there could be no man better for helping him do that than Greg Jackson. But the fact that he submitted a top contender known for well, submitting everyone else, bodes well for his future at 145 overall.
He'll probably always have a problem with the most accomplished wrestlers, but luckily for him, the top three of his new home (excluding a match-up against Frankie Edgar) is populated with big names who are predominantly strikers. Pettis could find himself in a fight with Cub Swanson before he is granted a bout against one of the top three, especially while the muddy featherweight title scene is sorted out.
No matter what fight Pettis gets next, however, the future is bright for him at 145 pounds. Who do you think he should fight next?