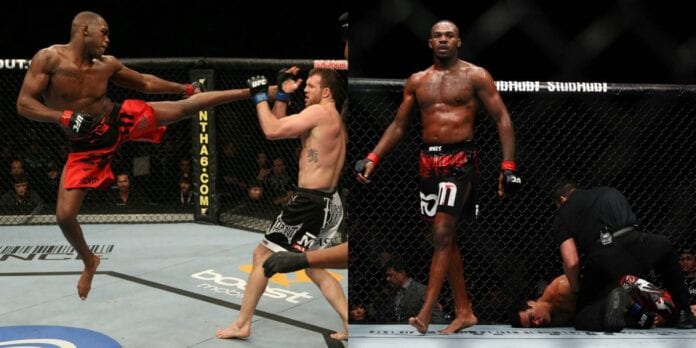 The absence of Jon Jones from mixed martial arts (MMA) is like Michael Jordan missing from the 1990's Chicago Bulls.
It's not good for the sport, the organization and the fans who love watching excellence in the most purest form. But like many superstar athletes throughout the years, Jones was too wild outside of the cage to handle the responsibilities that come with being great.
Fortunately, "Bones" is scheduled to make his return to fighting at UFC 197 on April 23 when he challenges current UFC light heavyweight champion Daniel Cormier in a rematch for the ages. Remember, "DC" was the direct beneficiary of Jones being stripped of his title following a hit-and-run in April of 2015.
These two men have met once before back at UFC 182, which saw Jones defeat the former Olympian via unanimous decision. The victory further solidified the New Yorker's MMA legacy and divisional grasp like we've never seen before.
But in light of his layoff, it seems as if people have forgotten about Jones. As he fortified his personal life, pay-per-view cash cows like UFC featherweight champion Conor McGregor and former UFC bantamweight champion Ronda Rousey have reaped the financial benefits and social brownie points.
In order to restore faith in Jones and remember how good he truly is, we take a look at five defining reasons as to why the 28-year-old is already the best fighter of all time.

Reason 1: Dominance by numbers
Like any good fighter in MMA history, possessing an undeniable resume is the first accolade needed to be considered great.
But unlike those other combatants, Jones has forged unparalleled numbers since his arrival to the UFC back in 2008. This includes a 15-1 record in the unforgiving light heavyweight faction, nine finishes, seven-consecutive title defenses, and glorified victories over MMA legends and former UFC champions Vitor Belfort, Mauricio "Shogun" Rua, Quinton "Rampage" Jackson, Rashad Evans, and Lyoto "The Dragon" Machida.
Not to mention he also holds wins over Daniel Cormier and Alexander Gustafsson, which basically equates to the most dominant resume in the history of the sport. One that is even more impressive and vast than that of Anderson Silva or Georges St-Pierre.
Reason 2: Unflappable wrestling
Through all of his superior attributes, the wrestling of Jones may be his most significant skill.
The bottom line is that the former JUCO national champion has bewildered the best of the best on the ground. This includes prominent wrestlers like Daniel Cormier, Chael Sonnen, Rashad Evans, Ryan Bader, Matt Hamill and Jake O'Brien. He has done so in devastating fashion and has proved time and time again that he's arguably the toughest ever to take down.
Granted, Jones was thrown off his horse on multiple occasions opposite Alexander Gustafsson at UFC 165, but that was more of a lack of preparation than an absence of skill.

Reason 3: One-of-a-kind athleticism
Simply put, there has never been anybody in the sport of MMA who has put forth the well-rounded athletic capabilities that Jones has.
With a staggering 84.5 inch reach and dynamic range control, Jones has bewildered opponents in the past with better footwork, stronger exchanges, longer combinations, quicker transitions and an unheralded ability to launch unorthodox attacks from all angles and spaces.
Anderson Silva is a very close comparison in this department, as is Georges St-Pierre, but neither one of those guys possessed the intricate athletic fortitude that Jones did on the feet, on the canvas, and in the clinch.
Reason 4: Educational excellence
Even with great athletic ability and a passion to punch another human being in the skull, legendary fighters are usually attached to the hip by a world-class coach.
In the case of Jones, he's been extremely fortunate to have MMA mastermind Greg Jackson and striking wizard Mike Winkeljohn by his side for the majority of his career. They've helped him develop physically, prepare mentally, and emotionally handle the pressure of fighting the best in the world.
That's not to say that "Bones" couldn't be where he is today if he had trained under a different teaching tandem, but Jackson and Winkeljohn continue to mold his greatness to this day.
Reason 5: Evolved striking
Besides maybe Anderson Silva, the MMA world has never seen a fighter as diverse and efficient on their feet as Jones.
With unparalleled size and power to back his efforts, the former 205-pound king has been known to disrupt some of the best strikers in the world on the heels of oblique kicks, lunging shoulders, sharp elbows, spinning back fists, dipping counters, flying knees, and the increasingly useful shoulder crank that actually tore Glover Teixeira's labrum when the two fought at UFC 172.
At times, it may even seem as if Jones welcomes a dog fight in effort to see what an opponent has to offer and find any openings to experiment with new techniques and unseen offensive weapons. Because with his intelligence, range, dexterity, fluidity, and crafty adaptation, there's a chance Jones wouldn't get touched if he was a conservative fighter.