Five Reasons Conor McGregor Is The UFC's Next Anderson Silva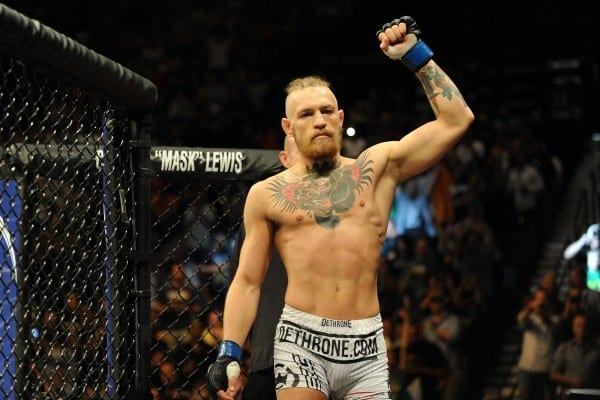 Now that Conor McGregor has won the interim UFC featherweight championship with a come-from-behind second TKO of Chad Mendes in the main event of last weekend's (Sat., July 11, 2015) UFC 189 from Las Vegas, the Irish star has arrived as arguably the promotion's biggest star aside from women's bantamweight champion Ronda Rousey.
It's clear that the UFC has found their next top-notch pay-per-view (PPV) draw in 'Notorious,' who has connected with fans on a global level like few ever have before. The UFC obviously recognized it, and invested a ton of money to promote McGregor's scheduled bout with longtime champ Jose Aldo before 'Junior' pulled out with an injured rib.
But that fight still looms large as quite possibly the biggest mixed martial arts (MMA) bout of all-time; one that will undoubtedly push the brash and confident McGregor to all-new heights of superstardom were he to win. After his bout with Mendes, it's clear that he has some things to work on; yet there was another decorated champion who was more often than not bailed out by his flashy striking and cocky personality.
That man is none other than longtime middleweight champ Anderson Silva, and while his and McGregor's careers may share some stark contrasts, they more often share some clear similarities that are impossible to deny.
Let's take a look at five big reasons why 'Notorious' is the UFC's next Silva, a top draw that fans will gladly fork over their hard-earned cash to see:

5.) Similar Debut Runs:
Silva came storming into the UFC with a 49-second knockout of TUF veteran Chris Leben in his Octagon debut in June of 2006; he would earn a title shot for his efforts in a time where one fight could get you one. After that he famously ran through Rich Franklin to win the belt, Travis Lutter, Nate Marquardt, Franklin again, and finally Pride legend Dan Henderson to obtain six finishes in under two years for one of the best initial runs the UFC has ever seen.
By comparison, McGregor debuted in April 2013 with his first round starching of Marcus Brimage at UFC on Fuel TV 9, following it up with a decision win over now top-ranked Max Holloway, and TKO finishes of Diego Brandao, Dustin Poirier, Dennis Siver, and finally Mendes.
Silva had six finishes in six fights in just under two years to start his UFC run, and McGregor has five finishes in six fights in just over two years despite a torn ACL in the Holloway fight. Looking at the overall competition, Silva has McGregor beat, but 'Notorious' isn't far behind.
Both of their first two years in the world's biggest MMA promotion brought similar rewards with a bevy of finishes; with many over elite competition.
4.) Movement
McGregor is constantly preaching about his fluid movement on the feet, his unorthodox style that keeps opponents guessing and always on the defensive. He practices what he preaches as well, training a variety of martial arts styles and their style of movement, and also even going as far as to study the movement styles of wild animals.
While Silva may not have gone to those lengths, it's clear to see that movement was a huge part of his game as well. In fact, it was probably the thing that set him apart from his competition, as he effortlessly shucked, jived, dodged, and danced his way out of many a would-be damaging strike in his career. His classic clowning of Forrest Griffin in the perfect example, and a movie entitled "Anderson Silva: Like Water" was even made about his effortless movement inside the cage.
Take a deeper look at the movement of McGregor and Silva, and it becomes apparent that while they may fight differently, fluid movement is a big part of both of their arsenals.

3.) Striking:
An even more obvious similarity between McGregor and Silva is their knockout striking.
Obviously they both bring laser-like accuracy to the cage, and both of their opponents have repeatedly remarked about the pinpoint precision of both of their strikes. McGregor has a bit more of a boxing-centered focus, but he also brings elements of taekwondo, karate, and even capoeira to the Octagon.
Silva isn't all that much different, because even though his base will always be his devastating Muay Thai, he too mixes in elements of taekwondo, boxing, karate, and capoeira.
The result has been a devastating mix of accurate and powerful striking that McGregor's opponents have yet to find an answer for, and Silva's only did when a beast like Chris Weidman came along to exploit his clowning.
Do they have the same style of striking? No, definitely not. Has it produced similar results thus far in McGregor's surging run?
Without a doubt.

2.) Drawing Power:
This is one area where McGregor has outshined Silva even in his relatively short period in the UFC.
'The Spider' didn't become a true top PPV star until his classic 2010 feud with Chael Sonnen. He needed the silver-tongued 'gangster' to hype the fight for him, but when he did, the result was a bad blood-fueled spectacle that will go down in history as one of the most energetic and heated MMA bouts of all-time.
He won after absorbing a brutal beating for almost five rounds, and a star was born.
McGregor requires none of that, as he's largely been able to cultivate an absolutely monstrous fanbase on the strength of his silver tongue and Irish heritage. No one brings the weight of a country like McGregor does, and now that Sonnen has retired amidst a PED scandal; no one even comes close to matching his trash-talking skills, either.
With numbers for UFC 189 speculating around the coveted one million buys, McGregor has become the company's top star in terms of PPV buy rate before he even won the official title. That's tough to do, and something Silva never accomplished until alter in his illustrious title reign.
They are both top PPV draws, but McGregor accomplish that much earlier on in his career.

1.) Winning Despite Supposed Lack Of Wrestling:
Here's a big parallel that just can't be denied, and it's a bit surprising that the comparison isn't brought up more than it is.
As champion, Silva exhibited largely effective wrestling defense for the most part, but it was against wrestlers like Sonnen and Weidman that he truly ran into his biggest problems. He was able to persevere against 'Uncle Chael' twice after Sonnen made two glaring errors; his rivalry with Weidman obviously didn't go quite as well.
The effectiveness of McGregor's takedown defense and overall grappling have long been the center of the question marks about his ability to be a long-reigning champion, as a large contingent of people believe that he was been babied along with hand picked opponents tailor made for his style.
Despite his win over Mendes, that theory was proven, in a way, at UFC 189 when 'Money' repeatedly slammed McGregor to the mat and began raining down elbows. Many feel that Mendes would have won the bout had he not gassed on a short training camp, and now 'Notorious,' like Silva did, still has questions to answer about his ability to stop the best wrestlers in his division.
But also like Silva, he finds a way to get the job done and finish his opponent even in the face of a superior mat wizard. That's the mark of true champion, and may be the biggest reason that ''Notorious' is quickly becoming the UFC's next 'Spider.'