Reigning UFC featherweight champion the "Notorious" Conor McGregor took on a daunting task when he accepted a bout opposite lightweight kingpin Rafael dos Anjos.
The scrap was scheduled for last weekend's (March 5, 2016) UFC 196, and McGregor was attempting to become the first man in promotional history to hold two titles simultaneously.
Ultimately, dos Anjos pulled out of the fight just over a week out with a broken foot.
The "Notorious" one would end up taking on fan favorite Nate Diaz in a welterweight bout, two whole weight classes above his usual home at 145-pounds.
While his willingness to take on anyone at any time was on full display, the move proved to be detrimental to the Irishman, as he suffered a shocking second round submission loss to Diaz.
After the loss, McGregor will likely drop back down to featherweight to defend his title, but that doesn't mean a future at 155-pounds or even 170-pounds is completely out of the question.
Let's take a look at five changes McGregor must make in order to defeat bigger foes: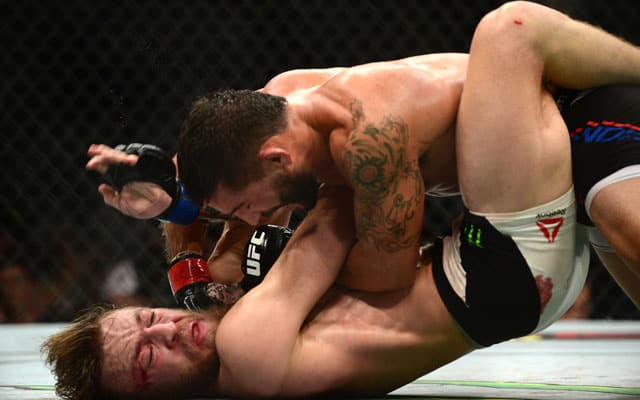 Gain A Heavier Focus On Wrestling
It's obvious that McGregor is a striker at heart, and a phenomenal one at that, but this is mixed martial arts.
A fighter must be well-rounded in order to succeed at the highest of levels.
McGregor's knockout power is breath taking, but his grappling skills have always raised question marks.
Despite coming out of the bout victorious, McGregor was repeatedly taken down at ease by Chad Mendes in their interim title bout last July. He was also taken down in the opening round of his bout with Diaz.
Even if he prefers to stand and trade, the "Notorious" one should look to increase his wrestling chops if for no other reason than to keep fights on the feet.
On the offensive side, it was also evident at UFC 196 that McGregor isn't the best wrestler we've ever seen. Although he was rocked and tired, his takedown attempt in the second round was lackluster at best.
While wrestling is an area that must be improved on for McGregor, question marks also arise when the fight gets to the ground for the Irishman….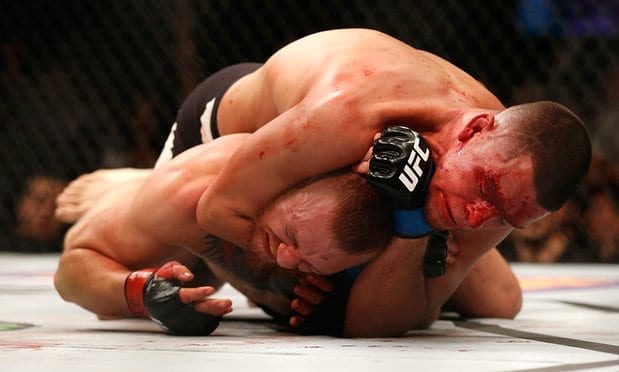 Clean Up His Submission Game
When looking at McGregor's record, 17 career knockout victories instantly stands out, but so do his three career loses, all of which have come by way of submission.
Diaz is a high level Brazilian jiu-jitsu black belt in his own right, but McGregor simply looked lost on the mat with the Stockton native.
Diaz was able to mount the "Notorious" one before taking the back and locking in rear naked choke with ease.
The Irishman has also been heavily criticized for tapping so quickly, as some have said that he essentially gave up.
McGregor may want to bring in the help of a high level BJJ coach to avoid positions like this, because if he doesn't, the blue print on how to beat him may be out, and will especially be helpful to a heavier opponent.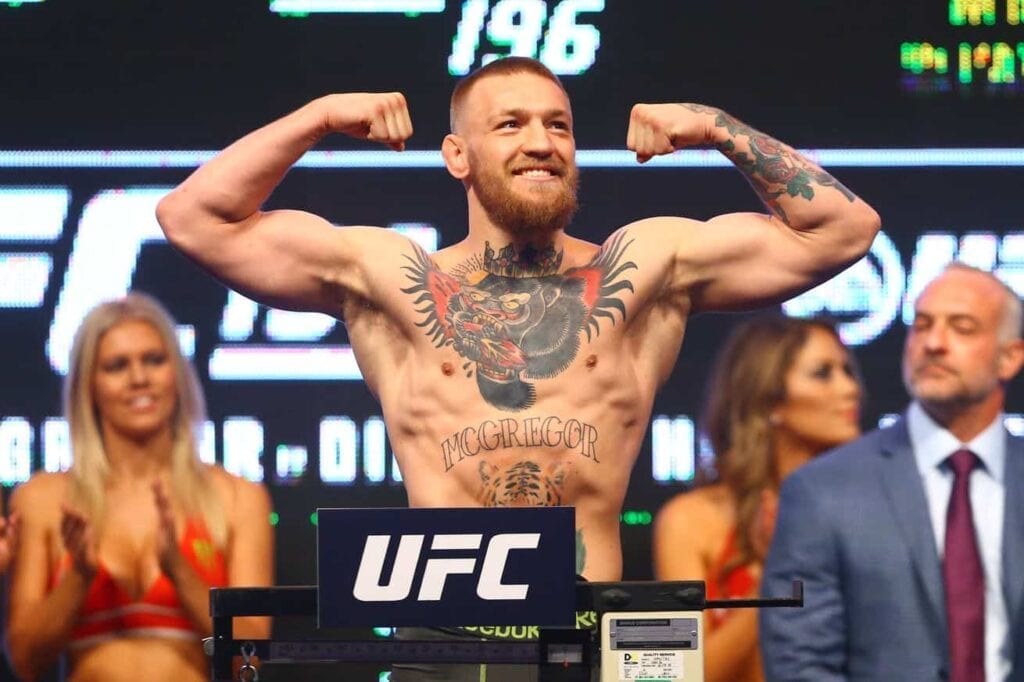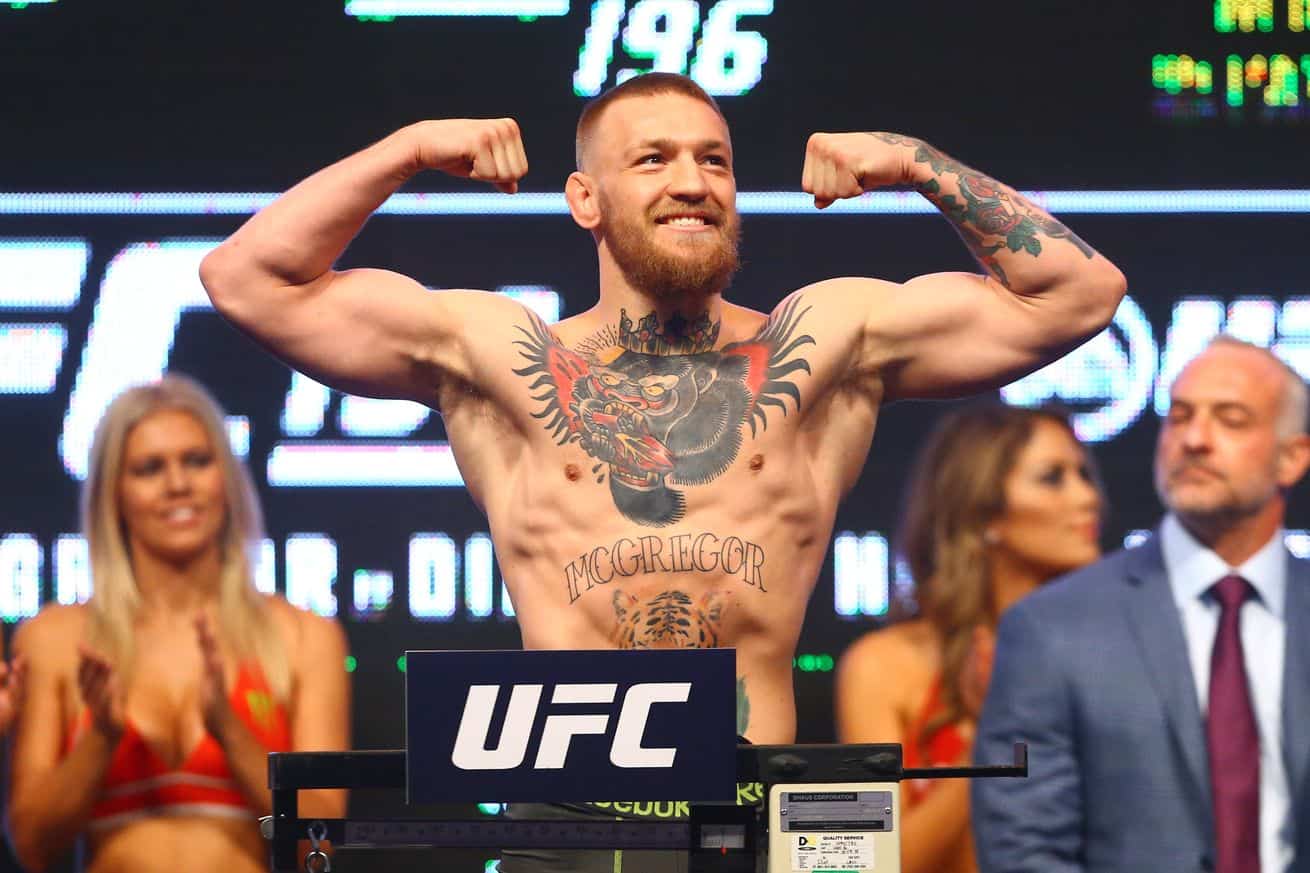 Increase Cardio & Endurance
There's no knocking McGregor's work ethic. The Irishman appears to be a machine in the gym, and typically shows up on fight night in tremendous shape.
However, there lies a big difference between 145-pounds, and lightweight or welterweight. McGregor looked fantastic on fight night, appearing larger, and fuller than ever before.
The added weight and muscle, however, may have slowed him down a bit. He even admitted himself in the aftermath of the fight that he had been inefficient with his energy, causing him to tire rather quickly.
If he indeed plans to test the waters of heavier weight classes in the future, he'll have to focus more on cardio for those bouts, as the pressure of a larger combatant will make matters extremely difficult.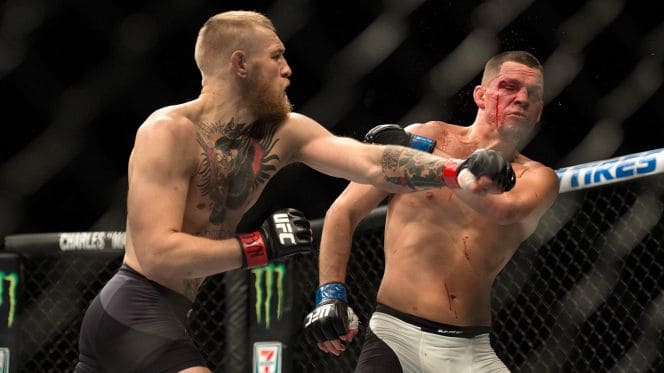 Throw More Striking Combinations
McGregor's left hand has proved time and time again to be a night ending shot.
It took the "Notorious" one just one of those patented left hands to put Jose Aldo away in just 13-seconds last December.
Marcus Brimage, Diego Brandao, Dustin Poirier, Dennis Siver, and Chad Mendes also fell victim to McGregor's power inside of the Octagon.
Diaz, although covered with blood, continuously walked through McGregor's shots like they were nothing.
The Irishman was hunting the knockout which may have also contributed to his depletion of air.
Despite piecing Diaz up early on, the "Notorious" one admitted the shots he was landing would normally put his smaller opponents away, but they didn't finish the bigger man.
In the future, McGregor must look to break heavier opponents down with more combos at first before unleashing the heavy blows. If he doesn't, he'll simply exert himself too much with no reward.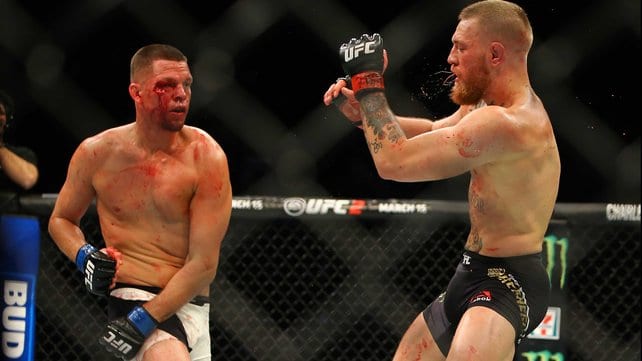 Adjust To Being The Smaller Man
Just like McGregor is used to his shots ending the night of featherweights, he's also used to being the larger, and rangier man inside of the Octagon.
The 145-pound king is an absolutely massive featherweight, as he endures a brutal weight cut to get down to the weight classes limit.
Despite the vicious cut, McGregor typically walks into the cage the larger, longer, more powerful fighter.
That won't be the case at a heavier weight class, however, and it appeared to at times throw off his striking.
While he clearly did damage to Diaz, McGregor also often appeared to be hitting shoulder rather than head, and swinging at air.
It looked as if he just wasn't accustomed to facing off with such a lengthy opponent like the Stockton bad boy.
McGregor should look to improve this asset of his game, becoming more comfortable with fighting on the inside rather than just using his range to stay on the outside.