After a controversial ending to the exciting back-and-forth bout between Dustin Poirier and Eddie Alvarez at last weekend's (Sat., May 13, 2017) UFC 211 from the American Airlines Center in Dallas, Texas, longtime MMA referee Herb Dean has fallen under an intense shroud of criticism from some of his MMA peers and many fans.
Overall, Dean has been a consistent veteran referee of the sport, even once earning the high praise of Dana White as the 'best in the sport.' But even the best make mistakes from time to time, and his doubters would definitely have you believe that Dean is slowly losing his edge as the best due to a series of inconsistent decisions in recent years.
That may or may not be true, but there's no doubt that Dean has made some head-scratching errors in the cage lately nonetheless. Let's take a look at five of the worst.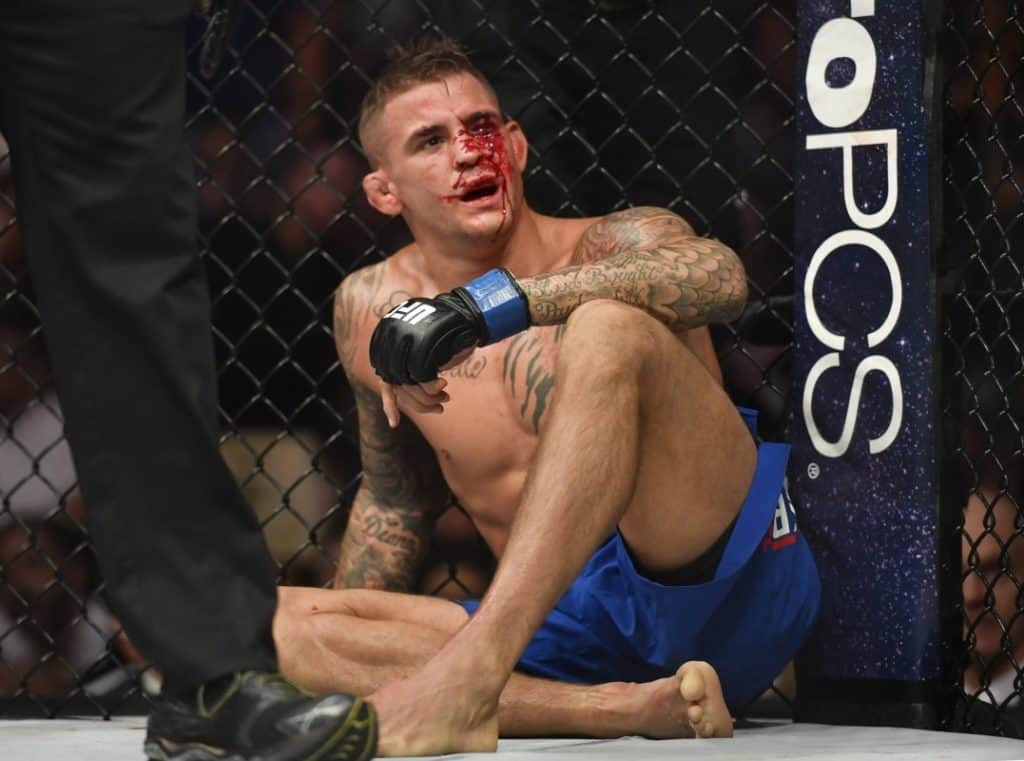 Dustin Poirier vs. Eddie Alvarez – UFC 211
We'll get the freshest example of a Dean screw-up out of the way first. After the early part of this anticipated prelim card headliner saw "The Diamond" rock Alvarez with a bevy of big shots, the former champion rallied back impressively to actually land some big strikes of his own when it looked like he was finished.
He got Poirier to the ground, and with the current state of knees to a grounded opponent one of the biggest messes in MMA, unleashed three knees that two of which may have been legal under one set of rules of another, while the third was most definitely illegal.
It also injured Poirier to the point of where he said he could not continue, making it seem as if he won by disqualification. But Dean declared it a no contest, deeming Alvarez unintentional in his strike and saying he was simply caught up in the moment. But that could be said about any illegal strike in any fight, and the rules are in place for a reason. Many have agreed Dean made a huge error in calling this a NC, and Poirier is already appealing the decision.
Renan Barao vs. Urijah Faber – UFC 169
This bantamweight title bout in February 2014 was a showcase fight for Barao, who at the time was considered one of the top pound-for-pound fighters in the world. In a bit of hyperbole, Joe Rogan even called him the best.
Anyway, the Nova Uniao champion was having his way with Faber, who filled in for an injured Dominick Cruz, in the early-going of the fight, landing big shots and dropping the tough "The California Kid." Faber may have been absorbing a lot of damage, yet he gave a clear thumbs-up to Dean while Barao was unloading a barrage of pitter-patter strikes on the ground that were nowhere near as damaging as his previous ones standing.
Now a thumbs-up from a fighter certainly isn't enough to warrant a bout being continued, but it does show that Faber was at least coherent. Barao was exactly landing knockout blows, either. He also pled with Dean to stop the bout, signaling he needed some assistance with the job rather than leaving no doubt. Dean did that for him, and has since taken a ton of flack for what's perceived as an early stoppage.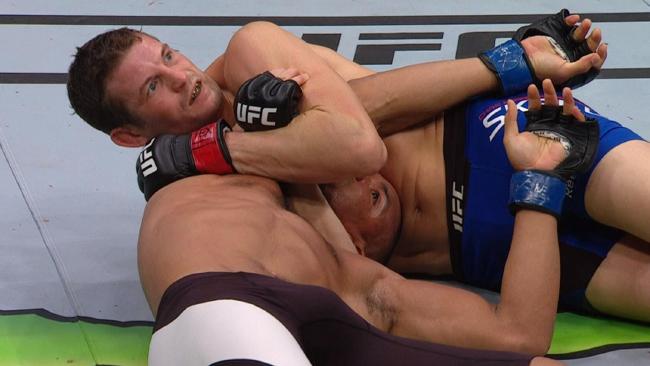 Chas Skelly vs. Maximo Blanco – UFC Fight Night 94
This featherweight match-up saw an absolutely brutal submission finish, but it didn't have tor be that way if Dean had been a bit more attentive at his job. Skilled wrestler Skelly had used an excellent transition on the mat to lock on a tight Anaconda choke that had Blanco in very bad shape in the bout. Skelly told Dean his opponent was out as he lay there with his arms splayed out on the canvas not moving, but Dean still had to make sure he was when there was no way Skelly was trying to pull a fast one on him.
After he finally called it, Blanco was out for some time, and Dean drew a ton of heat for not calling the submission sooner.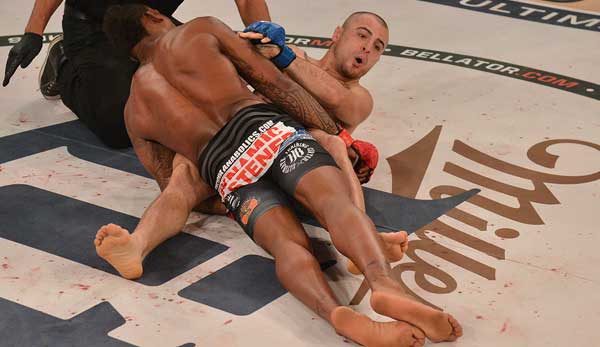 Georgi Karakhanyan vs. Bubba Jenkins – Bellator 132
Like Skelly vs. Blanco, this bout is an example of Dean letting a fighter hold onto a choke for far too long. In this match, Karakhanyan locked up a tight standing guillotine choke on touted wrestler Jenkins that ended the bout rather quickly.
Like Skelly, Karakhanyan yelled at Dean that the fight was done, repeatedly yelling that he was out. But Dean didn't believe him and let it continue on for some reason, letting Karakhanyan crank on the submission until Jenkins was out himself.
Not Dean's finest moment, and another example of when he was unwilling to call a fight off by technical submission that resulted in a fighter's health being put in jeopardy.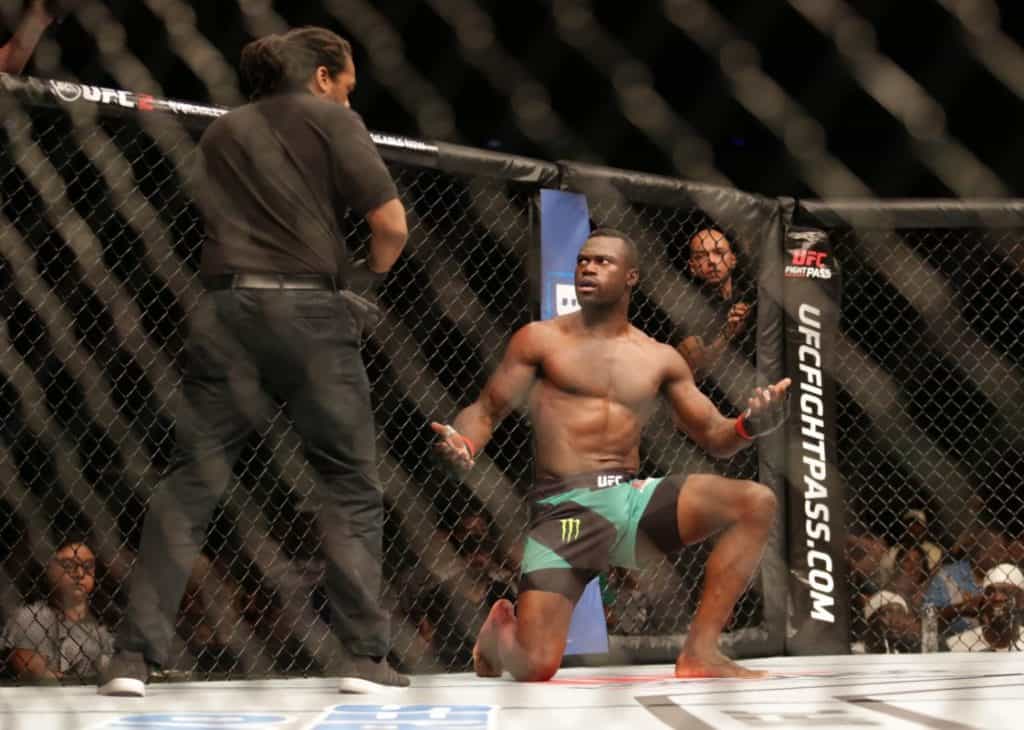 Uriah Hall vs. Derek Brunson – UFC Fight Night 94
This result, which also took place at UFC Fight Night 94, may be a bit more questionable, as Hall was clearly rocked by a big left hook from a charging Brunson.
However, he appeared to be intelligently defending himself by grabbing for a single leg, and immediately got back up to protest when the fight was called off.
Dean defended himself by saying Hall was wobbled and in trouble, but there's certainly a case to be made for allowing the fight to continue for at least a few more seconds, something Dean obviously had no problem doing when the previous two mistakes on this list involved chokes being held onto far after a fighter had tapped.
It's a fine line, true, but if Dean is going to allow fighters to be put in fight-ending submissions for a long while after they've tapped out, then you'd think he would want to give fighters who were rocked but still conscious a chance to fight back too. That's what makes being a ref in MMA so tough, and while Dean has certainly proved his worth over many years, his calls have become inconsistent as of late.
If you enjoyed this story, please share it on social media!