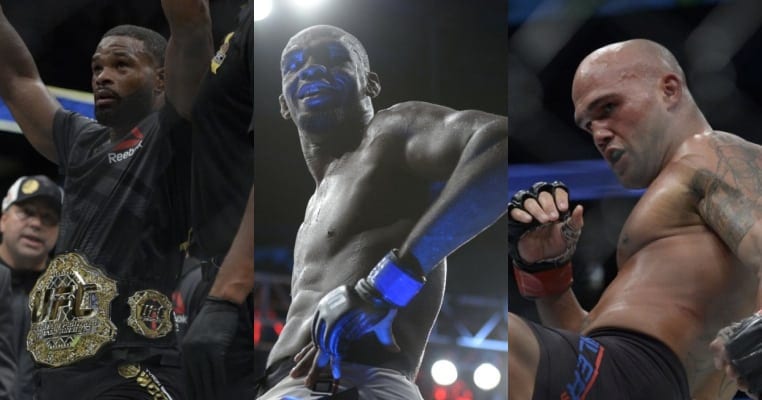 With three title fights on the card, last night's (Sat., July 29, 2017) UFC 214 from the Honda Center in Anaheim, California looked excellent on paper, and it will go down as one of the rare UFC PPV cards that was massively hyped and actually delivered on that promise. There were quick knockouts, methodical finishes, titles lost and titles earned.
With a bevy of amazing performances from top to bottom, there's much to break down following Saturday night. Let's take a look at what the MMA landscape looks like after UFC 214!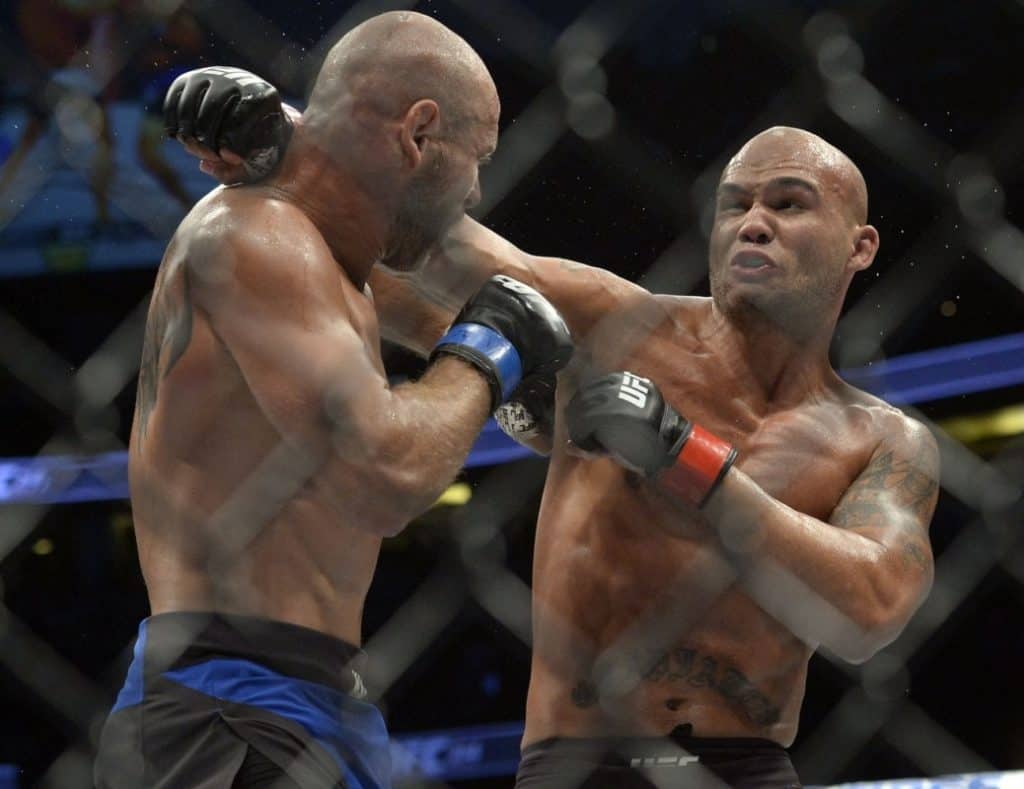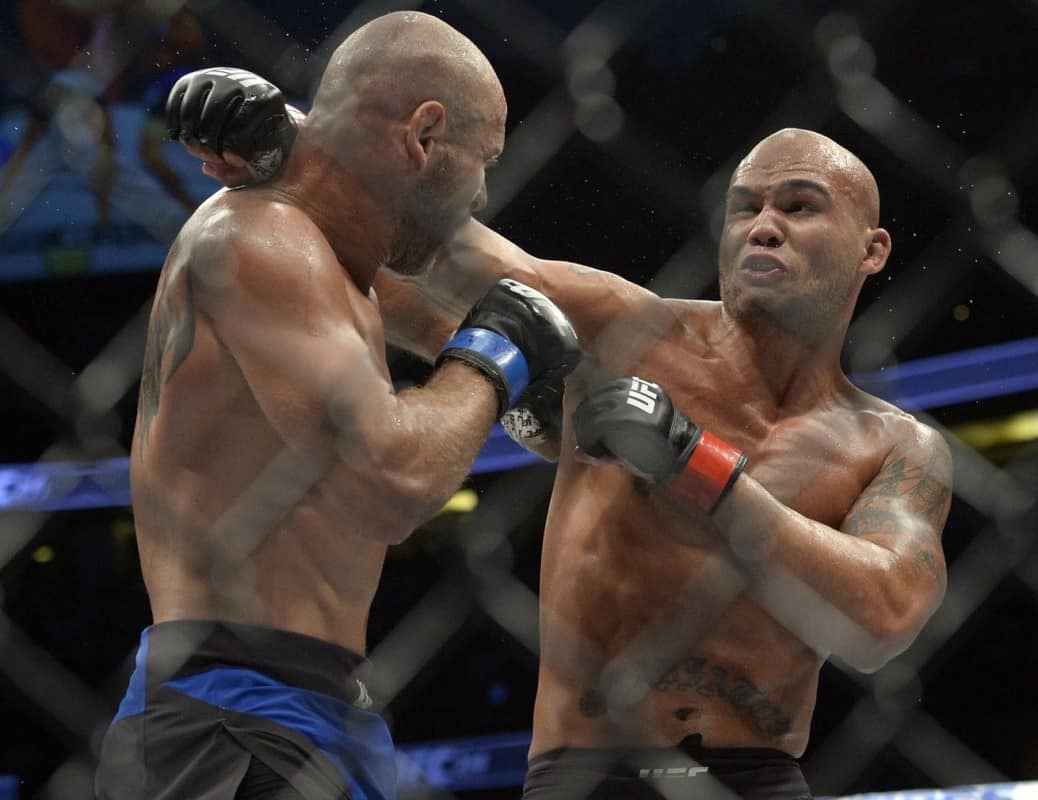 5. Lawler Wins War Of Attrition With Cowboy
This fight ended up living up to how good it looked on paper. Both men had their moments in a competitive fight, with a bat out of hell beginning for Lawler right out of the gate.
Lawler applied methodical pressure, and had Cowboy hurt with several body shots and big uppercuts in the clinch during the opening moments of the fight.
The former welterweight champion looked every bit the part on Saturday night, but talks of a rematch with Woodley are still premature. Even Lawler said so himself during the post-fight interview, where he also dedicated his win to Matt Hughes as Hughes recovers in the hospital.
A fight with Kelvin Gastelum, should he be able to make 170 pounds again, sounds ideal for Lawler.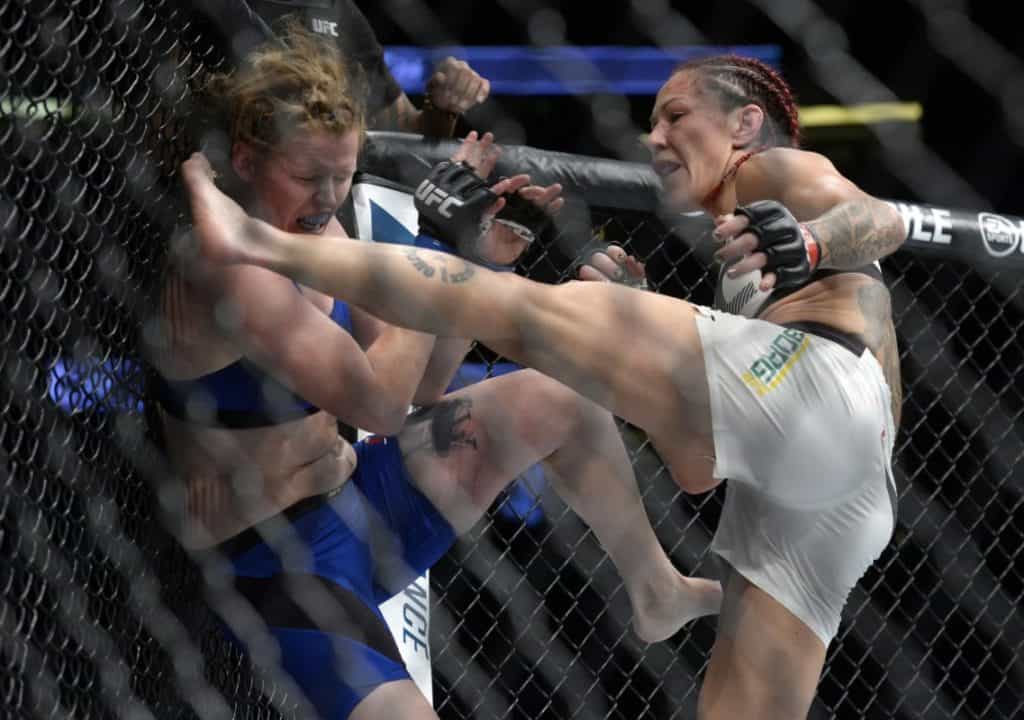 4. "Cyborg" Is Finally A UFC Champion
After a long and storied career, Cris "Cyborg" Justino is finally a crowned UFC champ.
Long considered the best female fighter in MMA, even during Rousey's run, "Cyborg" is actually only three fights into her UFC career now.
Her opponent on Saturday night, Tonya Evinger, was tough but ultimately quite outmatched. "Cyborg" finished the fight with strikes in the third round, in a fight where she was never in any danger.
The ultimate challenge now will be to find quality women's featherweight fighters, as they are few and far between.
Perhaps a fight with Holly Holm, who lost a competitive fight for the featherweight belt at UFC 208 earlier this year, could be interesting.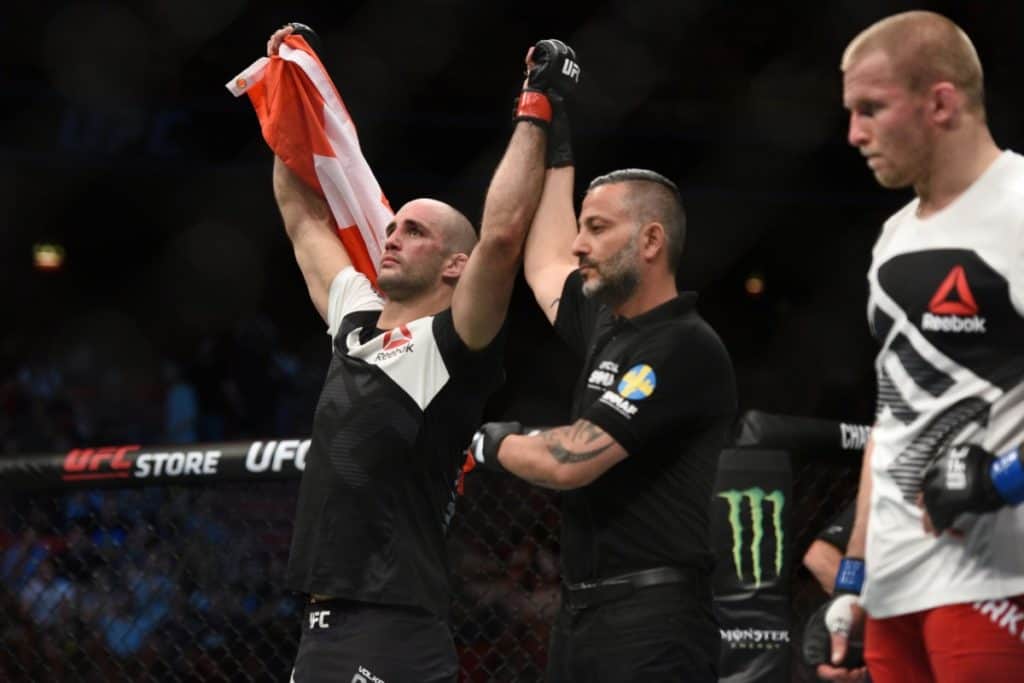 3. Volkan Oezdemir Is A Light Heavyweight Dark Horse
It's time to stop sleeping on Volkan Oezdemir. The man has blown through his last two opponents in under a minute combined, and he is doing it against world-class competition.
Jimi Manuwa had all the momentum coming into their fight on the UFC main card, despite the fact that Oezdemir knocked out rising prospect Misha Cirkunov in 28 seconds in spectacular fashion two months ago. The British slugger had scored two one-punch knockouts himself over Ovince Saint Preux and Corey Anderson, and was even placed on the card to replace Jon Jones or Daniel Cormier in the main event if either had another last minute disaster.
But it was all Oezdemir on Saturday night, as he blew through Manuwa with hard power punches in the clinch.The ending came at 22 seconds into the very first round, secrugin yet another incredible performance.
The first thing I thought of after this fight was Oezdemir vs Gustafsson. ""The Mauler" destroyed Glover Teixeira with a nasty string of uppercuts in the fifth round of their recent bout, and it's safe to say Oezdemir can hang with the best with the capability to win quickly and violently.
So there it is. Oezdemir vs Gustafsson is the fight to make after UFC 214, potentially for the next shot at the light heavyweight belt.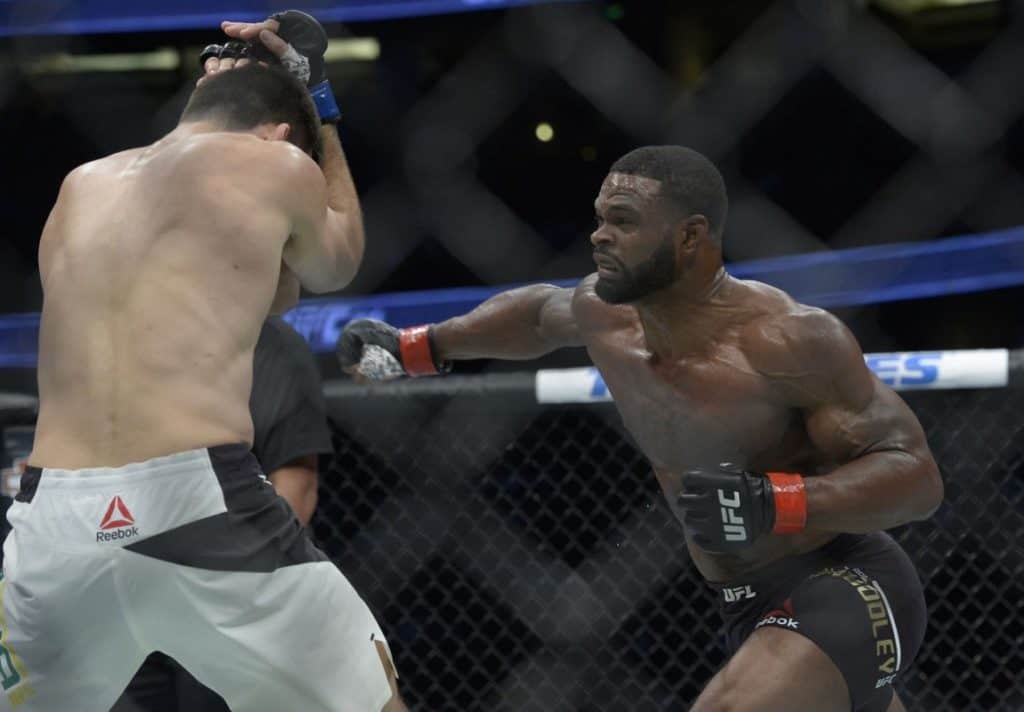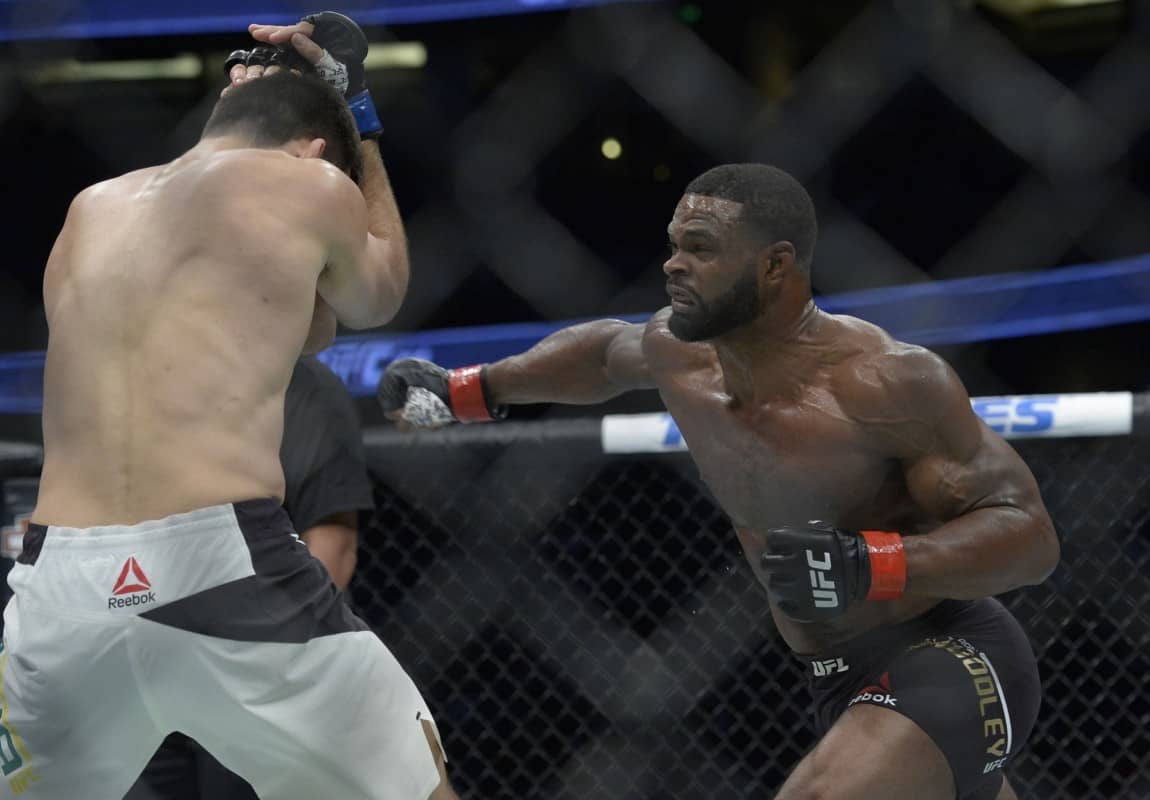 2. Tyron Woodley Has To Work To Do If He Wants A 'Money Fight':
Not too much to take away from this one. For one, Demian Maia will not receive another title shot again, at least not in the UFC. In the two times he's fought for a belt in fights with Anderson Silva at middleweight and now with Woodley at welterweight, he's laid an egg, big time.
Not that Woodley was the most active dance partner, but he did stuff between 20-23 takedowns (officially 21 on the UFC website) from Maia, a feat that Jorge Masvidal and many others couldn't duplicate.
UFC President Dana White wasn't too high on Woodley after Saturday night, and although he called for Georges St-Pierre, the lingering specter of Michael Bisping vs. GSP leaves that idea in doubt.
So Woodley will have to continue defending his 170-belt, and it's unclear who he'll face next. A rematch with Lawler, whom he knocked out to win the belt in the first and got back on track against Donald Cerrone at UFC 214, could be next for 'The Chosen One."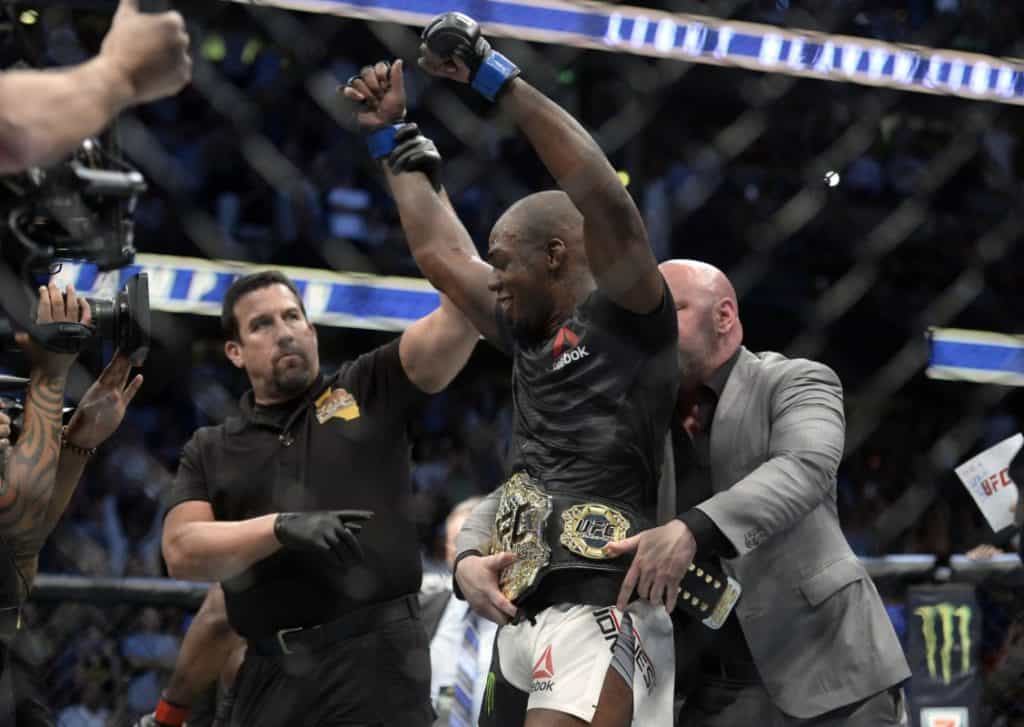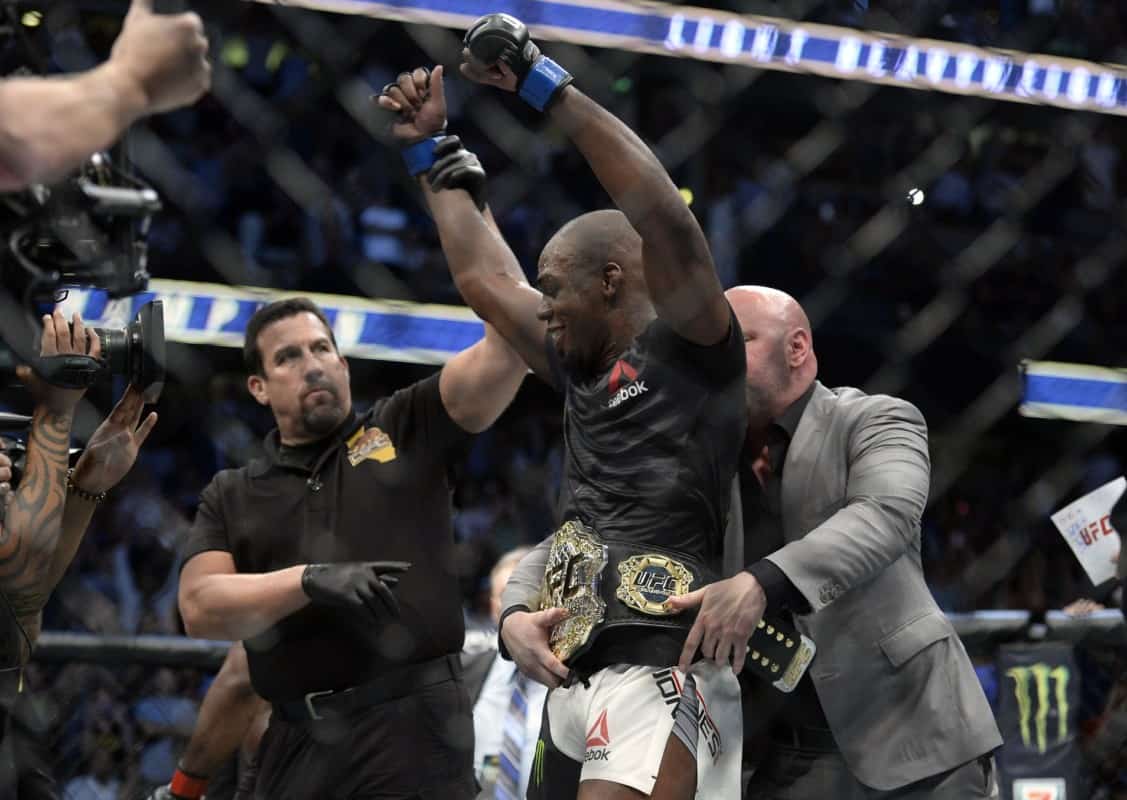 1. Jon Jones Is Back – With A Vengeance
Incredible work by Jon Jones last night. In becoming the first man to ever finish Daniel Cormier, Jones has solidified his position at the top of the MMA game as the finest pound-for-pound force in the UFC.
After several personal and professional setbacks, it's safe to say Jon Jones is back. It was just a masterful finish by Jones. He outlasted a relentless assault of forward pressure and big shots from 'DC' to out-land the champion with his vaunted arsenal of kicks, finally finishing him off with an earth-shattering head kick and a follow-up onslaught of ground and pound.
As stated earlier, a fight with the winner of a potential fight between Gustafsson and Oezdemir could be next for Jones right now, but he could just rematch Gustafsson for the belt in a run-back of their UFC 165 classic that fans have been calling to see since the controversial split decision was read. There's also the possibility of a long-awaited fight with Anthony Johnson if "Rumble" decides to return.
However, Jones is pushing for a potential super fight with former heavyweight champion Brock Lesnar after rumors began swirling during UFC 214 fight week, and with Lesnar responding quickly to all of Jones' callouts, it appears that the UFC will have litte choice to book a bout that would almost certainly be the biggest pay-per-view draw of a down 2017 for the UFC.
Either way, the options are many for MMA's controversial king, and he opened up a path of new and exciting possibilities by becoming the first man to finish "DC" last night.