| | |
| --- | --- |
| Birth Name: | Fabricio Andrey Batista Junior |
| Date of Birth: | March 5th, 2000 |
| Place of Birth: | Manaus, Brazil |
| Nickname: | Hokage |
| Academy: | Melqui Galvao BJJ |
| Weight Class: | Peso Pena (70,00 kg / 154.5 lbs) |
| Affiliation: | Melqui Galvao BJJ/Fight Sports |
| Championships: | IBJJF World Champion, Brazilian National Champion |
Fabricio "Hokage" Andrey is one of the most entertaining young grapplers in all of Jiu Jitsu. Known for doing his power up foot stomp before every match and from that point, he just keeps coming forward.
Here's everything you need to know about Fabricio Andrey. Covering his BJJ journey from his start in Jiu Jitsu to becoming a world champion at a young age.
Fabricio "Hokage" Andrey's Entry Into Jiu Jitsu
Fabricio Andrey grew up in the central Brazilian city of Manaus within the state of Amazonas. He was born into a family of martial artists as his father was an accomplished capoeira instructor.
Andrey would take up the family trade from an early age and would become well-versed in the Brazilian striking art. When Fabricio was thirteen, he would start learning Jiu Jitsu through a social project created by Melqui Galvao.
Galvao is known as one of the best BJJ instructors in Manaus and even the world. As soon as Fabricio began learning Jiu Jitsu, he was hooked and wanted to become a professional grappler.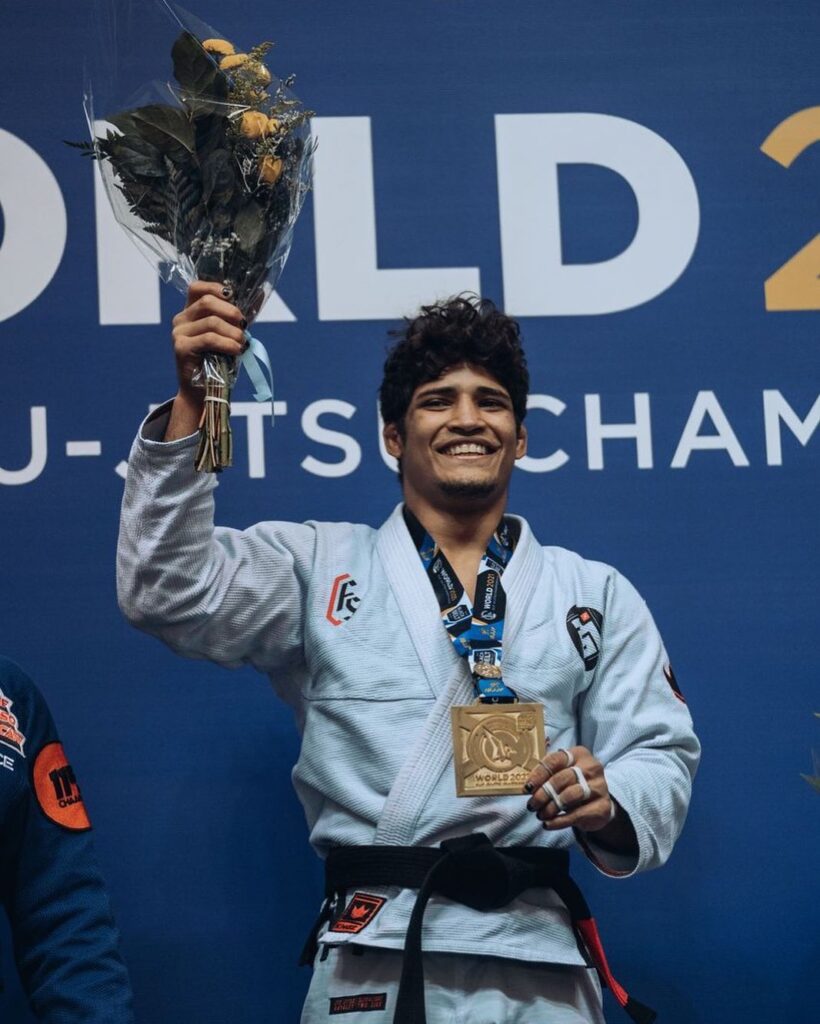 Fabricio Andrey Becomes a BJJ Competitor
Even though Andrey was young, he took his BJJ training really seriously. He would quickly become one of the top competitors in Galvao's school along with his son Mica Galvao and Diogo Reis.
As a green belt, Hokage was already training with the competitors of the school. His talent was undeniable and his instructor knew that Fabricio was going to be a special athlete.
Fabricio Andrey's Time Training With Alliance
When Andrey became a blue belt, he wanted to make an effort to reach the IBJJF World Championship in California. To reach this goal, he would need to switch cities to make realizing this dream more feasible.
With the support of his instructor Melqui, Andrey would move to Sao Paulo. Once there, he would join the Alliance Matriz Academy and be part of the early Dream Art Project.
He would train mostly with DAP during this time. Alliance leaders Fabio Gurgel and Michael Langhi would promote Fabricio to brown belt and brown belt.
During his time training with Alliance and DAP, Andrey would realize his dream. Winning world championships at the blue and purple belt levels. Also winning the European Open at brown belt.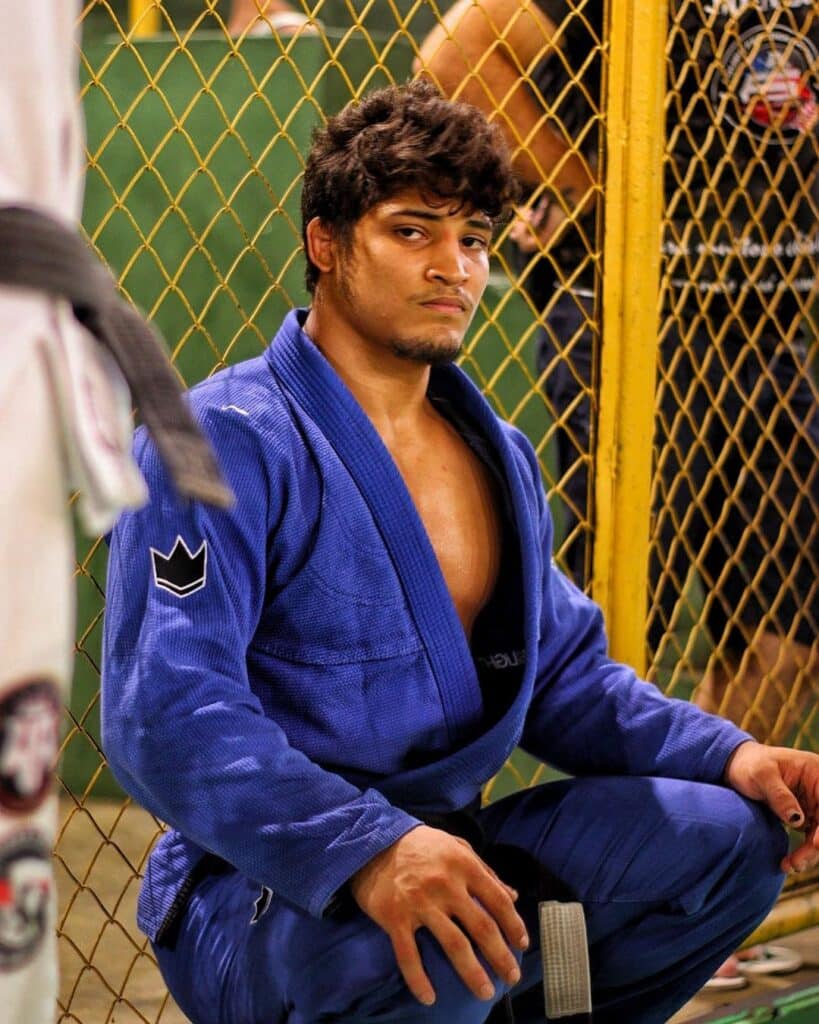 Fabricio Andrey Returns To Manaus
Hokage would not win a world championship at brown belt due to the Covid Pandemic, which canceled the event. This would lead Andrey to return home to Manaus and begin training with Professor Melqui.
He wanted to pay respects to his original Jiu Jitsu instructor and be given his black belt by him. Melqui Galvao would promote Fabricio Andrey to black belt in August of 2020.
Andrey returning to Manaus also meant that he would be training again with his old friends Mica Galvao and Diogo Reis.
How Did Fabricio Andrey Get His Nickname?
If it isn't obvious, Fabricio Andrey is a big fan of the anime Naruto. He loves the anime so much that he would call himself a "Hokage" when he was training.
His teammates would even start calling him Hokage and began printing the name on his competition Gis. Now everybody that knows Andrey refers to him as "Hokage."
Fabricio "Hokage" Andrey's Grappling Career (So Far)
Hokage has only been a black belt for a little more than two years. But in that time, he has won a world title and competed in the sport's biggest competitions. Here is a breakdown of his grappling career so far.
Fabricio's Early Black Belt Career
Due to the pandemic, Andrey didn't get to compete much as he would've liked as a brown belt. After getting his black belt, he would make his black belt debut in late 2020.
He would lose his debut at a BJJ Bets event to Meyram Maquine. Andrey would also lose to Maquine in the AJP RIo Grand Slam finals a few months later.
Even though he would suffer these early losses, Andrey would bounce back and become a world class competitor.
Hokage's Road To Winning IBJJF Worlds
After suffering a few losses early in his black belt career, Andrey would hit his stride in 2021. Winning back to back tournaments at the SA Continental Pro and the 2021 Miami Grand Slam event.
He would then start to make his bid to qualify for the 2021 IBJJF World Championship. Fabricio would come up short in the Pan American Championship. Losing to Jamil Hill Taylor by advantage after submitting his first three opponents.
But Hokage would bounce back and win big at the Brasileiro Championship. Then after a good showing at the IBJJF World Pro event, Andrey qualified to compete at the world championship.
His first IBJJF Worlds event as a black belt. This time, Andrey would not be denied and put on a dominant performance.
Beating his first three opponents to set up a rematch with Jamil Hill Taylor in the finals. This time, he would get the better of Taylor and submit him with a triangle to win his first world title at black belt.
Andrey's Road To ADCC 2022
In 2022, Fabricio Andrey would go through a tough training camp to qualify for ADCC 2022. In the first Brazilian trials, both he and his teammate Digo Reis would be in the same division.
The two would meet in the semifinals, where Andrey would lose to his teammate by inside heel hook. Disappointed, but not down, Andrey would bounce back and enter the second ADCC Brazilian trials event.
This time, Hokage would not be denied as he submitted all five of his opponents in the second trials event. Punching his ticket to the 2022 ADCC tournament.
While preparing to compete at the 2022 ADCC event, Andrey would win the Brasileiro for the second time. Then at the ADCC tournament in Las Vegas, Andrey would face tough competition, which included teammate Diogo Reis in his division.
In the opening round, Andrey would face 17 year old AoJ phenom Cole Abate, who had a lot of hype behind him. Andrey would use his experience to shut the young grappler down to advance to the next round.
Teammate Diogo Reis would be his next opponent and would beat Hokage for the second time. Reis would also go on to win the ADCC title that year.
Andrey also competed in the absolute division and lost to Victor Hugo in the opening round by submission.
The Manaus Boys
Fabricio Andrey is one of the three grapplers under Melqui Galvao that have become known as "the Manaus boys." A group of young black belt competitors that have already won world titles before the age of twenty five.
Together, they are a strong force that will continue to be one of the top young grapplers for years to come.
Fabricio Hokage's Grappling Game
Just like his Manaus teammates, Hokage has a well rounded grappling game. But how Hokage differs from his teammates, he enjoys a pressure style of game.
Once the match starts, he goes full force the entire duration and doesn't get tired. Andrey has great speed and conditioning along with being well rounded that has helped him win numerous big tournaments
What's Next For Fabricio Andrey?
Fabricio Andrey has a bright future ahead of him in Jiu Jitsu. As long as he stays focused and continues to train hard, he'll likely continue being an elite level grappler. Possibly even winning more world championships in the near future.