Mica Galvao – BJJ Black Belt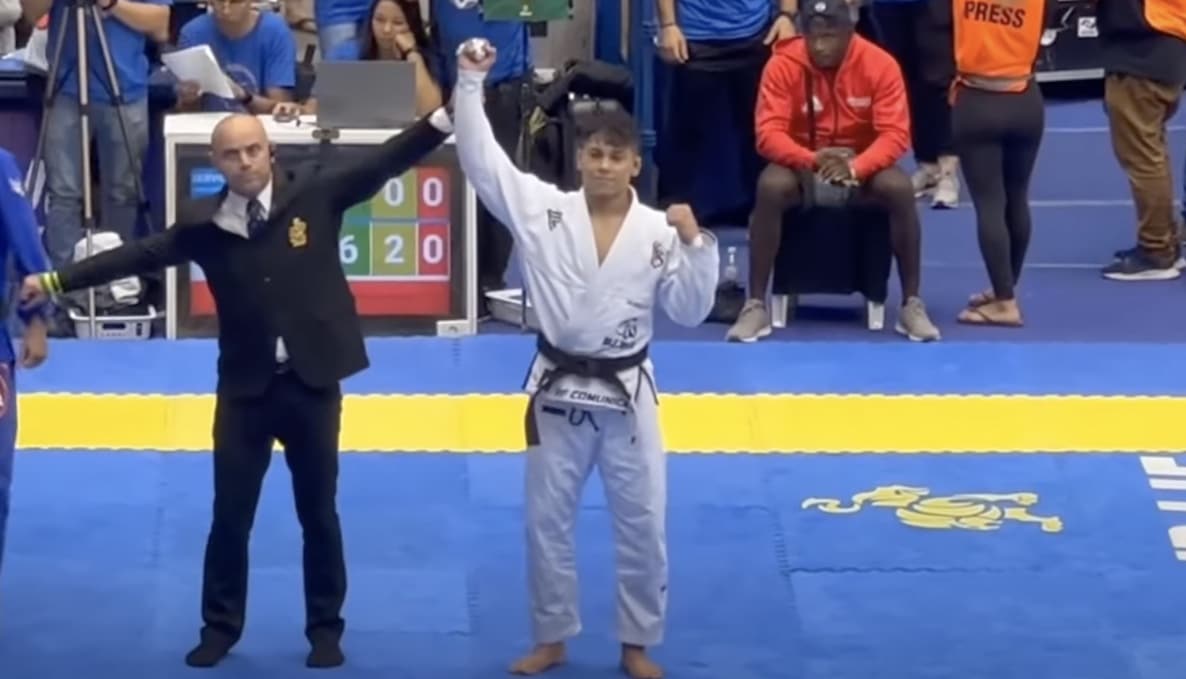 | | |
| --- | --- |
| Birth Name: | Micael Galvao |
| Date of Birth: | October 8th, 2003 |
| Place of Birth: | Manaus, Brazil |
| Nickname: | Mica |
| Academy: | Melqui Galvao BJJ |
| Team: | Fight Sports, Dream Art / Alliance , Projeto Nandinho, Cícero Costha |
| Championships: | IBJJF Champion, Brazilian Nationals, 2nd Place ADCC |
| Weight Class: | Lightweight, Middleweight |
Mica Galvao is one of the most talked about rising stars in all of Brazilian Jiu Jitsu. He earned his black belt before the age of 20 and is destined to become one of the all-time greats.
Here is what you need to know about Micael "Mica" Galvao. Going over how he was raised into grappling and how he was polished to become a world champion.
Mica Galvao Being Born Into Jiu Jitsu
Micael Galvao grew up in Manaus, the capital of the Brazilian state Amazonas. From the time he was born, Mica was destined to do great things in Jiu Jitsu.
His father is BJJ black Melqui Galvao, who is one the premier BJJ instructors in Manaus. Galvao was born on the Jiu Jitsu mats and was playing on them since before he could walk.
By the time Mica was four years old, he had begun his formal Jiu Jitsu training. Galvao's whole life evolved around developing his grappling ability.
When he was 10, Mica also began learning Luta Livre Esportiva. Brazil's version of catch wrestling under instructor Totonho Aleixo.
Galvao would also add amateur wrestling and Judo to his training during his teens. Everyone around Mica knew that he would quickly become a skilled grappler.
Mica Galvao's Early Domination of Jiu Jitsu
From the time Mica was a preteen, people were talking about just how special of an athlete he was. His first major title in Jiu Jitsu came when Galvao was twelve, winning the Brazilian Nationals Junior division, when he was twelve.
The next year at thirteen, Mica would repeat as Brazilian Nationals Champion in the teens division. Beating kids 15-16 years old who were twice his size and higher ranked.
At the same time Mica was also winning tournaments in Luta Livre, Judo, and beach wrestling.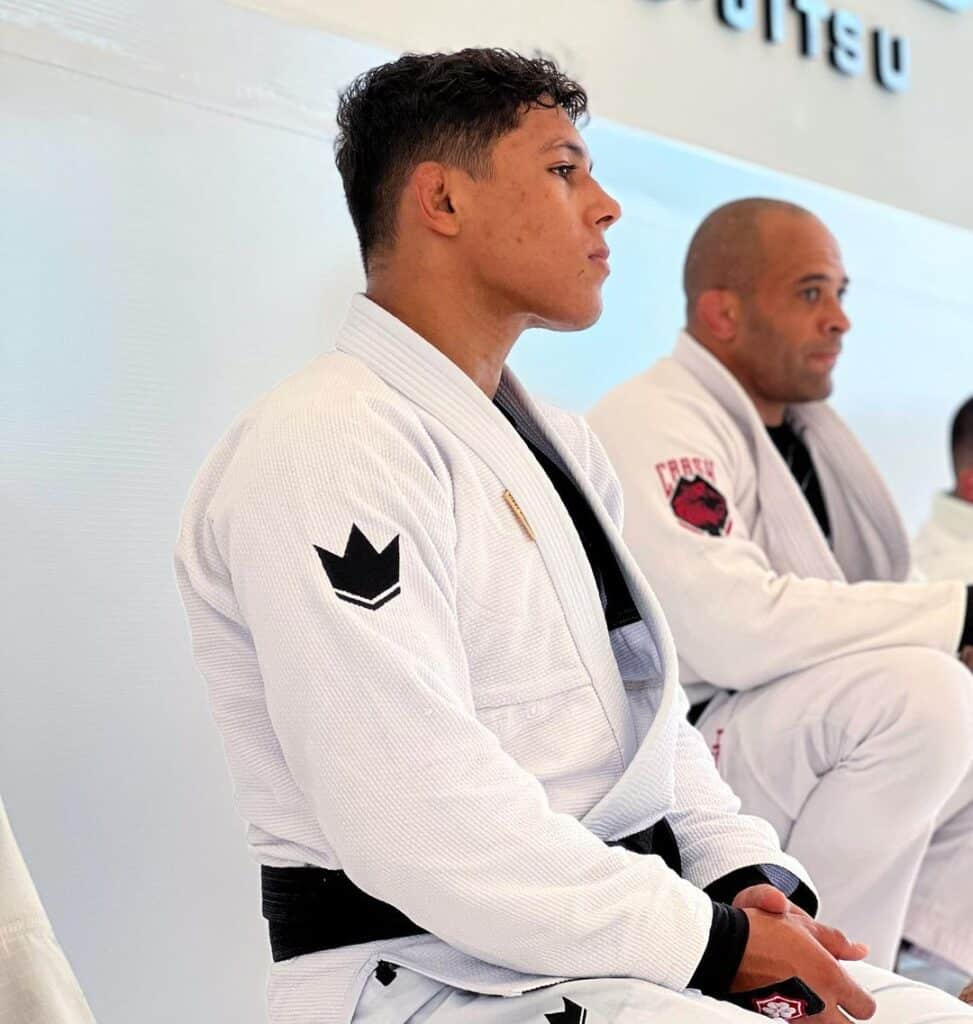 Mica Galvao Beating a Black Belt at 15
When Mica was just fifteen years old, he would earn his blue belt and get a superfight offer. What was different about this offer was that it was against black belt Leandro Rounaud, who recently won the Manus Open.
The whole BJJ community in Brazil would watch this match with great interest to see if Galvao's hype was real. It would turn out that Mica Galvao was indeed for real.
He handedly beat Rounaud by submission, who was considered one of the best athletes in the state. Then in the same year, Galvao would win every major title as a teen in BJJ.
Not only winning every major BJJ championship in the world, but winning double gold at the events. Everyone knew that Mica was the next big thing.
Mica Galvao's Quick Promotions Through The Adult Ranks
As noted, Mica was already a blue belt by the time he was fifteen years old. Having already the abilities of a high level black belt, he would go through the adult ranks rather quickly.
In less than a year as a blue belt, Mica would be promoted to purple belt on November 16th, 2019. He would spend a little more than 11 months at purple belt and win every possible championship.
Mica would be promoted to brown belt on October 22nd, 2020 when he was just seventeen. Then just another ten months later, Galvao would be awarded his black belt by his father.
At just seventeen, Galvao was already a black belt and ready to take on the best BJJ athletes in the world. Also right before earning his BJJ black belt, Galvao would also earn his black belt in Luta Livre.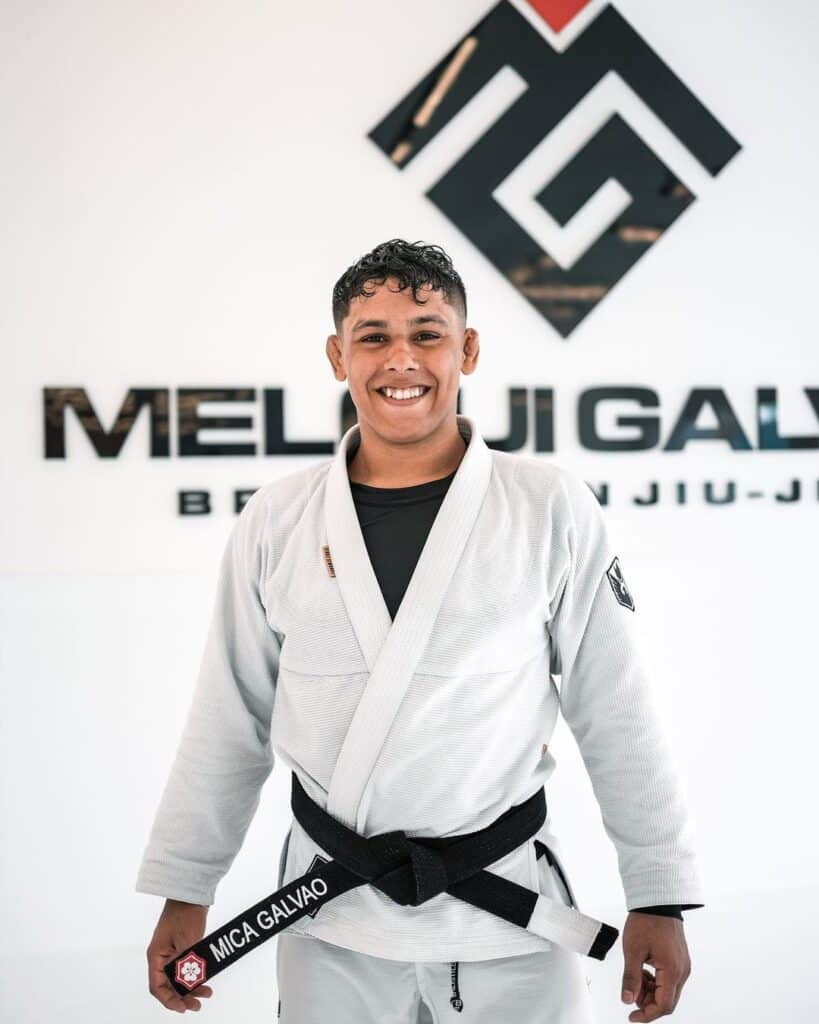 Mica Galvao's Grappling Career(So Far)
Galvao hasn't spent long on the pro level circuit, but he has already had fantastic showings. Here are some of the highlights of Mica Galvao's career so far.
World Pro & ADCC Trials Brazil
Mica's big splash as a black belt came at the IBJJF World Pro event at the end of 2021. He would face some stiff competition in the 77 kg division, but was game to take them on.
At the event, Galvao would dominate his division with four straight finishes by submission. The last two were Levi Jones in the semi finals and European champion Espen Mathiesen by ankle lock.
But Galvao would top this performance with his first competition in 2022 at the ADCC Brazil Trials. He put on one of the most talked about performances of the year in the ADCC Trials events.
Mica walked through his competition with ease, submitting all four opponents, which included Magid "Gorilla Hands" Hage in the finals. Punching his ticket to his very first ADCC tournament in late 2022.
BJJ Stars, Brasileiro, IBJJF Worlds
Before ADCC 2022, Mica would have three more incredible performances. The first at the BJJ Stars 83 kg tournament, the Brasileiro, and then the IBJJF Worlds.
At the BJJ Stars tournament in Sao Paulo, Galvao was the young gun of the competitors. He put everyone on notice in the first round by beating the beloved Leandro Lo in the first round.
Then after an injury to Mauricio Oliveira in their semifinals match, Mica would submit Lucas Barbosa by bow and arrow choke. Winning the competition and earning one of the largest paydays of his young career.
Then at the IBJJF Worlds, Mica would have one of the toughest tests of his career. That year, there were 16 competitors in the 76 kg division.
His biggest wins would come in the semifinals and finals. Submitting AoJ standout Jonnatas Gracie and winning by points over one of his young rivals in Tye Ruotolo. Earning his first world title as a black belt.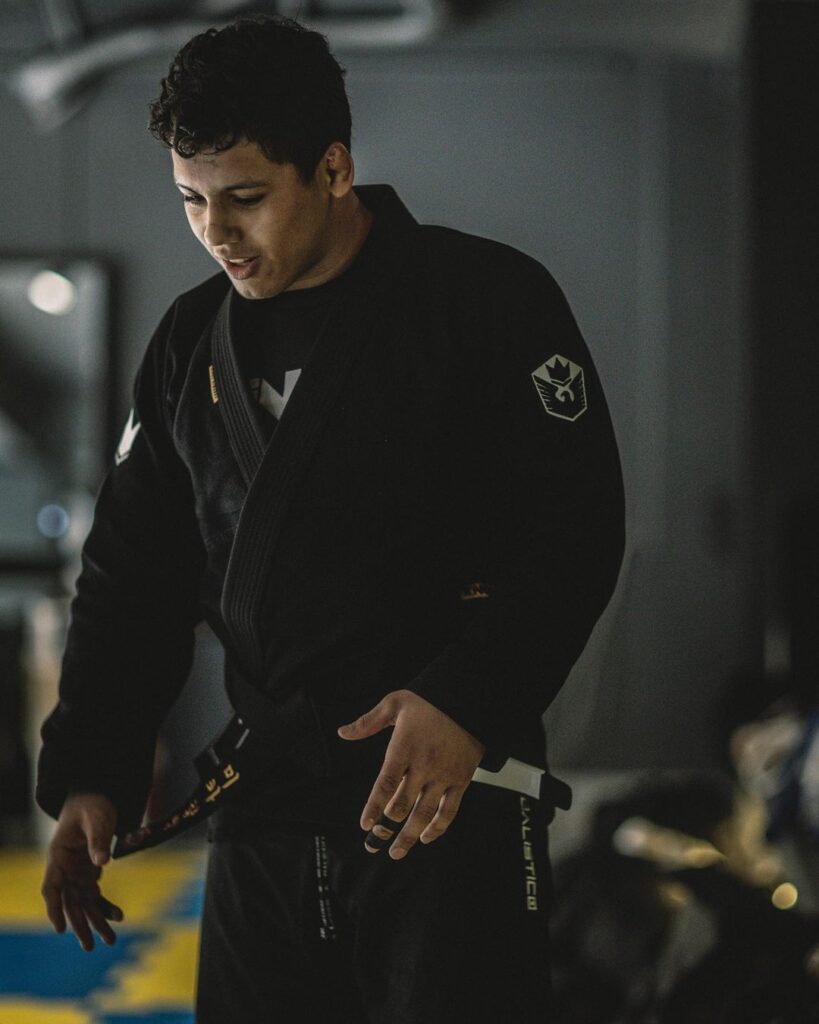 ADCC 2022
Going into ADCC 2022, Galvao was one of the favorites to win it all in the 77 kg division. At first, it looked like Mica was going to run away with the division.
In the opening rounds, he would beat standout grapplers Oliver Taza, Renato Canuto, and Dante Leon. Setting him up for a showdown with rival Kade Ruotolo.
It would be Kade that would get the better of Mica in the finals to secure a heel hook. Forcing Mica to submit for the first time in his career. Forcing Galvao to settle for second place at that year's tournament.
The Manaus Boys
Mica Galvao is part of a young group of standout grapplers from Fight Sports. They are known as the Manaus boys since the three all hail from the city of Manaus in Amazonas.
Along with Galvao, the group consists of Diogo "Baby Shark" Reis and Fabricio "Hokage" Andrey. Three young black belts under the age of 25 that have all won world championships.
You can expect to see all three young grapplers win numerous titles in the coming years.
Mica Galvao's Grappling Style
Mica Galvao has one of the most complete games of any Jiu Jitsu athlete. He has been training since he was 4 and has worked on every single facet of grappling.
Galvao is as good at attacking in top position as he is off his back in guard. Then along with his abilities on the ground, he's just as good getting his opponents to the ground with throws and takedowns.
There isn't much that Mica isn't good at in grappling and he's only going to get better as time goes on.
What's The Future For Mica Galvao?
The future for Mica Galvao is anything the young man sets his mind to. He already possesses the skill of a grappler twice his age but has yet to peak as an athlete.
It isn't a matter of Galvao winning another championship, but rather how many he'll win before he finishes his career. Mica is no doubt a star and he's only going to get better as time goes on.