Last night (Thurs., November 2, 2017) bantamweight champion Cody Garbrandt took his rivalry with former champion and teammate TJ Dillashaw to an all-new level when he posted footage of him allegedly knocking Dillashaw out in training.
The two obviously had a heated rivalry pre-installed dating back to their days as Team Alpha Male teammates, where Dillashaw supposedly ended Chris Holdsworth's career with a dirty knee to the head. That was only heightened when the two signed to coach The Ultimate Fighter (TUF) 25 opposite one another earlier this year where the rivals' disdain for one another became apparent.
Although their scheduled bout was delayed until the co-main event of UFC 217 from New York this weekend (November 4, 2017) when Garbrandt injured his back, the hype and trash talk picked up right where it left off this week when Garbrandt claimed Dillashaw couldn't "condition his f*cking chin" and that he had "showed Team Alpha Male how to use steroids." But posting the training footage of his alleged knockout over Dillashaw, which is a sort of unspoken no-no in many MMA gyms, was the straw that broke the proverbial camel's back – yet it undoubtedly resulted in some major last-minute push for the bout.
Dillashaw predictably responded with what many online viewers were thinking, that Garbrandt indeed dropped him with a big punch in the video but was far from knocking him out like he claimed because Dillashaw appeared to get back up to his feet immediately. When presented with that notion on Twitter, Garbrandt quickly responded that Dillashaw "couldn't even walk" and would have had his skull "pounded in" were it a real fight in the cage:
https://twitter.com/Cody_Nolove/status/926232167667118081?ref_src=twsrc%5Etfw&ref_url=https%3A%2F%2Fwww.mmafighting.com%2F2017%2F11%2F2%2F16600868%2Fvideo-cody-garbrandt-posts-clip-of-alleged-sparring-ko-of-t-j-dillashaw
Regardless of the details, however, hype and attention for the already anticipated bout were fostered at just the right time, and that fact may just have pushed the fight into the territory of being the 'real' UFC 217 main event.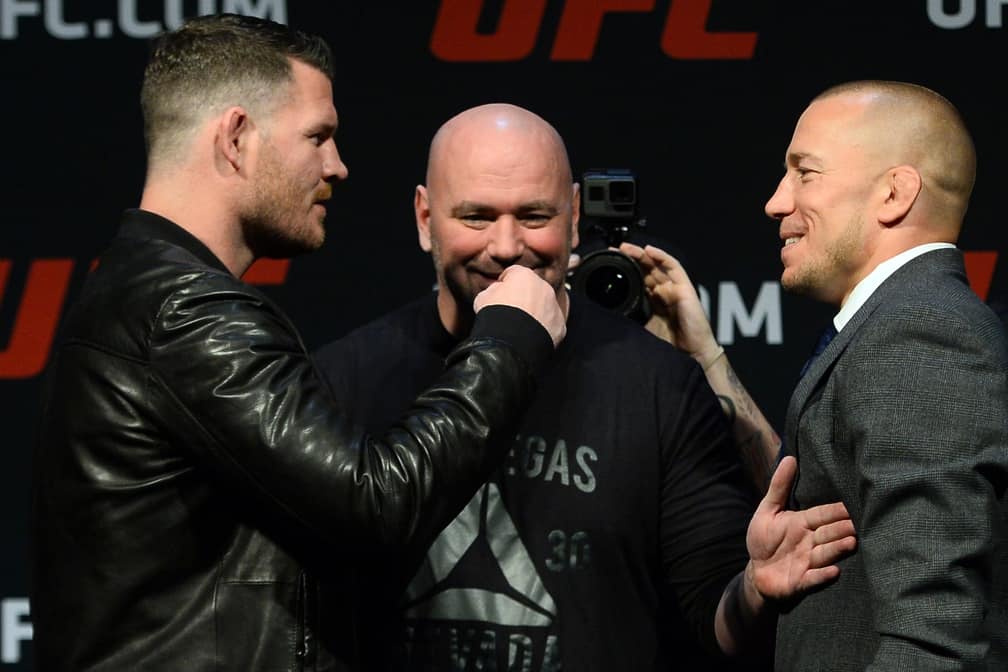 Yes, longtime former welterweight champion Georges St-Pierre will return to the Octagon after nearly four years off to face middleweight champion Michael Bisping in the official UFC 217 main event, but for a bout of that magnitude on paper, it's getting comparatively little buzz or attention.
Part of that may be to the oft-discussed theory that current MMA fans don't remember St-Pierre as they've only recently started watching during the Conor McGregor/Ronda Rousey era, which is a bit ridiculous but could be true nonetheless, part of it could be St-Pierre's admitted lack of skill at talking trash, something that obviously hurts him in today's smack talk-centered UFC landscape, and part of it may be the dislike for Bisping's perceived holding hostage of the middleweight title, as he's only defended his belt once against an aging Dan Henderson as the wholly deserving top contenders in his division fought each other and eliminated themselves from the running, save for injured interim champ Robert Whittaker.
No matter what, Bisping vs. St-Pierre, although a massive bout featured two of the legitimately best fighters in UFC history, just isn't getting the heat a fight of that scope should. There is no backstory present like there is with Garbrandt vs. Dillashaw, and there is certainly no knockout video, even though Bisping and St-Pierre did train together in the past, with "GSP" reportedly getting the better of "The Count."
So with many in the MMA world prognosticating a lack of hype and therefore a lack of quantifiable numbers for UFC 217, Garbrandt may have pushed attention for his bout to the point where people want to tune in for the co-main event more than the main event. It may not prove true, but Dillashaw recently cited an online poll where supposedly 70 percent of responders wanted to see Garbrandt vs. Dillashaw more than any other bout at UFC 217.
If that does become the case this weekend, then Garbrandt's training footage could have been the perfect stunt to pull at the last minute, and it could result in a decent boost on the final box office receipts.
Based on pure meritocracy and accomplishment, Bisping and St-Pierre obviously hold all the cards over the younger bantamweights, but in today's UFC landscape, generating the most hype and buzz, usually on social media, is what it takes to push a bout into must-watch territory.
That's why Garbrandt vs. Dillashaw may have just become UFC 217's 'real main event.'
Do you think it did?