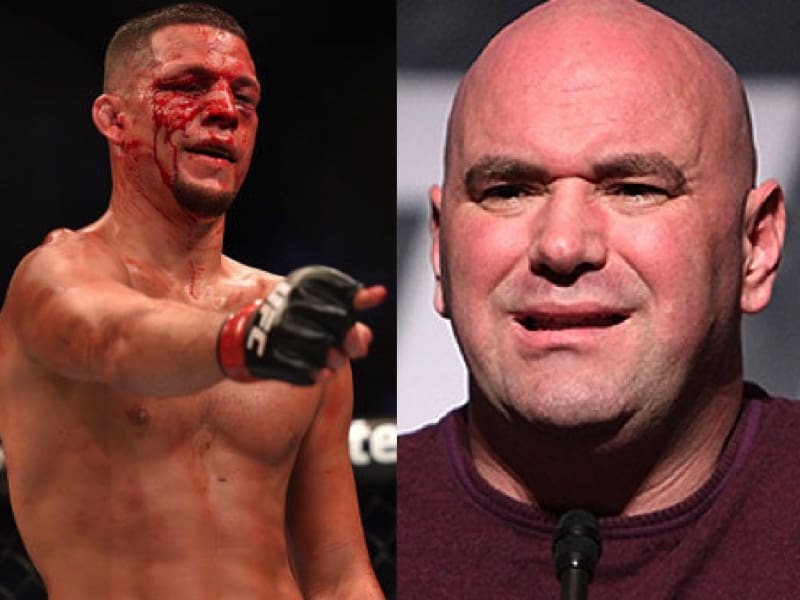 Nate Diaz won't stop campaigning for a shot at the new UFC 165-pound title.
The outspoken Stockton slugger recently claimed he was fighting Poirier for the title of the all-new 'superfighter devision' earlier this week. The claim was soon shot down by Dana White.
But Diaz isn't giving up. He claims that Poirier isn't down to fight him for the 165-pound belt. He'll return to the octagon next year as a result, or so he says. Poirier quickly clapped back to say he was one hundred percent down.
White is sticking to his guns. He told TMZ Sports (quotes via MMA Mania) that the whole situation is 'nutty as hell' during his latest return. He added that Diaz has been strange since he signed on to fight Poirier:
"I definitely saw that," said White in a recent interview with TMZ Sports (shown above). "It's nutty as hell. The guy signed a deal to fight at 155 pounds against Poirier – from the minute the deal was signed and he went out on stage, he's just been, you know – it's completely weird. That's what it is."
One may believe Diaz is trying to avoid cutting down to 155 pounds to fight Poirier. Either way, "The Diamond" seems ready to fight at any weight.
As for White's predicament, he doesn't seem too worried. Diaz signed to fight at UFC 230. The enigmatic fan favorite will have to show up in New York as a result:
"He has to, yeah. The guy signed a deal, tickets went on sale, all this stuff is in motion – you can't just sign a deal and then do the things he's doing right now, and not fight. If you look at what he's doing, I swear to God I had some police officers come in here this afternoon and say 'Ah man, it sucks, the Diaz fight is off.' Most people think that the fight isn't even on because of what he's doing on social media."
Apparently, people think the fight is actually off. That would be a huge blow to the card. UFC 230 remains without a main event.
Diaz vs. Poirier for the belt would definitely fit that bill. It's simply not happening according to White:
"Not only will there not, we did not ever discuss that with him, was never an option, or anything," said White.
The UFC 165-pound division has been in discussion for quite some time. Many view it as a gap between lightweight and welterweight where fighters can stop cutting weight due to the middle ground.