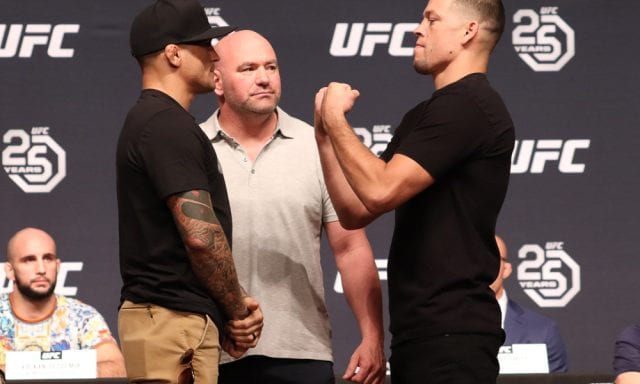 Dana White addresses Nate Diaz and Dustin Poirier claiming on social media that they will be fighting for a newly created 165-pound title at the UFC 230 pay-per-view. This has been a hot topic since the top fights were announced for the show.
The UFC President has been telling fans for several weeks now that they are working on a main event for the show but has yet to announce it. Most of the UFC champions are locked up right now either due to injury or fight commitments.
Nate Diaz & Dustin Poirier's Claims
One fight has been put into the spotlight as a logical fight that could serve as a headliner. It's Diaz vs. Poirier, which makes sense considering that they are fan favorites and put on exciting fights. Whether this was due to what they were told by the promotion or trying to force the UFC to do it, Diaz and Poirier got people talking.
In case you missed it, on Tuesday, Diaz said he was "happy to be bringing a new weight 'division' to the UFC" with the 165-pound "superfighter division" at the show. This led to Poirier claiming he had finally made it to his coveted UFC title fight.
Dana White Addresses
Welp, no so fast. MMAjunkie's John Morgan was told by a UFC official that this is absolutely false. Also, ESPN's Brett Okamoto spoke to White, who shot down Poirier and Diaz's tweets.
Well, was hoping to be able to confirm Poirier-Diaz for the UFC 230 headliner but was told by a company official that it's the "farthest thing from the truth."

— John Morgan (@MMAjunkieJohn) September 26, 2018
Just spoke to Dana White on the phone, he denied any plans of a 165-pound title fight at Madison Square Garden. Says he's still working on a main event for UFC 230.

— Brett Okamoto (@bokamotoESPN) September 26, 2018
The UFC 230 pay-per-view event is set to take place on Saturday, November 3, 2018 at Madison Square Garden in Manhattan, New York City with the main card airing on pay-per-view at 10 p.m. ET while the preliminary card will air on FOX Sports 1 at 8 p.m. ET and the promotion's streaming service, UFC Fight Pass. Here is how the card looks as of now:
Nate Diaz vs. Dustin Poirier
David Branch vs. Ronaldo Souza
Luke Rockhold vs. Chris Weidman
Israel Adesanya vs. Derek Brunson
Sultan Aliev vs. Lyman Good
Matt Frevola vs. Lando Vannata
Brian Kelleher vs. Domingo Pilarte
Karl Roberson vs. Jack Marshman
Shane Burgos vs. Kurt Holobaugh
Julio Arce vs. Sheymon Moraes
Jason Knight vs. Jordan Rinaldi If you enjoyed this story, please share it on social media!