Conor McGregor Wins Title With Second Round Finish Of Chad Mendes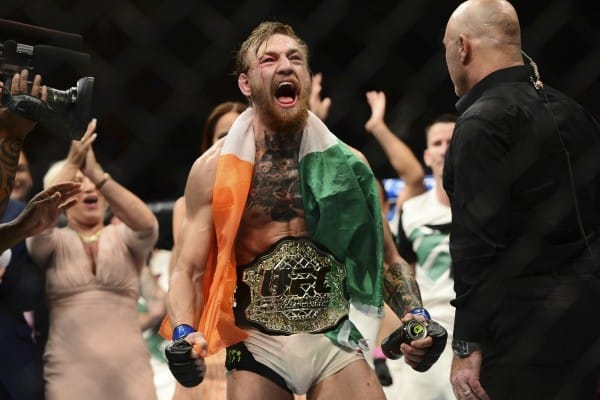 After a quick and furious windfall of media coverage surrounding featherweight champion Jose Aldo's removal from the main event with a rib injury, Irish superstar Conor McGregor met Chad Mendes for the interim belt in the main event of tonight's (Sat., July 11, 2015) UFC 189 pay-per-view (PPV) from the MGM Grand Garden Arena in Las Vegas, Nevada.
The heated, anticipated bout kicked off with two of the most memorable walkouts in MMA history. The action began with McGregor coming out with trash talk and a spinning back kick, and Mendes took him down. 'Notorious' got back up and ate a shot from Mendes, who followed with two hard shots. McGregor landed an elbow and a spinning back kick as he taunted Mendes. He landed a huge shot, nailing him with two more and a spinning back kick.
McGregor stalked him down but Mendes fought back with two punches. McGregor landed a hard left and another, but Mendes countered with a few of his own, pushing forward for a big double leg takedown. He tagged McGregor repeatedly, opening a cut on his eye. McGregor landed a few, but Mendes snapped his counter. McGregor went to the body with kicks and punches, landing a hard left to the head. Mendes rushed forward, landing an uppercut. 'Notorious' fought back with a straight punch but was taken down, and Mendes took his back briefly. An elbow rained down and Mendes went for a guillotine, receiving a warning from referee Herb Dean for apparently poking with his fingers as the insane first round wore down.
'Notorious' came out taunting with kicks in the second, landing several to the body. Mendes missed on a takedown and choke attempt, and McGregor snapped some big punches. 'Money' got a crucial takedown, throwing elbows from the guard followed by a punch. Mendes ground McGregor with elbows, but 'Notorious' fought back with hard elbows of his own from the bottom. McGregor talked to Mendes but ate some hard shots. He stepped over for a choke, locking on a guillotine but losing it. McGregor got up to land some hard punches, and Mendes missed a takedown. McGregor unleashed combos, nailing Mendes with huge left hands as the second round wore down. They dropped 'Money,' and Dean came in to stop the bout with less than 10 seconds left in the round.
Final Result: Conor McGregor def. Chad Mendes via R2 TKO (punches, 4:57)
Photo Credit: Joe Camporeale for USA TODAY Sports