Conor McGregor comments on Musk vs. Zuckerberg, offers update on his potential 2023 return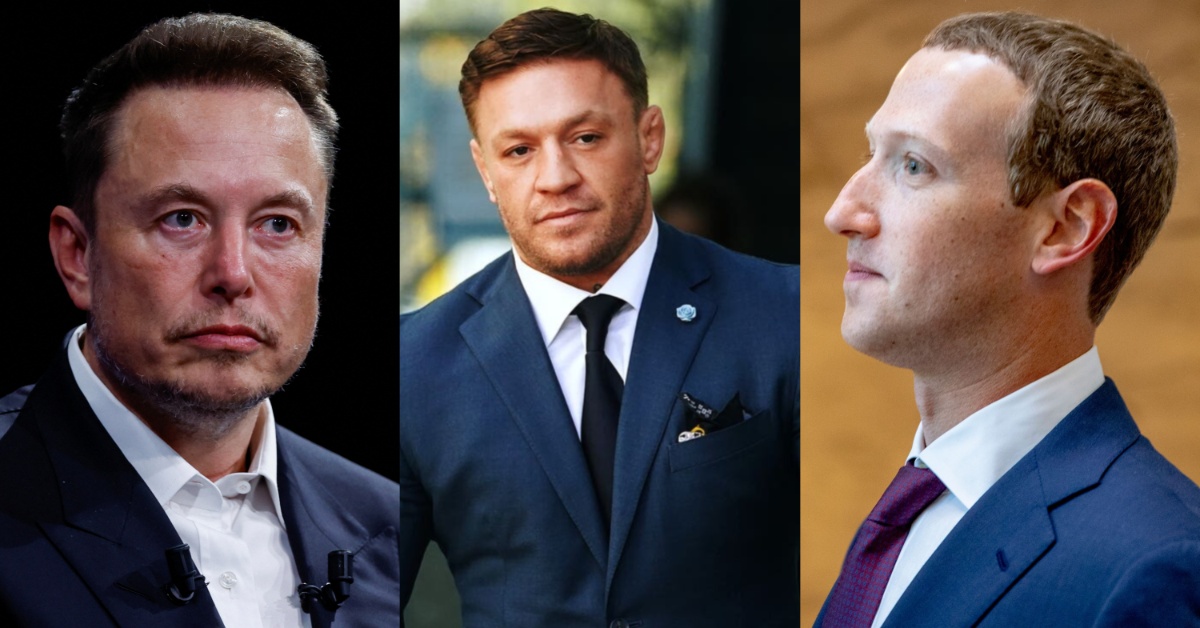 Conor McGregor is curious to see how things play out in a potential fight between billionaire tech gurus Mark Zuckerberg and Elon Musk.
It's a fight that nobody in the world ever expected to see, and certainly, one nobody asked for. But where most people simply saw two social media moguls taking shots at one another online, UFC President Dana White saw dollar signs. White wasted no time, telling TMZ Sports that the co-founder of Facebook was 100% serious about facing the Titan of Telsa inside the Octagon. Since that revelation, Musk vs. 'The Zuck' has exploded into a full-blown spectacle, garnering the attention of every fan, promoter, and fighter in the free world.
That includes former champ-champ Conon McGregor who is admittedly interested in the billionaire beatdown, so long as it takes place inside the Octagon.
"I'm interested," McGregor told Dailymail.com. "Are they gonna go ahead with it? Are they gonna make it happen? If it happens under the UFC banner, I'm with it. It has to happen under the UFC banner. Nice to happen under the UFC banner and then I'm with it. For sure, for sure, I'll do a bit of work with [Elon]. I hope they go ahead with it. The pockets might be long but is the talk cheap?"
Conor McGregor is Not Interested in Training Elon Musk or Mark Zuckerberg As He Prepares For His Own Return to the Octagon
Recently, Mark Zuckerberg was spotted training alongside City Kickboxing teammates and reigning UFC champions Israel Adesanya and Alexander Volkanovski while Elon Musk has accepted an offer to train with Hall of Famer Georges St-Pierre. Asked if he'd like to get into the act and help train either man for the highly anticipated social media smackdown, McGregor said he's staying busy whilst preparing for his own return to the Octagon.
"I'm training for my own fight," McGregor responded.
That's probably for the best considering Conor McGregor's abysmal record on the latest season of The Ultimate Fighter. The Irishman's team has lost seven straight and is one defeat away from the first clean sweep in TUF's nearly 20-year history.
As for when we can expect to see McGregor make his long-awaited return, the former two-division titleholder isn't ruling out a 2023 comeback. "Listen, you can't rule this year out, but we're definitely gearing up for a strong matchup with Michael Chandler."
McGregor and Chandler were expected to scrap once their tenure as opposing coaches on The Ultimate Fighter is complete, but that bout has been called into question after the Irishman failed to re-enter the USADA testing pool for a required six months of pre-fight screening. Despite that, McGregor and Dana White have insisted that the fight could still take place in 2023, suggesting that they know something the rest of us don't.
Regardless of when it happens, McGregor sounds excited when talking about his return to the Octagon and appears to be fully recovered after suffering a nasty leg break in his last outing two years ago.
"I'm feeling really good," McGregor added. Really good. I'm ready to fight."