CagePotato Stats: The MMA Weigh-In Failure Leaderboard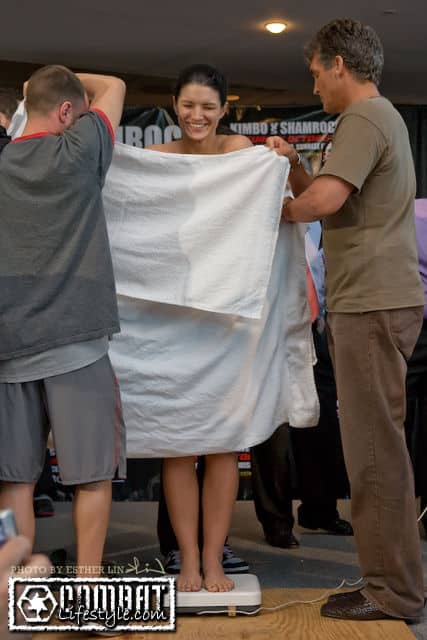 (The moral of the story? When Gina Carano does it, it's awesome. When Paulo Filho does it, it's terrible. / Photo courtesy of CombatLifestyle.com)
Anybody can be forgiven for missing weight by a half-pound — as long as it doesn't become a habit. But when an MMA fighter comes in a full four pounds heavy, as Efrain Escudero did this week for his doomed UFC Fight Night 22 bout against Charles Oliveira, it tends to raise some eyebrows. As we've done previously with steroid busts, we decided to catalog the worst scale-fails in MMA history, arranged by number of pounds over the limit. When the information was available, we also listed the punishments the fighters were given, along with their excuses for missing weight, which range from injuries to salt water to the dreaded "menstrual period." This is by no means a definitive list — but we'd like it be, eventually. So if you know of any other occasions where fighters missed weight by four pounds or more, or missed weight for multiple fights, please let us know in the comments section.
Karl Knothe @ Shark Fights 17
Weigh-in date: 7/14/11
Weight: 253.75 pounds, 23.75 over the 230-pound catchweight limit
How is that even possible? Due to some miscommunication between Knothe and his management, Knothe was never informed that his scheduled bout against Ricco Rodriguez was supposed to be at a catchweight, instead of at heavyweight.
Result: The Texas Department of Licensing and Regulation disallowed Knothe from competing due to the large weight-gap and concerns over excessive weight-cutting. Knothe was paid a portion of his salary anyway, while Ricco Rodriguez instead faced 5-12 replacement Doug Williams. Rodriguez won via rear-naked choke in the first round.
Heather Martin @ Freestyle Cage Fighting 46
Weigh-in date: 4/8/11
Weight: 178 pounds, 13 over limit; Martin got down to 173 after two additional attempts
Fight result: Martin's opponent Amanda Lucas actually withdrew from the fight. As she explained, "This is a professional sport, one I take seriously, and in which I dedicate my life to. To fight someone in [Martin's] condition or to fight someone way beyond the contracted weight is bad for both myself, and women's MMA."
Anthony Morrison @ Bellator 44
Weigh-in date: 5/13/11
Weight: 146.5 pounds, 11.5 over limit
Fight result: Morrison's bantamweight match against Bryan Goldsby was immediately canceled. New Jersey only allows a fighter to lose another 2.5 percent of their body weight after a failed weigh-in, so Morrison wasn't given the chance to try again — not that it would have mattered.
Ricco Rodriguez @ Israel FC: Genesis
Weigh-in date: 11/8/10
Weight: 215 pounds, 10 over limit. It was supposed to be Rodriguez's first fight at light-heavyweight.
Punishment: Rodriguez forfeited 20% of his purse to his opponent, Daniel Tabera.
Fight Result: Rodriguez by unanimous decision
Excuse: "Ricco had a very tough time making weight because of the old injury that came back two days ago," said his manager Tiago Okamura. "He trained really hard. He also had a staph infection one month ago, so it's not so easy to cut so much weight after a long recovery process."
Epilogue: Rodriguez's next fight was a 215-pound catchweight bout against James McSweeney at BAMMA 5. Rodriguez missed weight again, coming in at 217. He went on to defeat McSweeney by unanimous decision.
Nick Diaz @ EliteXC: Return of the King
Weigh-in date: 6/13/08
Weight: 169.5 pounds, 9.5 over limit
Punishment: Diaz forfeited a portion of his fight purse to his opponent, Muhsin Corbbrey.
Fight result: Diaz by third-round TKO
Excuse: After arriving in Hawaii, Diaz said he "went in the salt water and absorbed a lot of sodium or something." In Cesar Gracie's version of the tale, Diaz got sick after accidentally ingesting the water. Nick reached out to Corbbrey when the weight-cut was looking grim, and made a deal to hold the bout at a catchweight.
Dale Hartt @ Ringside 7: No Escape
Weigh-in date: 6/17/10
Weight: 163.4 pounds, 8.4 over limit
Fight result: Hartt lost to Guillaume DeLorenzi by second-round TKO (shoulder injury)
Brian Cobb @ Sengoku 15
Weigh-in date: 10/29/10
Weight: 73.3 kg (161.6 pounds), 3.3 kg (7.3 pounds) over limit
Fight result: Cobb defeated Kazunori Yokota by split decision
Cristiane "Cris Cyborg" Santos @ Strikeforce: Shamrock vs. Diaz
Weigh-in date: 4/10/09
Weight: 152 pounds, 7 over limit
Punishment: Santos forfeited 20% of her purse, 10% of which went to her opponent, Hitomi Akano
Fight result: Cyborg via third-round TKO
Excuse: "I used the same diet that I used to fight [Shayna Baszler] and I made 140lbs, much less than this time. But I had a little problem that all women suffer every month. I had the menstrual period three days before the weigh-in and it put me in trouble."
Rory Markham @ UFC 111
Weigh-in date: 3/26/10
Weight: 177 pounds, 7 over limit
Punishment: $1,000 (12.5% of Markham's show-money) was forfeited to his opponent, Nate Diaz
Fight result: Diaz by first-round TKO
Excuse: Markham's trainer, Pat Miletich, told MMAjunkie that the fighter's weight-cutting process simply went "haywire."
Jake O'Brien @ DREAM.15
Weigh-in date: 6/9/10
Weight: 212 pounds, 7 over limit
Punishment: 10% pay deduction, yellow card at start of fight
Fight result: O'Brien loses to Gegard Mousasi by guillotine choke in 31 seconds
James Irvin @ KSW 15
Weigh-in date: 3/18/11
Weight: 192 pounds, 7 over limit. Irvin originally weighed in at 197, but managed to drop an additional five pounds after four hours in the sauna. Irvin's fight against Mamed Khalidov still went forward as a middleweight title fight.
Fight Result: Khalidov via armbar in 33 seconds. Not sure why Irvin accepted another fight at middleweight in the first place.
Anthony Johnson @ UFC 104
Weigh-in date: 10/23/09
Weight: 176 pounds, 6 over limit
Punishment: Johnson forfeited 20% of his purse, 10% of which went to his opponent, Yoshiyuki Yoshida.
Fight result: Johnson by 41-second TKO
Excuse: Rumble said he started cutting down from 220 pounds, a mind-blowing 50 pounds over the welterweight limit. "That's the heaviest I've ever been in my life," Johnson said. "But I got an injury when I was getting ready for Matt Brown, I hurt my knee again. When you get injured, you don't do much. You sit around and eat and get fat. That's exactly what I did. Usually I start at 210. That ten pound difference made a big impact. You know what I mean? It kicked my butt, but I was prepared for it. I was prepared to just grind it out and get down to 171. And I was in the sauna for an hour and I lost three or four pounds right off the bat. I knew it was coming off. That's why I said that if I had another hour or two, I would have been able to make it. I got out of the sauna, and I think I was out too long because my sweating stopped, and when I got back in the sauna I couldn't get anything else off. That's what broke me."
Jason Guida @ Bellator 29
Weigh-in date: 9/15/10
Weight: 215 pounds, 5 over limit
Fight result: Guida lost to Justin Lemke by split decision
Remember when?: Clay's big a-hole brother was going to be a contestant on TUF 8, but blew the weigh-ins by two pounds after an agonizing cutting session. In the process, he exposed his balls on national television, and promised that "Dr." Keith Kizer would "never be forgiven."
Gina Carano @ EliteXC: Primetime
Weigh-in date: 5/30/08
Weight: 144.5 pounds, 4.5 over limit
Punishment: Carano forfeited 12.5% of her fight purse to her opponent, Kaitlin Young
Fight result: Carano by doctor's stoppage TKO after two rounds
Excuse: "I get a lot of flack from people who are like 'oh she's not serious about fighting' and that's not it at all…I'm not just a fighter…I'm a bunch of things, I have a lot of interests…I'm really looking forward to after this fight just sticking to a routine and a program. I'm just getting a handle on it, I think that's why I've slipped up in certain areas, missing weight, I've been all over the place, cause I didn't have any stability or anything."
Not the first time, not the last time: Carano struggled with weight cuts on multiple occasions earlier in her career. Four months after beating Young, she faced Kelly Kobold at EliteXC Heat; in one of the most notorious weigh-ins in MMA history, Carano came in at 142.75 on her first attempt, and had to weigh in naked to make 141.
Paulo Filho @ WEC 36
Weigh-in date: 11/4/08
Weight: 192.5 pounds on first attempt, 189 after two additional hours; 4 over limit
Punishment: Filho forfeited 25% of his fight purse to his opponent, Chael Sonnen; the scheduled title defense was downgraded to a three-round non-title bout
Fight result: Sonnen by unanimous decision
Epilogue: The following week, Ed Soares shipped Filho's WEC middleweight belt to Matt Lindland, to give to Sonnen. Filho nearly missed weight again for his Impact FC fight against Denis Kang in July. He was two pounds over on his first attempt, but was able to shed an extra pound in an hour; he weighed in completely naked, "with absolutely no regard for the audience."
Efrain Escudero @ UFC Fight Night 22
Weigh-in date: 9/14/10
Weight: 159 pounds, 4 over limit
Punishment: 20% of Escudero's show-money was forfeited to his opponent, Charles Oliveira
Fight result: Oliveira by third-round submission
Excuse: "I tried everything but I hit a wall. This morning I weighed in at 161 and then we had 2 hours to make weight and we went to the gym, jumped on the treadmill put everything on like I usually do. We just ran and then I went into the Sauna, like I normally do, relaxed in there periodically all through my workout and after that I checked my weight and I was at 159. I was like whoa, what the hell and so I went back in there and pushed my body but I was just too dehydrated. I couldn't go any lower. I tried, I tried I tried and nothing. At one point I felt good I was just like, Im going to get this shit out of the way, do what I got to do and continue cutting and make weight for the fight. So I put on all my stuff, went for a jog, but I was just too dehydrated, I started feeling dizzy so I was like, 'you know what, I want to be able to perform in the fight, I want to give the fans what they want to see so I'll take this pay cut to give the fans what they want to see…[The UFC knows] I come from a wrestling background and making weight is a priority but we got to put that aside now and move on forward. I want to apologize to Lorenzo and Frank Fertitta, Dana White and the rest of the organization for not making weight."
Repeat offenders:
Paul Daley @ MFC 19, MFC 20, UFC 108, Shark Fights 13, BAMMA 5
Weigh-in dates: 12/4/08, 1/1/10, 9/10/10
Weights: 174, 171.5, 172, 171.75, 170.4
Punishments: Daley forfeited 25% of his purse for the MFC fights, and 10% of his purse for the UFC and Shark Fights bouts
Fight results: Daley def. John Alessio via second-round TKO, Nick Thompson def. Daley via unanimous decision, Daley def. Dustin Hazelett via first-round KO, Daley def. Jorge Masvidal via unanimous decision, Daley def. Yuya Shirai via first-round KO
Excuse for Masvidal fight: "We came in a bit later than we normally come in, like we arrived here Wednesday, so it only really gave us like one real good day of weight-cutting. I don't want to create too many excuses, but we didn't get the official scales to check our weight on until the day of the weigh-in as well, which sucks a little bit, and my scales were two pounds off from the official scales. So there were some problems, but again, I don't want to make too many excuses."
Thiago Alves @ UFC 85, UFC 117
Weigh-in dates: 6/6/08, 8/6/10
Weights: 174, 171.5
Punishment: Alves forfeited an unspecified amount of his purse to Matt Hughes at UFC 85, and 20% of his purse to Jon Fitch at UFC 117; earlier in his UFC career, he was slapped with a nine-month suspension for the use of banned diuretics.
Fight result: Alves def. Hughes via second-round TKO, Alves lost to Fitch by unanimous decision
Excuse for the Hughes fight: "(Ten days before the fight) I was sparring, and the floor was really slippery, and I rolled my ankle back,. My doctor thought I wasn't going to be able to fight…I wasn't able to do anything for three days. I am a really heavy guy. I walk around at 195-200 (pounds), so if I don't keep my diet and work out really hard…even the last week before the fight, I (have to) train really hard to (try) to keep my weight low…With the cortisone shot, it holds more water in my body. My body wasn't sweating. It's the worst feeling. I would stay 15 minutes, 20 minutes in the sauna, and my body just wouldn't sweat anymore. I even passed out twice in the sauna…My coach had to carry me out."

Record of the fighters listed above, for the fights where they missed weight:
12-9. Just like steroid use, coming in overweight hasn't proven to be a "competitive advantage," because it often suggests that there were difficulties in a fighter's training camp. Except for Paul Daley, who's clearly at his best when he comes in heavy.
Honorable mentions:
– Travis Lutter, who missed weight by 1.5 pounds for his UFC 67 title fight against Anderson Silva. Following his loss, he was fed to Rich Franklin then fired.
– Tim Sylvia, who crushed the scales at 310.6 pounds for his Adrenaline MMA III fight against Ray Mercer, which was apparently an open-weight bout. Mercer weighed in at 256.6, and knocked Sylvia out in nine seconds.
(BG)