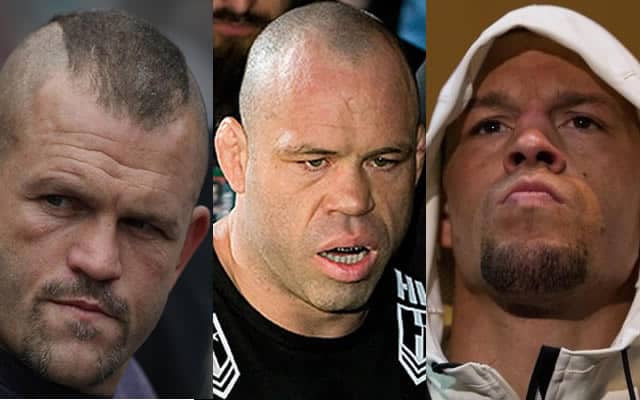 At the beginnings of the mixed martial arts movement, back in the early 1990's when the sport was still often referred to as 'No Holds Barred,' the UFC arrived on the scene with a policy of fighting with bare knuckles.
The no-gloves stipulation (which boxer Art Jimmerson partially managed to circumnavigate at UFC 1) had been requested by one of the event's founders, Rorian Gracie, who wanted to see fighting in its purest form.
By UFC 6 in 1995 gloves had become optional for fighters though, and by UFC 14 in 1997 they were mandatory.
Even when wearing gloves became the norm though, some fighters were still willing to test themselves in bareknuckle combat, whether it was for fight promotions in packed arenas, or just out on the street in front of a few dozen onlookers baying for blood.
Among them were some of the most famous fighters in the sport, battle hardened warriors who would move on from those barbaric beginnings to fight at the highest level in the UFC, and in some cases still do even to this day.
In this article we'll tell the story of ten past and present UFC stars who were brave enough to go bare knuckle, providing rare video footage of them in action where possible – so let's get right to it!
Wanderlei Silva
in the early stages of his ultra-violent mixed martial arts career, 'The Axe Murderer' Wanderlei Silva participated in several bare knuckle fights that took place in his native Brazil.
Dating back to September of 1997, Silva fought in a one-night, bare knuckle tournament at International Vale Tudo 2, and despite having no gloves on, he would fight exactly the way he's done throughout his career, brawling with reckless abandon.
Silva knocked out his first opponent of the night, Sean Bormet with a head kick in just 89 seconds, then battered Egidio Da Costa with brutal ground and pound for a first round TKO stoppage to make it to the final, where he'd go up against Artur Mariano.
In the end, the only thing that would stop Silva that night was his own appetite for destruction. After some wild toe-to-toe exchanges, Silva backed Mariano into a corner and took advantage of the 'no holds barred' rules by landing a powerful head butt from the Thai clinch. Unfortunately for him, that opened up a bad cut above his own eye.
Silva fought on, and incredibly even threw more head butts despite his injury as the action continued, but ultimately a doctor ruled he couldn't continue.
Undeterred, Silva would fight in another bare knuckle bout with Mike Van Arsdale at IVC 6 the following year, finishing him with punches and a soccer kick in the first round, paving the way for his first fight in the UFC.
Michael Bisping
The UFC's new middleweight champion Michael Bisping is one of the UFC's most experienced fighters, having fought for 10 years in the Octagon, racking up 26 fights along the way, but his background in fighting goes back much further than that.
As a teenager in the mid 1990's, Bisping's sensei at the time, Paul Lloyd Davies was running a promotion called Knockdown Sport Budo (KSBO), which was essentially a precursor to modern MMA, featuring bare knuckle, no-holds barred amateur fights.
Remarkably, that led to Bisping fighting against grown men at KSBO events around Europe from the tender age of 14.
One such fight can be seen in the video above, with a 15-year-old Bisping showing his ruthless side by front kicking his opponent in the face when he tried to shake his hand at the start of the bout, and then eventually managing to submit him by rear-naked choke.
Jorge Masvidal
These days Jorge Masvidal is an established MMA star with a lengthy professional record spanning 13 years, but 'Gamebred's' natural fighting instincts first manifested while battling on the streets of Miami in his teenage years.
Masvidal already had numerous bare knuckle boxing bouts under his belt when he was offered a fight out-of-the-blue with the king of backyard brawling, Kimbo Slice's protégé 'Ray', who also had a big reputation at the time, and had already quickly dispatched an opponent earlier that day.
However, Kimbo's camp had bitten off more than they could chew with 'Gamebred', who was undersized, but had vastly superior technical striking, which proved to be too much for Ray, who had his nose rearranged and was dropped to his knees under a hail of punches during the fight, before quitting soon afterwards.
A rematch took place at a later date, but it was essentially a mirror image of the first fight, with Masvidal again outclassing his opponent and forcing him to submit due to multiple bare knuckle strikes.
Thanks to Kimbo Slice becoming a viral YouTube sensation, Masvidal's fights would rack up hundreds of thousands of views each, which helped propel his own MMA career.
Chuck Liddell
Chuck Liddell is one of the most revered fighters in MMA history and is famous for his knockout victories in the UFC, but in the early days of his career he was also competing in bare knuckle fights.
For instance, just a few months after making his MMA debut in the Octagon at UFC 17 in 1998, Liddell accepted a fight at International Vale Tudo 6 (IVC 6) in Brazil, which had a policy of bare knuckles, no holds barred, and fights lasting a single 30 minute round.
Liddell was set to go up against a far more experienced opponent in Brazilian legend Jose Landi-Jons, aka 'Pele', who had a 13-2 record at the time, and to make life more difficult, when he stepped into the ring, 'The Iceman' noticed that his opponent's manager was also set to be the referee.
Nonetheless, Liddell would come out on top in a grueling 30-minute battle, winning by unanimous decision.
"They had a net – it was in a ring and they had a net from the bottom rope down to the apron," Liddell recalled years later in an interview with MMAjunkie.com. "By the end of the fight, I had him stuffed underneath that thing and I was leaning out and hitting him through the net. There was blood dripping off me, it was pretty funny."
Nick Diaz
You have to be a little bit crazy to want to throw down without gloves, and so it only seems appropriate that rare footage of Nick Diaz fighting bare knuckle prior to his MMA career exists on the net.
Little is known about this vale tudo style fight, which appeared to be taking place at a gymnasium in front of just a handful of spectators, but Diaz can be seen adapting to the scenario by using the infamous 'Stockton Slap' and more kicks than we'd normally expect to see the star using after he became a professional MMA fighter.
It would be Diaz's grappling skills that would eventually win the day though, reversing a takedown attempt from his opponent, softening him up with ground and pound and then sinking in a fight-ending guillotine choke.
Nate Diaz
Whatever one Diaz brother does, you can be sure the other is never far behind, and so, like his brother Nick, it was inevitable that Nate Diaz also tested himself in bare knuckle combat in his youth.
Diaz was just 16 years old at the time of this vale tudo fight in a cramped wrestling room in 2002, and showed his fearlessness by taking on a fully-grown man, Robert Limon.
After a few early strikes, Diaz took Limon down and showed that even back then he was well versed in Brazilian Jiu-Jitsu as he passed to full mount and then quickly produced an armbar finish.
Alex Caceres
Alex 'Bruce Leeroy' Caceres has been competing in the UFC since making his breakthrough on The Ultimate Fighter Season 12 back in 2010, but in the years prior to that he had tested himself in the backyard brawling promotion featured in the 'Dawg Fight' documentary.
At the time Caceres had dreams of fighting professionally, but his desire to test himself in the mean time led to him accepting back-to-back fights at one of 'Dada 5000's' infamous shows in Miami.
Gloves were optional here, and while both his opponents chose to wear them, Caceres opted to go bare knuckle instead. However, he wasn't planning on landing too many punches, instead opting to take his opponents down and use his Brazilian Jiu-Jitsu skills, tapping out 'Shorty Cash' with a rear-naked choke, and 'Chocolate' with a triangle choke.
Just a few months later Caceres would get the opportunity to fight professionally in mixed martial arts, and he hasn't looked back since.
Johnny Eduardo
Brazilian bantamweight fighter Johnny Eduardo was already a 15 year veteran of the sport when he finally joined the UFC in 2011, and that included having fought in bare knuckle MMA fights.
Eduardo fought three bare knuckle fights in one night at IVC 7 in August of 1998, defeating two of his opponents with punches, before losing in the final by submission.
For Eduardo competing bare knuckle was a badge of honor, and so he took offense when one of his much younger UFC opponents, Aljamian Sterling, started talking trash prior to their fight in December of 2015.
"I've been fighting since this guys bought his first Playboy to keep himself locked in the bathroom masturbating," an angry Eduardo stated. "I was already fighting with no gloves at IVC, with 30 minute rounds. Who's this kid to start talking sh*t?"
Nevertheless, the now 35 year-old Eduardo would lose by submission to the up and coming Sterling, but the veteran still holds down the No.13 spot on the UFC's official bantamweight rankings.
https://www.youtube.com/watch?v=uNqelOVd3tA
Ken Shamrock
It goes without saying that Ken Shamrock has fought bare knuckle given that he featured in the earliest UFC events, when competing without gloves was still mandatory, and even prior to that in Pancrase, where only open-handed strikes were allowed.
However, even when gloves became optional from UFC 6 onwards, Shamrock continued to fight without them in the Octagon, insisting that he was better off without the additional padding.
"A bare knuckle used precisely can do more damage and bring a quicker tapout than a fist enclosed in event a light glove," Shamrock wrote in his 'Inside The Lion's Den' book back in 1998.
Of course not long after that the UFC made gloves mandatory, but even in the present day at the age of 51, Shamrock announced last year that he was going to take on the famed 'King Of The Travellers', James Quinn McDonough in a traditional bare knuckle boxing bout in the UK, though perhaps it's for the best that the fight later fell through.
https://www.youtube.com/watch?v=U6utc8eE2tk
Kimbo Slice
Of course, no article about bare knuckle boxing would be complete without paying homage to the most famous backyard brawler of all, the late Kimbo Slice, who tragically passed away at the age of 42 this week due to heart failure as this article was being written.
In the early 2000's, Kimbo became one of YouTube's first real viral stars when videos of him beating up all-comers for cash in brutal, bare knuckle street fights started to generate millions of views.
Undoubtedly the most legendary of these was the first battle that his crew filmed with an unfortunate individual by the name of 'Big D', who certainly looked the part, standing 6ft 1" tall and weighing 271lbs, but ended up taking a one-sided beating at the hands of Kimbo, suffering a grotesque cut and orbital fracture that remains one of the most horrifying injuries you'll ever see in a fist fight.
After that, Kimbo's fans started calling him'Slice' and his notoriety continued to grow with each victory, even defeating two 300lb men in a row at one point.
Eventually his fame led to him competing in MMA, where his street fighting reputation helped him become one of the sports biggest ever draws, regularly pulling in several millions of viewers for his fights with the likes of Elite XC, UFC, and most recently Bellator, where he'd been lined up to fight in just a month's time prior to his death.
RIP Kevin Ferguson, aka Kimbo Slice.