10 Times Conor McGregor Predicted The Future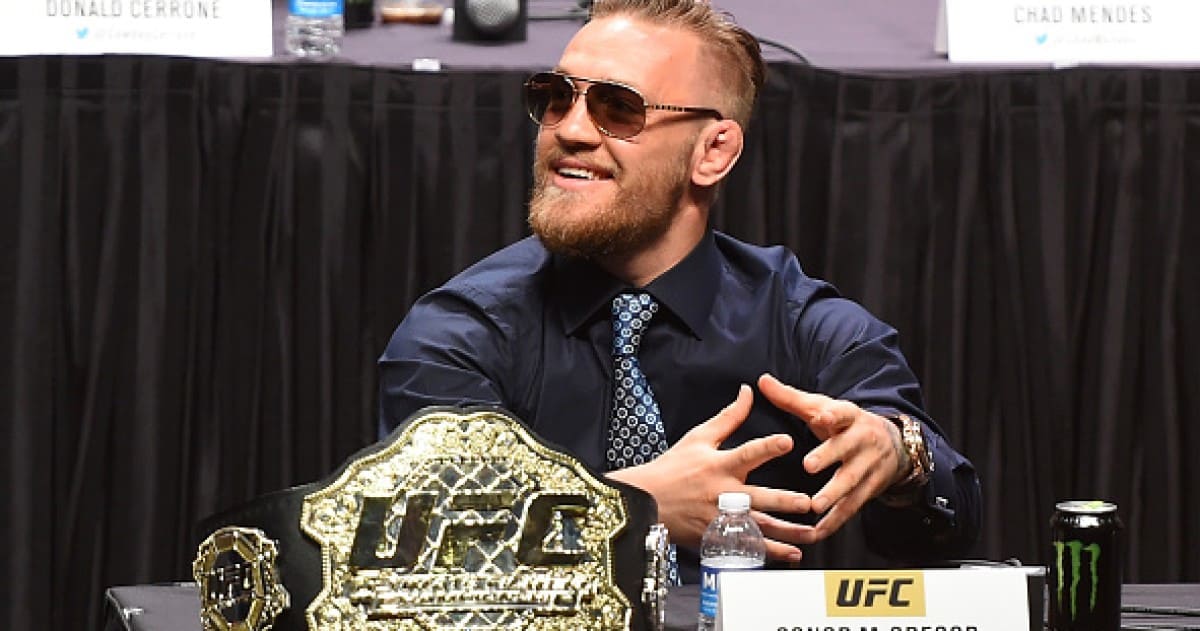 Conor McGregor's rise to fame in the UFC is unprecedented. He exploded onto the scene back in 2013 and by 2015 had completely taken the game over, becoming the biggest draw the sport has ever seen.
Indeed, "The Notorious" has smashed just about every number in the sport, from the PPV buys to the largest gates ever. He's quickly established himself as an MMA icon.
This past weekend at UFC 205 McGregor made history, just as he predicted he would. The brash Irishmen has been dubbed "Mystic Mac" due to his uncanny ability to predict details and outcomes of his fights and career. What is even scarier is how accurate he's been and how often he's right.
Love him him or hate him, McGregor has made his bold predictions come true in the cage with great success, so let's recap 10 times "Mystic Mac" has successfully predicted the future with unbelievable accuracy.
https://www.youtube.com/watch?v=NvGLGvONp10
Young McGregor predicts his future in the UFC
It all started when Conor McGregor sat down for an interview at just 18 years old and predicted with an unshakable confidence that he would fight in the UFC.
"I am a professional fighter with a record of 4-1. I am an up and coming fighter and without a doubt you will see me in the UFC in the near future. Without a doubt."
McGregor confidently laid out his career goals: To become the UFC lightweight champion, make more money than he knew what to do with and ultimately be the number one fighter in the world. He currently sits number two on the pound-for-pound list and has accomplished the rest.
On April 6, 2013 McGregor brought his first of many predictions to reality when he made his UFC debut in the octagon against Marcus Brimage. He made quick work of Brimage scoring a first round TKO.
https://www.youtube.com/watch?v=7qjRcYends4
McGregor knew he was the future of MMA
Following his first MMA loss to Artemij Sitenkov McGregor took on Stephen Bailey. He put on a clinic with his ultra-aggressive style. Putting it on Bailey and earning himself a first round TKO stoppage. Following the stoppage McGregor walked right across the cage to the camera man and informed everyone that he was indeed the future of MMA.
Who would have known that eight years to the day he would KO long-time featherweight champion and pound-for-pound kingpin Jose Aldo in just thirteen seconds. Proving to everyone that his assessment was indeed the truth.
McGregor predicts a first round KO of Diego Brandao
In just McGregor's third fight in the UFC, he headlined a return to Dublin, Ireland. He took on The Ultimate Fighter (TUF) winner Diego Brandao and during the lead up to the fight, McGregor made some bold predictions:
"Saturday when I go out there and put Diego away in the first round, I will prove my worth."
It was a surprise to many to hear this relative new comer call his shot and speak it with supreme confidence. It was even more shocking when he went out there and did exactly what he said he was going to do, stopping Brandao four minutes into the contest.
Another successful prediction.
Dustin Poirier, the next victim of "Mystic Mac"
The witty and confident McGregor stole the show at the UFC 178 Q&A predicting yet another first round KO of Dustin Poirier.
"I am going to crack him with a jab and he is going to wobble and I am going to put him away early. It is going to be a first round finish, mark my words."

"Trust me this is a first round KO for me. I have no doubt in my mind."
It was McGregor's first appearance on pay-per-view and he didn't disappoint. In fact it went just as he said it would. It took McGregor just under two minutes to dispose of Poirier.
Another first round TKO and another successful prediction.
https://www.youtube.com/watch?v=N7E8__DwyE4
McGregor's predictions go beyond his fights
At the "Time Is Now" press conference leading up to McGregor's fight with Dennis Siver he made some big predictions regarding his ascent to the top of the sport and ability to put record breaking numbers.
"There is a lot of great stars up here, a lot of huge huge fights, but let's see by the end of 2015, lets see who has the highest PPV numbers, lets see who has the highest gate, lets see who has the highest attendance, because I am setting up for that."
McGregor was really close to doing all of that. His title fight against Jose Aldo at UFC 194, broke the gate record, attendance record and was the second most PPV buys in history. Records he would go on to break in 2016.
McGregor predicts Aldo pulling from their original fight
McGregor vs Aldo was an historical event for the UFC, but it took a lot to get the two in the cage together. The fight was scheduled twice and all in all it took nearly two years before it actually happened, but that wasn't anything McGregor didn't see coming.
"If I am being honest I could see a fight between my and Jose being scheduled…and then I could see Jose pulling, but I could see Franky stepping in."
Just days before the two were scheduled to meet at UFC 189 Jose Aldo pulled out with a rib injury. This prediction must have been a little fuzzy for McGregor because it wasn't Franky who stepped in, instead Chad Mendes answered the call.
For the most part though another successful prediction for McGregor.
https://www.youtube.com/watch?v=4UydBZYheNs
Maybe the craziest prediction of all
UFC 189 was supposed to be the biggest fight in featherweight history, Conor McGregor vs Jose Aldo. When Aldo pulled out just days before the event, Chad Mendes stepped in.
That set-up maybe the craziest prediction of all. Dana White revealed days before the event, that McGregor tried to bet him and Lorenzo Fertitta -million that he would KO Mendes in the second round.
"You want to know how confident this kid is, I can't believe I am going to say this, but he told Lorenzo and I the other day, 'I will bet you $3-million I will knock him out in the second round."
After a back and forth fight and with only three seconds left in the second round McGregor did just that. Rocking Mendes with a left hook and finishing him with some ground and pound to capture the interim featherweight title.
The confidence that is necessary to make that bet is crazy. Mystic Mac strikes again.
McGregor hits the bullseye with his UFC 189 prediction
During UFC Embedded episode two, McGregor and Mendes get into a heated discussion about how their fight is going to go down. McGregor says:
"When I am pressing him and pressing him and we are having these exchanges and these scrambles his belly is going to be breathing in and his body is going to be screaming for oxygen and I am going to be still there in his face cracking him with everything I have, the heel the knee.

"What are you going to do? You can't even pass guard, you're a white belt on the mat. You get me down, you hold me down, I will butcher you from the bottom. I will get back up and butcher you on the feet."
The fight was definitely competitive. Mendes spent a lot of the second round with top control, but ultimately it went exactly as McGregor said it would. He pressured Mendes from the opening bell, with spinning techniques, knees, punches and vicious elbows from the bottom when Mendes was in his guard. However, McGregor weathered the storm and captured the interim title with his second round stoppage.
McGregor exact in his prediction for the Aldo fight
Before McGregor's title fight with Jose Aldo he gave an interview with Robin Black and was unbelievably accurate when he shared his opinion of how the fight would go down.
"I felt when we stared down, I felt his right hand was twitching a little bit, that was a subtle tell for me. He is ready to unload that right hand, but I feel that could be a down fall for him. If he unloads that right hand I will not be there.

"one hundred percent, I will analyze reactions in there. If I faint and he reacts some way I will give him that reaction to set him up for something else. I will create traps and dead space inside that octagon, all over the place and I will walk him into it like a zombie. That is what I plan to do with Jose. I plan to set him up, trap him, lead him into dead space, lead him where he feels he is safe, but all of a sudden it's a trap and he is in big danger."
At the post-fight press conference McGregor simply said, "If you can see it here and you have the courage to speak it, it will happen."
Two belts and shares in the company.

— Conor McGregor (@TheNotoriousMMA) June 5, 2014
So far so good
For weeks we heard that Conor McGregor had a major announcement following his title fight at UFC 205.
McGregor dispatched of lightweight champion Eddie Alvarez to become the first ever simultaneous two-division champion in the promotions history. At the post fight press conference following the victory McGregor filled the world in on his major announcement. He was looking for equity in the company before he would fight again.
Nobody could have seen that coming…Unless they had remembered or dug up this beauty of a tweet from 2014. We are yet to see if McGregor will receive shares in the company, but it's unbelievable that he called this two years before and and we are on the brink of it becoming a reality.