10 Advantages Conor McGregor Has Over Floyd Mayweather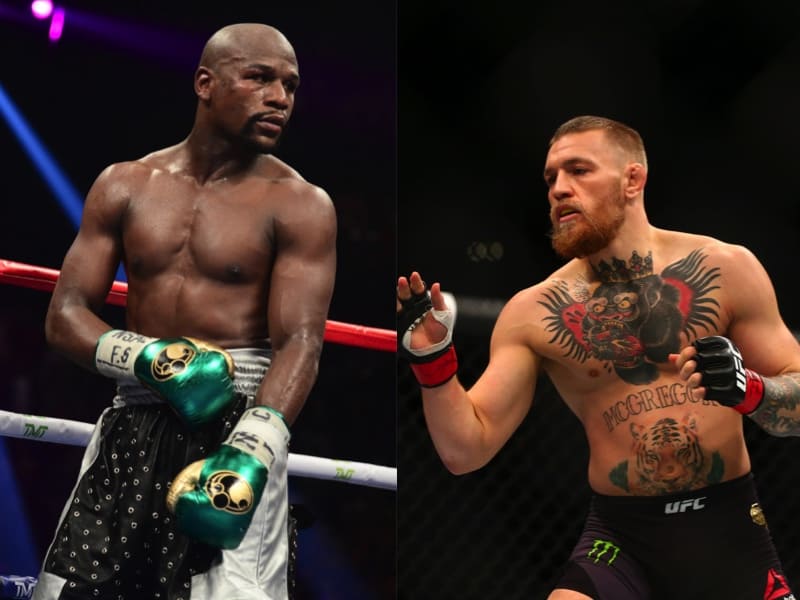 Ask any boxing expert, or indeed most MMA analysts for that matter, and they'll say the same thing – Floyd Mayweather is going to soundly beat Conor McGregor on August 26th.
After all, it's just common sense given that Mayweather is considered one of the best of all-time in his chosen sport – an untouchable boxing legend with a perfect 49-0 record.
Meanwhile, McGregor may have won both the UFC's featherweight and lightweight titles in impressive fashion, but the fact remains that he's never had a professional boxing match in his life.
That's not to say McGregor can't throw a punch – he's proven time and time again that he can do so with devastating effect – but there's a world of difference between someone like Mayweather, who has spent his entire lifetime focusing purely on pugelistic perfection, and the Irish sensation, who has split his time training many different aspects of fighting, both on the feet and on the floor.
So, the odds are firmly stacked against 'The Notorious', and rightly so, but anything can happen in a fight and it would be careless to write off his chances of pulling off an historic upset without having looked at the fight from every possible angle.
As such, in this article we'll do just that and explore no less than 10 distinct advantages that McGregor should enjoy against Mayweather when they step into the ring in Las Vegas in just two months' time.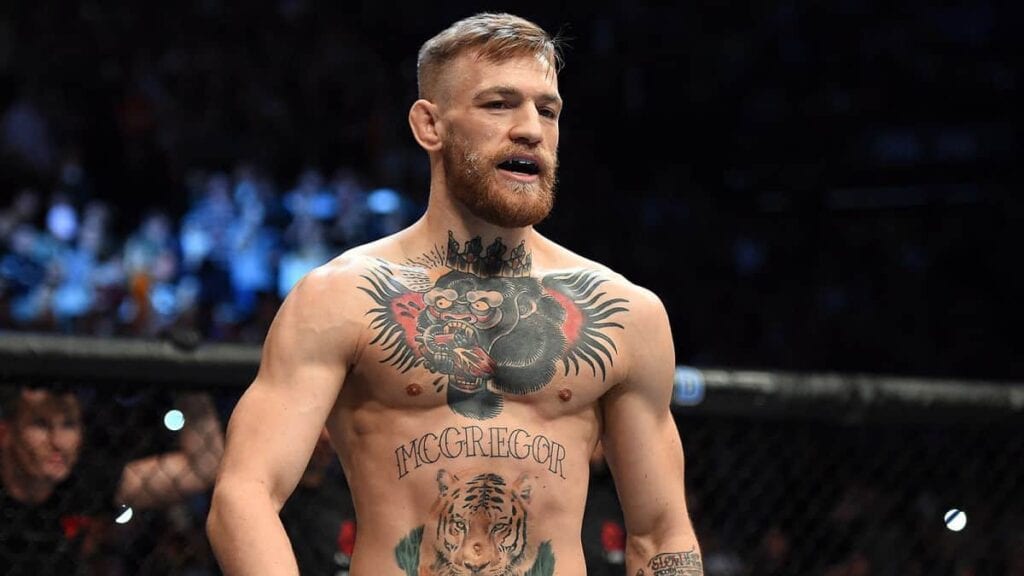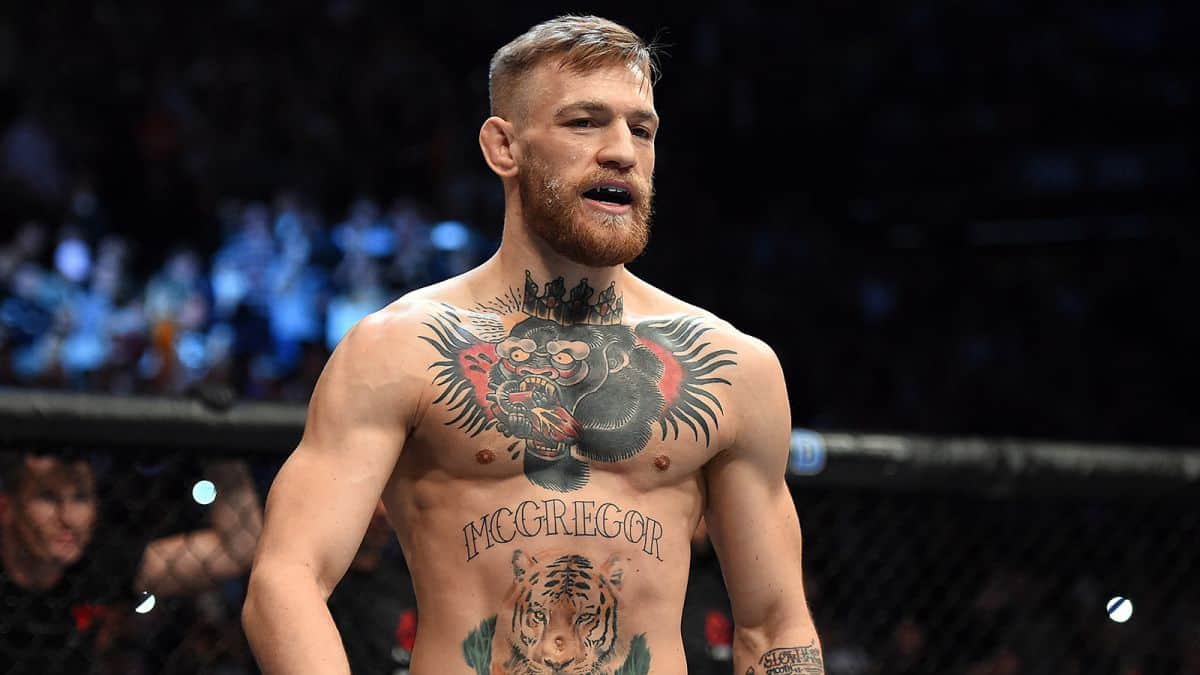 Age
When Conor McGregor and Floyd Mayweather step into the ring on August 26th, there will be an 11-year age gap between them.
McGregor turns 29 on July 14th, putting him firmly in the prime of his career as he heads into the biggest fight of his career.
As for Mayweather, despite his youthful appearance, he's now 40 years old, and that's sure to raise a question about whether time is finally going to catch up with him in the ring.
'Money' has now been fighting professionally for 21 years, and even though he's racked up 49 victories without defeat, wear and tear is inevitable.
That's particularly apparent with his hands, which Mayweather's former cutman Miguel Diaz once noted the boxer has "all the problems in the world," with, having suffered multiple fractures throughout his career, including in his last fight with Andre Berto, and that only becomes more problematic as the years roll on.
Some, like legendary coach Freddie Roach, have also spotted signs of Mayweather deteriorating in other ways, telling Sky Sports in 2015 that, "I don't think he moves like he used to. His legs aren't what they were – that's the first thing to go with a fighter."
Two years later, issues like that are only going to have become more pronounced.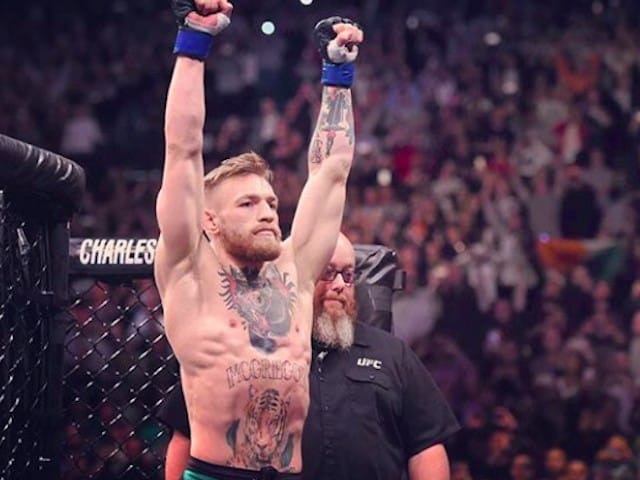 Size
When it comes to size, McGregor is holding all the aces in this match-up.
At 5′ 9" tall, 'The Notorious' has a one-inch height advantage over Mayweather, while a 74" reach puts him two inches ahead of his rival.
Interestingly, you'd have to go back six years and 12 fights to his 2011 fight with Oscar De La Hoya to find the last time Mayweather didn't have a superior reach to his opponent.
However, perhaps the most interesting size advantage McGregor will enjoy on the night is weight, since 'Money' somewhat surprisingly conceded to fight him at 154 pounds, despite a few months earlier having targeted 145-150 pounds as his favored weight for the contest.
Over the course of his career Mayweather has won titles as low as 130 pounds, but has generally been operating around the 146-pound range in recent years.
With that being said, he does have two previous successful fights at 154 pounds against Oscar De La Hoya and Miguel Cotto, and one with Canelo Alvarez at 152 pounds, though 151 pounds is as high as he's personally reached on the scales.
As for McGregor, he has a naturally bigger frame than Mayweather and has even fought twice at 170 pounds against the taller, rangier Nate Diaz.
The Irishman had well documented struggles getting down to 145 for his recent featherweight fights in the UFC, so it's a major boost for him that he won't have to concern himself with a grueling cut and instead will be operating within the vicinity of his optimal weight, where he won both his Cage Warriors and UFC lightweight titles.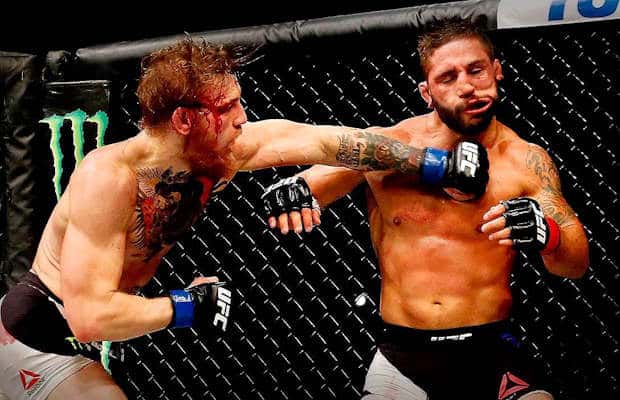 Power
One genuine advantage McGregor will feel he has in this fight is knockout power.
He's the naturally bigger, heavier man for a start, but more importantly, he has a proven track record of stopping opponents, with 18 of his 21 career victories in MMA coming by way of T/KO – and all but one of those coming by way of punches.
That includes becoming the first man ever to finish UFC great Jose Aldo, ending his nine-year unbeaten run in just 13 seconds to claim the featherweight title, then also handing Eddie Alvarez his first loss due to strikes in nine years to win the lightweight strap.
By contrast, only a little over half of Mayweather's 49 career victories have come by way of T/KO, and many of those were during his younger days fighting in significantly lower weight classes.
In fact, competing at higher divisions, combined with having suffered numerous hand issues over the years and being a natural defensive boxer, has resulted in Mayweather going to the scorecards in 12 of his last 14 bouts over an 11-year period.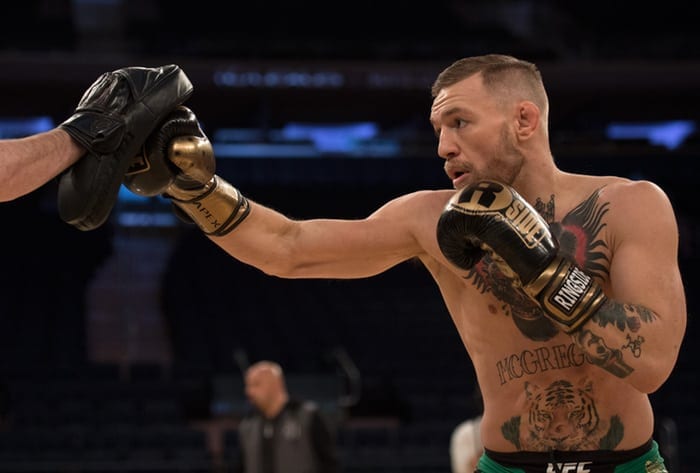 Southpaw
While he can fight out of both stances, McGregor is naturally left-handed and generally adopts a southpaw stance, and that could prove to be an advantage for him as there's a long standing theory that Mayweather has trouble with southpaws.
Subscribers to this theory include famed boxing coach Freddie Roach and boxing Hall of Famer Oscar De La Hoya, who once claimed that, "The left hand is the Kryptonite for Mayweather. He just does not know how to block a jab. It's just not part of his arsenal. It's not a part of his defense, blocking that jab."
Part of the reason for Mayweather's vulnerability is that he uses the shoulder-roll to defend and deflect punches, which has proven to be tremendously effective against orthodox fighters, but leaves him more exposed against left-handers.
In all fairness, while the likes of Zab Judah has broken through Mayweather's normally impenetrable defense, no one has yet been able to stop him, but nonetheless it's sure to be something McGregor will be looking to exploit.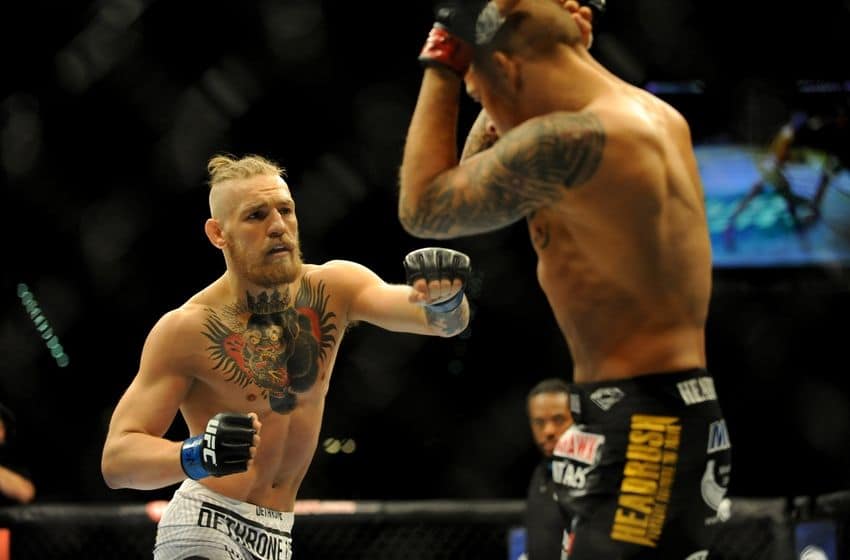 Unpredictability
In the boxing world there's nothing new under the sun for Mayweather – he's seen and beaten every style of boxer out there.
However, if nothing else, McGregor will offer a different look than Mayweather is accustomed to seeing in the ring, simply by virtue of his MMA training – even if he can't employ kicks, knees, elbows, takedowns and grappling.
For instance, mixed martial artists have a wider stance than boxers and often operate at a longer range, while they also tend to have different offensive approaches and angles of attack.
There is also one move from mixed martial arts that would be considered legal in the boxing ring, which is the 'Superman punch.' It's not a particularly devastating strike, but it's something Mayweather won't be used to.
Also, although McGregor would get in trouble both in the ring and contractually if he actually threw an illegal knee, elbow or kick, even just faking as if he was considering launching one might be enough to unsettle Mayweather and keep him guessing what's going to happen next.
Recently, Mayweather's assistant trainer Nate Jones seemed to acknowledge that these issues were on their mind, telling the 'Submission Radio' podcast that he was worried that McGregor was "gonna do something crazy," while also voicing concern about the UFC champion's, "weird shots from weird angles."
It's enough of a concern that Mayweather's camp has been reaching out to other UFC fighters like Kevin Lee to spar with the star in the build-up to the fight, but there's no one quite like McGregor out there.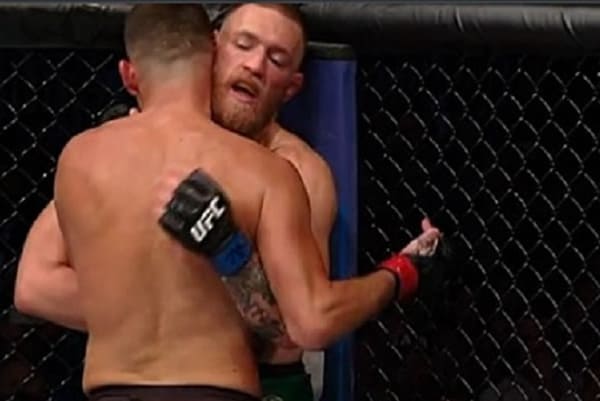 The Clinch
As a master of defensive boxing, Mayweather is no stranger to the clinch in order to get himself out of danger and stifle an opponent's attack.
However, when it comes to the clinch game, boxers just aren't in the same league as MMA fighters, who have to prepare for the fact that long periods of a fight can be fought almost entirely from that position.
As such, McGregor is going to be the bigger, stronger, more technical clinch fighter and will be doing his best to make Mayweather uncomfortable and have to carry his weight, while finding openings to land punches at close range.
Of course, unlike MMA, in boxing the clinch is quickly broken up by the referee, but every little advantage counts, and McGregor will be looking to ensure that Mayweather doesn't see this position as a safe haven when he's under pressure.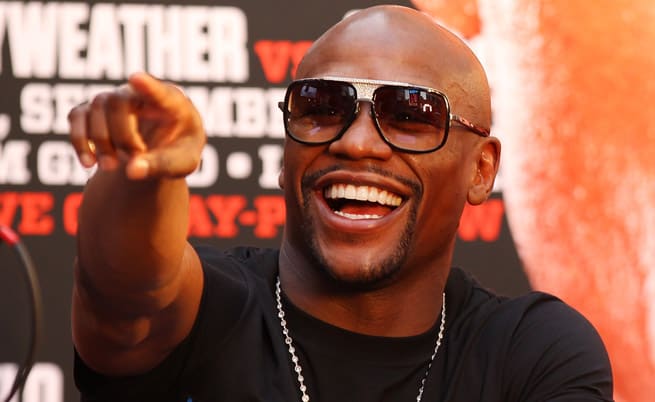 Ring Rust
On August 26th, it'll have been just shy of two years since Mayweather last set foot in the ring, while McGregor is enjoying just a nine-month layoff after having had three fights in 2016 alone.
This will be the longest timeout Mayweather has ever had between fights, though he did have a prior 21-month gap between his TKO victory over Ricky Hatton in 2007 and a decision win against Juan Manuel Marquez in 2009.
Mayweather was still in his early 30s back then, and it might not be so easy to get back to his best now that he's turned 40, so even though he's always kept himself in good shape, ring rust can't be completely ruled out as a factor in this fight.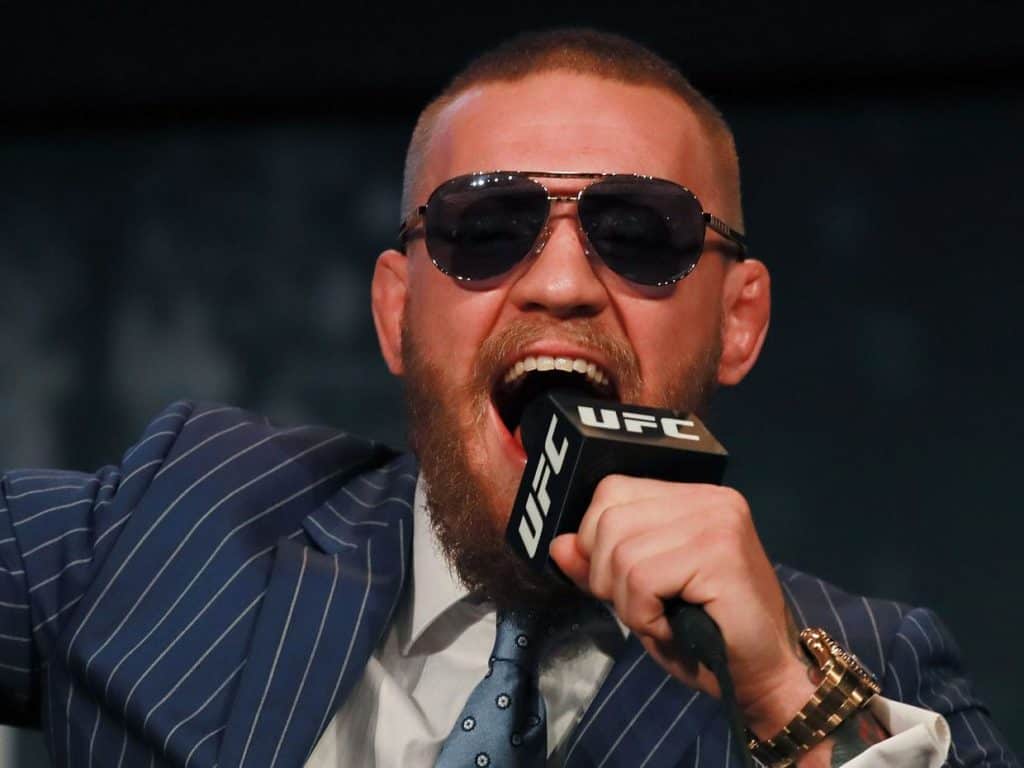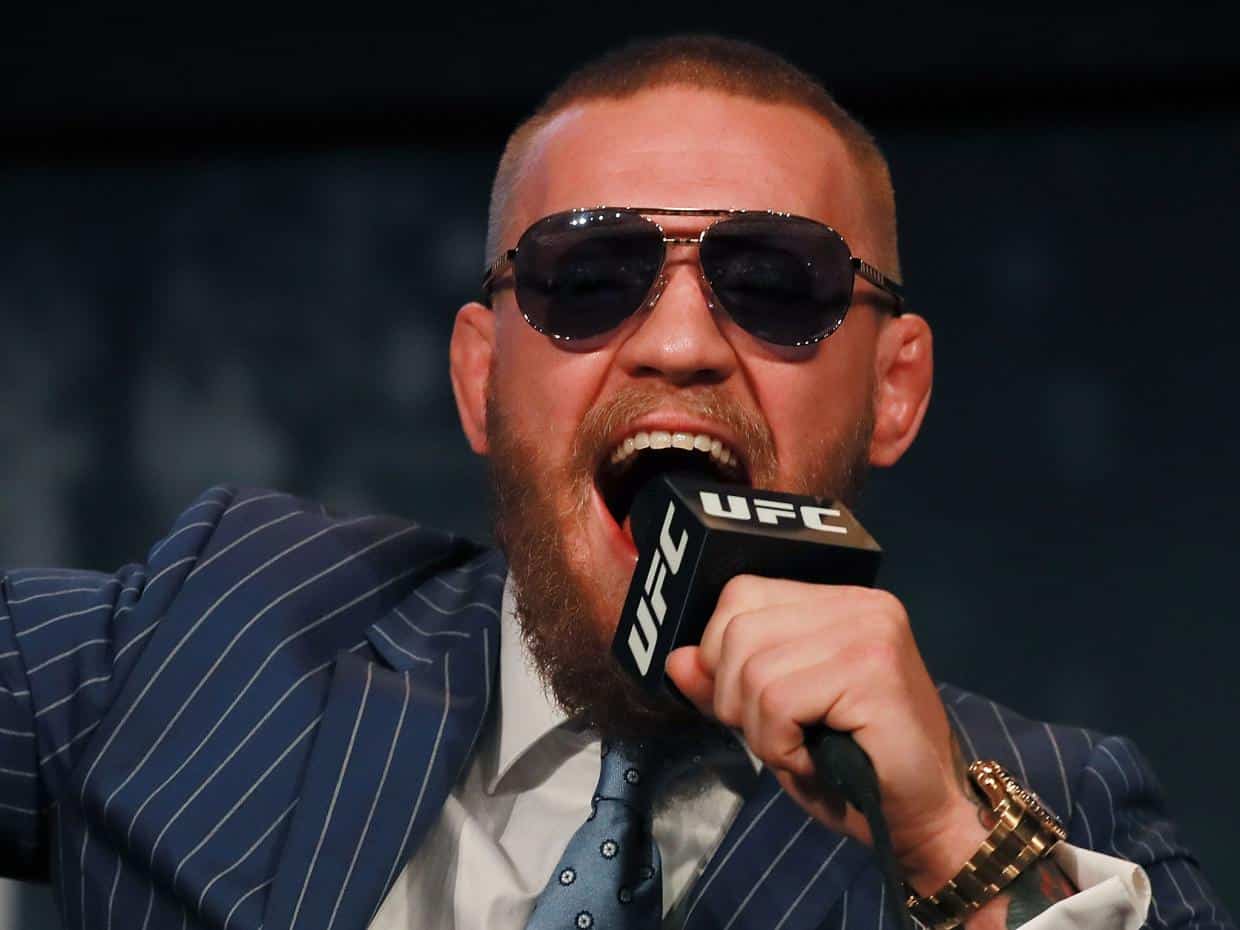 Mental Warfare
Floyd Mayweather may have fought a who's-who of boxing over the years, but it's fair to say he's never encountered anybody quite like Conor McGregor's larger-than-life personality and ability to get inside the head of his opponent before the fight has even begun.
McGregor has already started the mental warfare by pretending to confuse the boxing legend with his 64-year-old father Floyd Mayweather Sr. in photographs, a not so subtle jab at the fact that 'Money' is no spring chicken anymore.
This is just the tip of the iceberg as far as the war of words that's sure to erupt over the next couple of months though, and while age will be one battleground, there will be others, and the fact that he's agreeing to fight under boxing rules, but Mayweather is running scared from returning the favor in an MMA bout will be one that will be hard to argue against.
Whatever happens, it's hard to imagine McGregor's quick mind, sharp tongue and biting wit not winning the pre-fight verbal and psychological battle.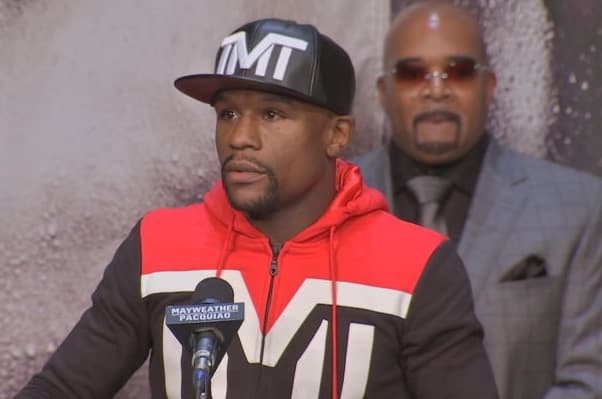 Pressure
Outside of Conor McGregor's own camp and his most ardent, die-hard fans, you'd be hard pushed to find anyone who thinks the Irishman has a real chance of emerging with his hand raised against Mayweather, and with good reason.
However, McGregor will happily take on that role of the underdog going up against insurmountable odds, as that means all the pressure will be on Mayweather's shoulders come fight night.
The boxing world will be expecting 'Money' to not only win, but put on a master class in the process and mop the floor with the UFC star, yet at the same he will know that one slip-up could ruin the undefeated, undisputed legacy he's spent over two decades cultivating.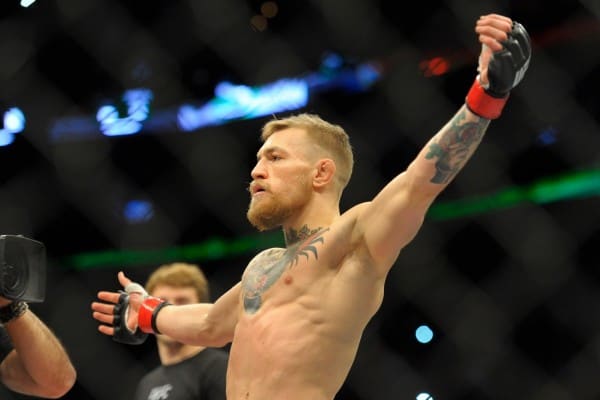 Survival Is A Victory
While the expectation for Mayweather is not only to win, but to win in style, what constitutes a victory for McGregor is far more humble.
Make no mistake, McGregor will be looking to knock out Mayweather in Las Vegas, but truth be told, even if he managed to make it to the scorecards that would be a moral victory, not just for him, but for MMA as a whole given that 'Money' is touted as the best boxer of his generation and one of the best ever to participate in the sweet science.
Ideally McGregor would be looking to emerge relatively unscathed after having been somewhat competitive, but regardless of what happens, if he's still standing at the end as the judges decision is read out then he'll be only too happy to take that and then remind everyone in no uncertain terms that in the Octagon, Mayweather wouldn't even make it out of the first round.
With that in mind, suddenly the task facing McGregor doesn't seem quite so daunting.
Surviving for 12 rounds against the smaller, aging Mayweather, who is primarily a defensive master rather than an offensive powerhouse will still be a massive challenge, but it's by no means an unrealistic goal if he remains disciplined and doesn't leave himself overly exposed while attempting to land a knockout punch on Mayweather.