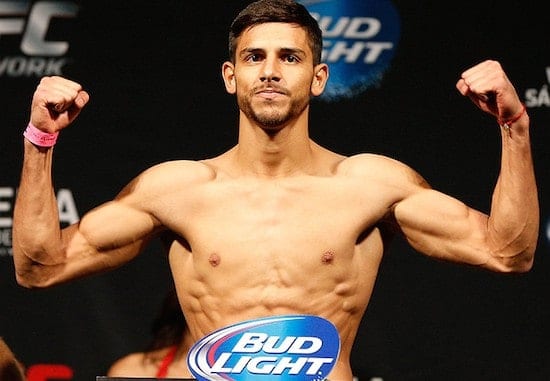 Yair Rodriguez (5-1) and Charles Rosa (10-2) had an opportunity to gain the attention and respect of Mixed Martial Arts (MMA) fans on July 13, 2015  in Mexico City, Mexico. After their contest at UFC 188, it's safe to say that the two featherweight stalwarts took advantage of their pay-per-view time.
"Pantera" even blew chunks once the fight concluded.
Rodriguez was immediately on the attack with flying kicks and knees. He found himself on his back with Rosa in full guard. Rodriguez latched on a triangle choke quickly. He kept applying pressure as Rosa made numerous attempts to escape. Rosa eventually got out of the submission attempt. Rosa landed some punches in full guard. Rosa was able to get Rodriguez's back and attempted a rear naked choke. Rodriguez was able to get back to his feet while being controlled against the fence. Rosa took Rodriguez back down and reigned down a few elbows. Rosa attempted a leg lock, but Rodriguez escaped and got back to his feet.
The second round opened up with some leg kicks by Rodriguez. A front leg side kick was thrown by Rodriguez. Rosa attempted a takedown, but could not complete it. Body kick from Rodriguez landed, but it was answered by Rosa's left hand. Rosa connected with a leg kick, but had another one of his takedown attempts stuffed. Rodriguez missed a spinning back elbow, but wound up in full mount off a takedown attempt from Rosa. The fight resumed on the feet and Rosa had a cut on the side of his head. Rosa rolled down for a leg lock, but Rodriguez slipped out. The round ended with Rosa getting a takedown, but Rodriguez flipped his opponent over into full mount.
A right hand connected for Rosa early in the final round. Rosa kept pressuring Rodriguez and got the takedown. Rodriguez landed elbows from the bottom and Rosa responded with an elbow and punches. Rodriguez synched in a triangle choke, but Rosa escaped. Rosa rolled into a crucifix position, but Rodriguez escaped and the fight returned to the feet. Rosa got another takedown into side control. Rosa found himself in a closed guard and threw hammerfists. Rosa landed an elbow and the horn sounded.
All three judges scored the fight 29-28, but it was a split decision in favor of Rodriguez. As he was being interviewed inside the Octagon by Joe Rogan, "Pantera" puked on his shirt. Rogan was grateful that none of the contents got on him.
Final Result: Yair Rodriguez def. Charles Rosa via split decision (29-28, 29-28, 29-28)