UFC featherweight champion Conor McGregor is deep in to his training camp for the big rematch with Nate Diaz at UFC 202. After suffering a second round submission loss to Diaz at UFC 196, a lot is on the line for 'The Notorious.' Although the fight took place at 170 pounds, meaning McGregor's belt stayed intact, both pride and legitimacy hang in the balance. Two straight losses heading in to his first title defense would not be a good look.
While the Irish star stays at welterweight, the 145-pound division is kept warm by Jose Aldo. The former undisputed champ topped Frankie Edgar at UFC 200 for the interim strap. On August 20 we'll not only see if McGregor can take back the somewhat humiliating March 5 loss to Diaz, but we could well see a further delay in featherweight proceedings. Used to breaking records on a regular basis during his three-year UFC stint, 'The Notorious' is also topping the table for random drug tests.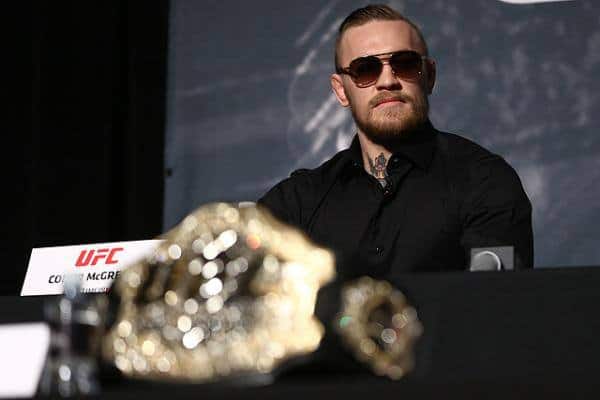 Ever since USADA (United States Anti Doping Agency) joined forces with the UFC in mid-2015, we've seen mixed martial arts from a whole new perspective. We all knew the stricter drug testing program would usher in massive change, but few expected the frequency and high calibre of the scalps claimed thus far. We recently reported that Holly Holm topped the USADA list as most tested athlete in the past year, as the former champion hit 14 in total. Never one to be outdone, McGregor joins 'The Preacher's Daughter' in the top spot. Random testers caught up to the featherweight boss before his morning training session this week.

Credit: The Mac Life on Youtube
McGregor avidly supports USADA in his latest social media posts, thanking the agency for helping bring about a cleaner sport. On the subject of USADA, here's the top ranked fighters in terms of drug tests administered over the past year.
Conor McGregor/Holly Holm tested 14 times.
Rafael dos Anjos tested 13 times.
Vitor Belfort/Jose Aldo/Anderson Silva tested 12 times.
Daniel Cormier/Luke Rockhold/Robbie Lawler/Yoel Romero/Ronda Rousey/Junior dos Santos/Miesha Tate/Thiago Alves tested 10 times.