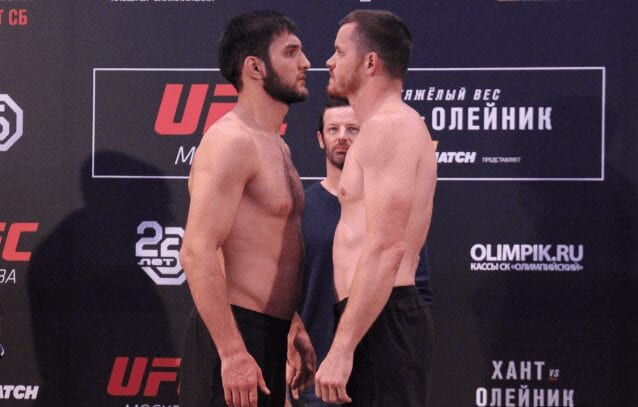 UFC Moscow preliminary card results are underway as the Las Vegas-based promotion holds this latest event on their streaming service for fight fans around the world to watch the show.
It's once again fight day here at LowKickMMA, and the talent on display today (Saturday, September 15, 2018) will come from in the form of UFC Moscow. Headlining the card are Mark Hunt and Aleksei Oleinik, but there's a whole bunch of great fights also taking place on the preliminary section of the card.
C.B. Dollaway vs. Khalid Murtazaliev in a middleweight bout closes the preliminary card on Fight Pass in what should be an interesting fight. In round 1, Murtazaliev stunned him a few times with body kicks then scored a takedown while Dollaway went for a gullotine choke but couldn't lock it in. Murtazaliev got back to his feet and clinched up against the fence. Murtazaliev scored a takedown late in the round. In round 2, Murtazaliev came out swinging with kicks. Murtazaliev with a spinning back kick to the gut but Dollaway was able to score a takedown and got guard then full mount. Dollaway was going for a choke but Murtazaliev got out of it. Murtazaliev got to his feet and landed some knee strikes then took him down. Dollaway was doing a good job of scrambling. Murtazaliev landed a series of strikes and the referee wouldn't stop the fight even though Dollaway wasn't defending himself very well. After the round, Dollaway told Herb Dean he was done fighting. Fight is over.
Jin Soo Son vs. Petr Yan is next in a bantamweight bout. In round 1, Son fires off several jabs to the face, landing most of them. After a delay from an eye poke, Yan changes levels and shoots in for a slick takedown. Son is able to get back to his feet, though. They trade punches near the end of the round. Son lands the better shots and smiles at Yan. In round 2, an comes out and slams a beautiful combo of punches to the head. Son's knees buckle as he backs up before firing back. Greta action early. Yan delivers a pair of vicious uppercuts to the jaw. Son buckles again but then fires back while smiling. Son swallows a left hand and then scores a huge takedown. Yan moves to butterfly guard. Son stands up out of Yan's guard and lands some punches before Yan rolls over to turtle. Yan explodes up to his feet and locks on a front headlock before separating back to their feet. In round 3, Vicious punch combo to the head from Yan and Son's nose is bleeding. A huge spinning elbow lands directly on Son's head and he walks right through it. Yan is unloading everything at Son, and landing most of it. It's unknown how Son is still standing. Yan got the decision win.

Kajan Johnson vs. Rustam Khabilov is next in a lightweight bout. In round 1, Johnson is pawing with the jaw and throwing the occasional high kick. Khabilov continues to slowly walk forward, looking to land his power punches. Johnson is landing a steady stream of kicks to the leg and body, preventing Khabilov from finding his rhythm early. Johnson pegs Khabilov with a slick straight right to the jaw, but the Dagestani shakes it off. In round 2, Khabilov lands a nice right to the head a soon as the second begins. Johnson misses a jump kick to the head. Khabilov connects with a three-punch combo upstairs, his best offense of the fight thus far. Khabilov finally gets his takedown and is on top, but Johnson is threatening with a leg lock. He doesn't have much with it, though. Johnson spins out and misses a triangle choke and then an oma plata. He recovers to full guard. Khabilov lands some solid ground-n-pound in between Johnson's submission threats. In round 3, Khabilov walks right into a huge left knee to the face. He stumbles back but recovers before Johnson can inflict more damage. Khabilov scores a takedown but Johnson springs right back up to his feet. Khabilov scores a takedown with 80 seconds left. He needs to finish strongly here in order to win this round. Johnson misses a heel hook at the horn. Khabilov got the decision win.

Desmond Green vs. Mairbek Taisumov is next in a lightweight bout. In round 1, Taisumov opens the bout with some heavy kicks to the legs and body. Green is having a hard time figuring him out early on. Taisumov lands a right to the head and then a nasty right body kick. Green still hasn't been able to get into a rhythm yet. Taisumov slams a few more heavy kicks onto Green's legs. Green returns the fire but it's not as damaging as his opponent's. In round 2, Green delivers a hard straight left to the liver early but Taisumov shakes it off. Green finally shoots in for a takedown but Taisumov sprawls nicely and escapes. Green lands a hard left kick to the body and then a straight left hand to the head. Taisumov backs away and then has to fend off a takedown. In round 3, Green lands a left to the head. Taisumov walks forward and connects with a lead right to the face. Green is sticking and moving well, but Taisumov is walking him down, landing leg kicks and the occasional punch up top. A nasty inside leg kick from Taisumov. Green is shaken a bit by a partially-blocked right high kick with 90 seconds left. They trade punches late but Taisumov lands a crisp right to the face just before the horn. Taisumov got the win.

Magomed Ankalaev vs. Marcin Prachnio is next in a light heavyweight bout. In round 1, Ankalaev landing some hard punches to the head. Prachnio is rocked slightly by a right uppercut on the inside and backs off. A right hook to the jaw rocks Prachnio and then Ankalaev drops him with a left head kick. Ankalaev pounces on him with punches and Herb Dean immediately intervenes.
Jordan Johnson vs. Adam Yandiev is next in a middleweight bout. In round 1, Johnson comes out calmly, tossing out jabs and keeping a range. Yandiev is aggressive, but Johnson takes him down easily after landing an uppercut. Johnson is mauling Yandiev on the ground. After missing a guillotine, Yandiev springs up to his feet and regroups. Johnson lands a few punches and then easily takes Yandiev down. The American is all over him, and now has full mount. Yandiev scrambles out from underneath Johnson, but the San Diego fighter dives right back on him, and takes his back. In round 2, Johnson ducks under a flurry of wild punches and easily takes Yandiev down. Once on top, he locks in the arm-triangle and forces the tap.
Ramazan Emeev vs. Stefan Sekulic is next in a welterweight bout. In round 1, Emeev comes out aggressively but he's not letting his hands go just yet. Sakulic tosses out sporadic kicks to the legs and body. Emeev closes the distance and presses Sekulic against the cage. Sekulic goes for a takedown, but Emeev uses a kimura attack to fend it off. He loses the submission, though, and is eventually tied back up against the cage. Emeev reverses position and then blasts Sekulic with a sharp right elbow to the head before separating. Emeev changes levels and scores the takedown, but Sekulic powers back up to his feet moments later. Emeev rocks Sekulich badly with a right hook to the jaw. He stumbles back and is dropped by a high knee. With time running out, Emeev can't sink the choke. In round 2, Sekulich closes the gap and shoots in. Emeev can't defend it and is taken down, but he quickly looks for a kimura off his back. Back on their feet, Emeev calmly pops his foe with a right-left to the head. Sekulich backs away, looking to regroup. In round 3, Emeev is poked in the eye during an early exchange. He's given some time to recover and the fight continues. Emeev lands a nice right cross to the head, but Sekulich shakes it off and tries a single-leg takedown. They went back to their feet and battled it out until Emeev got the decision win.
Opening the UFC Fight Pass prelims is Merab Dvalishvili vs. Terrion Ware in a lightweight bout. In round 1, Dvalishvili comes right out and launches a head kick but it's blocked. Ware is able to survive an onslaught before pulling to guard. Dvalishvili is in top half guard, looking to pass. The Georgian is landing some decent punches from on top. Now he's slamming down elbows to the head. Dvalishvili is all over Ware, mauling him near the fence. Dvalishvili landing plenty of elbows from top but Ware is able to explode up to his feet. Dvalishvili scores an easy takedown and has Ware pinned against the fence. Dvalishvili is all over Ware as they get back to their feet and then unloads a flurry of punches at the horn. In round 2, Dvalishvili is moving well on his feet, using his jab. Ware is looking for an opening to counter the attacks but is too far away. Dvalishvili lands a few more punches to the head. Ware backs off and is taken down against the cage from a double-leg. Dvalishvili lands some decent strikes from within Ware's guard down the stretch. In round 3, Dvalishvili opens the frame with a leg kick but Ware answers with two head kicks of his own, though they miss. Ware misses a spinning backfist and is taken down against the fence. Dvalishvili is in top half guard, landing punches to Ware's body and head. Ware needs to explode to his feet and get something going. Dvalishvili pours on the attacks, slamming elbows and punches to Ware's head. Dvalishvili got the decision win.
Here are the results:
Preliminary Card (UFC Fight Pass, 10:30 a.m. ET)

Middleweight Bout: Khalid Murtazaliev def. C.B. Dollaway via TKO (Ref Stoppage Between Rounds) R2, 5:00

Bantamweight Bout: Petr Yan def. Jin Soo Son by unanimous decision (30-27, 30-27, 29-28)

Lightweight Bout: Rustam Khabilov def. Kajan Johnson via Split Decision (29-28, 28-29, 29-28)

Lightweight Bout: Mairbek Tasiumov def. Desmond Green via unanimous decision (30-27, 30-27, 30-27)

Light Heavyweight Bout: Magomed Ankalaev def. Marcin Prachnio via knockout (head kick) at 3:09 of R1

Middleweight Bout: Jordan Johnson def. Adam Yandiev via (side choke) at 0:42 of R2

Welterweight Bout: Ramadan Emeev def. Stefan Sekulic via unanimous decision (29-28, 30-27, 30-26)

Lightweight Bout: Merab Dvalishvili def. Terrion Ware via unanimous decision (30-25, 30-25, 30-25)