UFC Fight Night 77 Preliminary Results: Gleison Tibau Chokes Out Abel Trujillo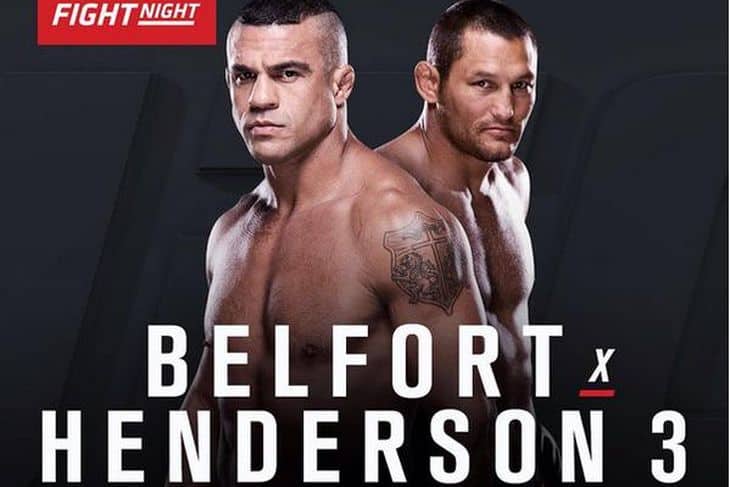 UFC Fight Night 77 took place on Saturday, November 7th, 2015) with Vitor Belfort (24-11) and Dan Henderson (31-13) serving as the main event, but there's a whole bunch of great fights also taking place on the preliminary section of the card.
Gleison Tibau vs. Abel Trujillo closed the preliminary card on FOX Sports 1. This fight did not last long as Tibau took his back and Tibau worked him over with strikes. Tibau locked in the rear-naked choke and the fight was stopped in the first round. Trujillo never tapped, which caused for some controversy.
Yan Cabral and Johnny Case met in a lightweight bout. This fight took place mostly on the ground with both fighters having their moments. Cabral looked to finish the fight with a choke in the third round, but Case fought out and got on top to have a very good few minutes to close the fight. In the end, the judges gave the win to Case by unanimous decision.
Clay Guida and Thiago Tavares met in a lightweight bout. This one did not last long as Guida came out aggressive and got a double leg takedown within the first thirty seconds of the fight. Tavares caught him with a guillotine choke and Guida tapped.
Chas Skelly vs. Kevin Souza opened the FOX Sports 1 preliminary bouts in a featherweight bout. Skelly took the fight to the ground early and looked impressive until Souza made a brief comeback in the later part of the round. In the second round, Skelly took him down, got his back, and locked in the rear-naked choke for the win.
Viscardi Andrade vs. Gasan Umalatov in a welterweight bout finished off the UFC Fight Pass preliminary card. Both fighters had moments in this fight where they could've finished it, but could not. After a slug fest, Andrade was awarded the unanimous decision victory.
Pedro Munhoz and Jimmie Rivera met in a bantamweight bout. Both fighters had their moments and kept the fight mostly on the feet. In the end, Rivera got the win by split decision after having an impressive showing in the first round.
Opening the UFC Fight Pass prelims was Bruno Korea vs. Matheus Nicolau in a flyweight bout. An entertaining bout that saw Nicolau dominate the majority of the fight. The end came when Nicolau dropped him with a straight right that would set up the guillotine choke that would be the deciding factor in the finish.
Here are the quick results:
Gleison Tibau def. Abel Trujillo via submission (rear-naked choke) – Round 1, 1:45
Johnny Case def. Yan Cabral via unanimous decision (29-28, 29-28, 29-28)
Thiago Tavares def. Clay Guida via submission (guillotine choke) – Round 1, 0:39
Chas Skelly def. Kevin Souza via submission (rear-naked choke) at 1:56 of R2
Viscardi Andrade def. Gasan Umalatov via unanimous decision (30-27, 30-27, 29-28)
Jimmie Rivera def. Pedro Munhoz via split decision (29-28, 28-29, 29-28)
Matheus Nicolau def. Bruno Korea via tech. submission (guillotine choke) – Round 3, 3:27