UFC Fight Night 112 Medical Suspensions: Six Fighters Face Long Layoff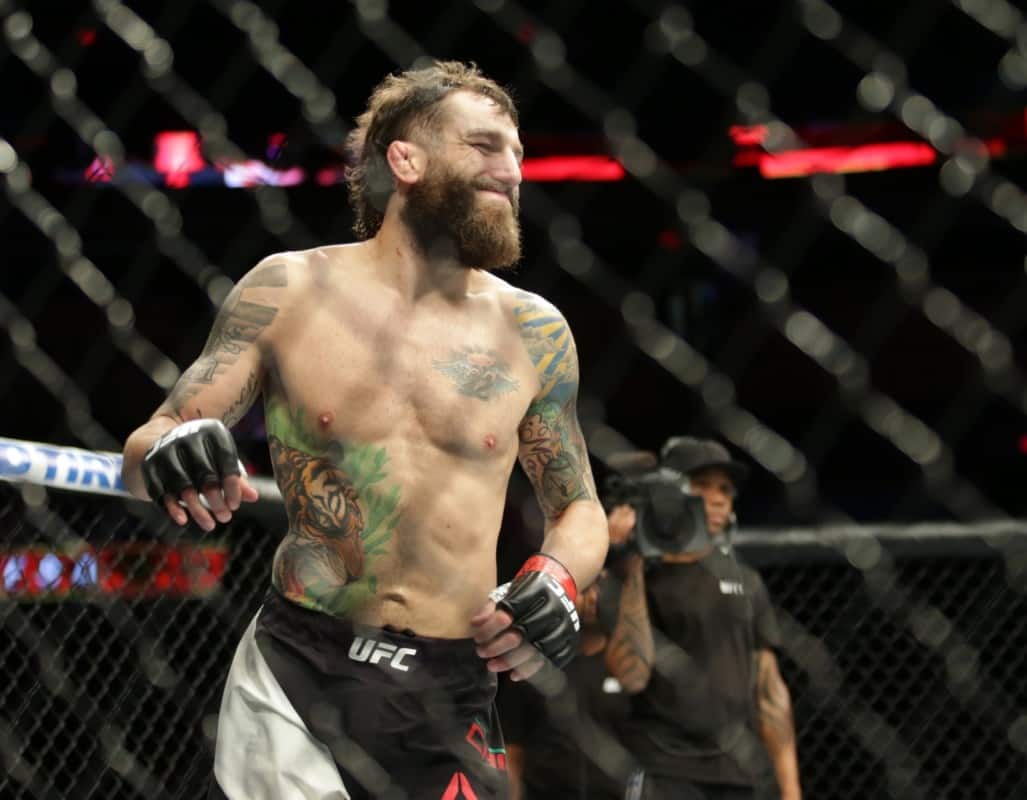 With every decision comes a consequence and for those fighters who took part in battle at UFC Fight Night 112, it's their time to faces those consequences in the form of medical suspensions.
A lightweight bout between Michael Chiesa and Kevin Lee headlined this event. Johny Hendricks vs. Tim Boetsch in a middleweight bout served as the co-main event. Rounding out the main card was Felice Herrig vs. Justine Kish in a strawweight bout, Joachim Christensen vs. Dominick Reyes in a light heavyweight bout, Tim Means vs. Alex Garcia in a welterweight bout, and BJ Penn vs. Dennis Siver in a featherweight bout.
Some of the more notable suspensions include Michael Chiesa being suspended 180 days due to a possible left-shoulder injury, Tim Boetsch out for 180 days due to possible right-foot and shin injuries and Felice Herrig being out 180 days due to a possible left-wrist injury.
Here are the entire medical suspensions:
Michael Chiesa: suspended 180 days due to a possible left-shoulder injury, though a doctor can clear him early; regardless, 30 days with no contact for 21 days due to a scalp laceration
Tim Boetsch: suspended 180 days due to possible right-foot and shin injuries, though a doctor can clear him early
Johny Hendricks: suspended for 30 days with no contact for 21 days for precautionary reasons
Felice Herrig: suspended 180 days due to a possible left-wrist injury, though a doctor can clear him early; regardless, 30 days with no contact for 21 days for precautionary reasons
Justine Kish: suspended for 30 days with no contact for 21 days due to a left-eyebrow laceration
Joachim Christensen: suspended for 45 days with no contact for 30 days for precautionary reasons
B.J. Penn: suspended for 45 days with no contact for 30 days for precautionary reasons
Marvin Vettori: suspended for 30 days with no contact for 21 days for precautionary reasons
Vitor Miranda: suspended 180 days due to a possible right-ankle injury, though a doctor can clear him early; regardless, 30 days with no contact for 21 days due to left-ear and nasal lacerations
Devin Powell: suspended 180 days due to possible left-ankle injury, though a doctor can clear him early
Michel Quinones: suspended for 45 days with no contact for 30 days for precautionary reasons
Johnny Case: suspended 180 days due to a possible hand, foot/ankle and nose injuries, though a doctor can clear him early; regardless, 60 days with no contact for 45 days due to a left-orbital laceration
Tony Martin: suspended for 30 days with no contact for 21 days for precautionary reasons
Josh Stansbury: suspended for 45 days with no contact for 30 days for precautionary reasons