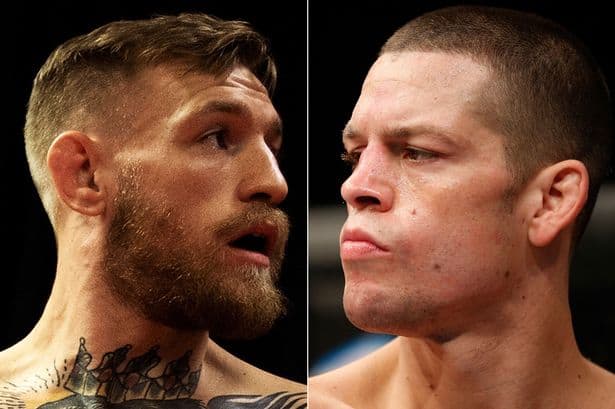 The Conor McGregor hype train was temporarily derailed when the reigning UFC featherweight champion was unable to thwart the toughness and submission skills of Nate Diaz at UFC 196.
While it's easy to entirely dismiss the defeat considering the Irishman was jumping up 25 pounds in weight to fight Diaz on 11 days' notice, he did in fact suffer his first promotional defeat. One that yet again shed light on a rather average ground game, seeing as his other two professional losses came by way of submission.
Nonetheless, the 145-pound king is more determined than ever to regain any steam he lost to the Stockton brawler early this month. The two are nearing an agreement to officially fight again at UFC 200 this July, which makes sense considering UFC 196 presumably broke all promotional pay-per-view records.
While some will scuff at the idea of a rematch, due in part to McGregor taking two fights out of division before he defends his featherweight title at least once, the UFC would be ill-advised to pass up such an opportunity. In fact, there are more selling points on why this reboot should take place than one might think.
Here are five reasons why McGregor vs. Diaz II is the right choice to bolster the biggest mixed martial arts fight card of all time.

1) McGregor is owed a shot at redemption
There's no arguing that McGregor has done a whole lot for the UFC since making his debut back in 2013.
The 27-year-old has not only banked millions upon millions of dollars for the promotion as their biggest PPV ticket, but he's brought attention to the European markets that were partially unearthed by the likes of Michael Bisping and Alexander Gustafsson. Not to mention he's created an entirely new fan base of casual fight fans who love a quick-talking knockout artist.
At the end of the day, in light of his first defeat inside of the Octagon, "Mystic Mac" deserves a chance to redeem himself. He has earned the right to test his skills opposite Diaz one more time.
If he loses, then moving on will be the only option available. But if McGregor wins, well, he'll be bigger than ever.
2) UFC must ride Diaz's momentum
As much as McGregor deserves a rematch with Diaz, the UFC also needs to ride every ounce of momentum that the California striker earned when he beat the corporate golden boy at UFC 196.
Despite a rather fan-friendly fighting style and ability to make every bout Fight-of-the-Night quality, Diaz has unexpectedly flown under the company radar for far too long. He has been overshadowed by big brother Nick and has been an unfortunate product of a fighter who speaks his mind and refuses to conform to a life of business.
While the promotion was banking, and hoping, that McGregor would defeat Diaz in dramatic fashion back on Mar. 5, they are consequently left with one of the biggest overnight stars in the history of the sport. Because no matter how well known Diaz was among hardcore fans before his victory over McGregor, he's never been as popular as he is right now.
If the UFC didn't take this opportunity to further expand his marketability and financial potential, they wouldn't be doing their job as a combat promotion.
3) Edgar vs. Aldo II perfect consolation prize
Through all of this madness surrounding a McGregor vs. Diaz rematch, the UFC featherweight division is once again left without its champion.
In the past, this would cause an unavoidable domino effect that essentially put the entire weight class on ice. But if McGregor decides to bypass his first title defense to give welterweight another go-round, it wouldn't be that bad for deserving top contenders Jose Aldo and Frankie Edgar, at least as far as the UFC is concerned.
Bottom line, with no McGregor the promotion can finally book Aldo vs. Edgar II, a rematch that has been so desperately needed at the 145-pound level since the two initially locked horns back at UFC 156 (Aldo won via unanimous decision).
The winner would finally put the nail in the coffin and welcome McGregor back to the division sometime in early 2017, unless the champ is able to make a quick turnaround and fight in November when the promotion finally makes its debut in New York.

4) Solidifying McGregor's future outside of featherweight division
The fact of the matter is that McGregor isn't going to stay at 145-pounds his entire career. Heck, he might never return to the division that made him an international superstar in under three years.
While he does owe a little bit to the eager group of featherweight contenders (Edgar, Aldo, Chad Mendes and Max Holloway), the Irishman absolutely beats up his body to cut the weight needed to compete at that level. Just 24 hours before fight night and McGregor looks like he's been stranded on an island for years.
That said, it's key that the UFC and McGregor work towards a situation in which is future outside of the featherweight division is one with unlimited possibilities. Stepping back up to 170 pounds, defeating Diaz, and once again holding a sense of invincibility over anyone and everyone from lightweight to welterweight, is the best case scenario.
Of course, the promotion is taking a big gamble. Because if McGregor is unable to get past Diaz for a second time, he'd probably never be able to dip his toes in the welterweight pool ever again.

5) The money
At the end of the day, the UFC, McGregor, and Diaz, are all in this for the money. With no title on the line, or even an ounce of divisional meaning, filling up the bank account is everyone's first priority.
Can you blame them?
We all know this rematch is going to break all sorts of records. People will tune in to see if McGregor can learn from his mistakes and adopt a new gameplan for 170 pounds. Others will buy UFC 200 in hopes of seeing Diaz yet again stick a big middle finger to the company and its biggest star.
But anyway you split it, the outcome is financially potent for all parties involved. McGregor and Diaz will both make another purse in the millions (with the Irishman earning the bigger piece of the pie), and the promotion can gear up for what may end of producing 2,000,000 PPV buys.