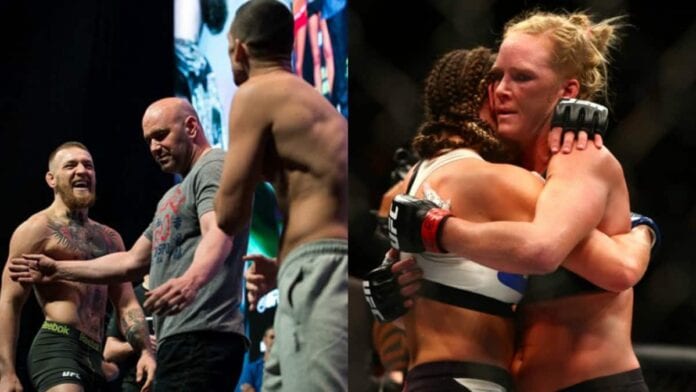 In case you missed it, we have a full breakdown of the biggest fights from UFC 196, including Conor McGregor vs. Nate Diaz & Miesha Tate vs. Holly Holm…
So UFC 196 is in the rear view, and the mixed martial arts world collectively gets back to reality following one of the biggest events in modern history. It's quite easy to forget that the original lightweight title fight between Rafael dos Anjos and Conor McGregor had been taken away, as the pay-per-view card rocked the foundations even without the full line up. Buoyed by a number of shocking upsets and highlight reel moments, UFC 196 delivered in a big way.
So let's start with the co-main event of the evening, Holly Holm vs. Miesha Tate for the UFC women's bantamweight title. Holm was hoping to embark on a long run as champion following her crushing upset over Ronda Rousey last year, and her first defense against Miesha Tate would prove to be pivotal in making this dream a reality. Unfortunately for 'The Preacher's Daughter,' Tate was a different beast than we've ever seen, and came to win.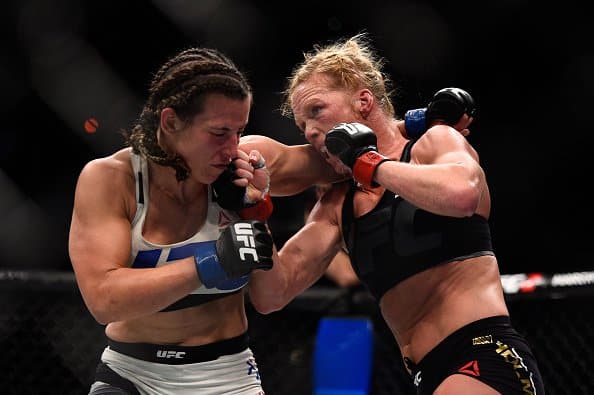 Up until round five, this was a very tentative fight, with neither woman appearing willing to play their entire hand. But Tate was clearly planning Holm's demise, and it was an ugly one at that. She'd been kept at arm's length for four rounds, but 'Cupcake' never gave up trying. Perhaps she planned for the fifth round finish, or maybe it was her persistence that led to the eventual opening, either way it was one of the craziest final moments in a fight to watch live.
As Miesha Tate took the back of Holly Holm, there was a sense that this was the moment the belt would change hands yet again. From the standing position 'The Preacher's Daughter' attempted to flip Tate over, but it didn't work, in fact it exposed Holm's position even further, and Tate clamped on with the rear naked choke. Holm appeared to remain calm, but 'Cupcake' already had the choke secured under the chin, with her left hand firmly grasping the back of the now former champion's head, and her right hand locked in place on her own bicep.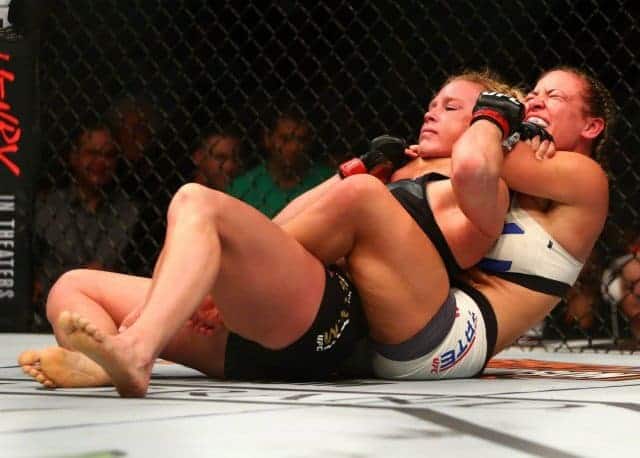 It looked as though Holm was ready to tap, and almost did, but it turned out to be the movements of an unconscious and now fallen champion. Tate and her team were elated, but we witnessed one of the most humble and down to earth champions fall from grace in the UFC 196 co-main event. It was a sobering moment to say the least, but such is life in the fight game. The key to Tate getting past Holm was an excellent mix of head movement and unpredictable footwork, and dogged determination.

Now, on to one of the most brash and outspoken characters in MMA history.
skip over the page for the detailed breakdown of conor mcgregor vs nate diaz