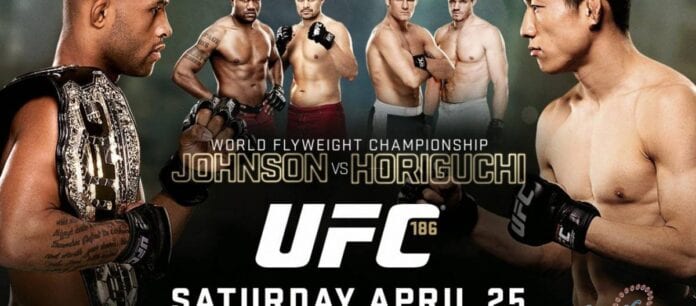 This evening's (Sat., April 25, 2015) UFC 186 pay-per-view main card is in the books from the Bell Centre in Montreal, Quebec, Canada.
Dominant flyweight champ Demetrious Johnson took on surging contender Kyoji Horiguchi for the title in the main event, and it's safe to say he added to his pound-for-pound resume with one of the most unique finishes the UFC has ever seen.
"Mighty Mouse" cut off the cage with angles, but Horiguchi cracked him with a right hand. Johnson sought a takedown against the fence to land some light ground shots, and Horiguchi got up to land a hard leg kick and knee followed by two body kicks. The second saw Johnson aggressive  with a knee, but Horiguchi countered with his own stinging knee. He got a surprising takedown and landed a left when Johnson got up. The champion worked hard for a takedown, landing a knee and right hand before getting another takedown. Horiguchi landed a rush, but Johnson got him down again as the bell sounded on the second.
In the third, Johnson failed to hold Horiguchi down, but persevered to smother him. Horiguchi caught Johnson with a left hand off a break, but "Mighty Mouse" slammed him to the mat yet again. Trapping Horiguchi's arm, he dominated the challenger. The championship rounds kicked off with "Mighty Mouse" eating a shot before controlling Horiguchi on the fence. He closed the fourth with a hard kick to the body. The fifth began with a takedown from Johnson. The champ spun to take his opponent's back, taking him down again and again to lock up his latest title defense with a super-tight armbar with one second left in the fight, scoring the latest finish in UFC history.
The co-main event featured the awaited return of former light heavyweight champion Quinton "Rampage" Jackson, who met Brazilian slugger Fabio Maldonado. Rampage pushed the pace early, landing a hard leg kick and body shots. He followed with combos, unleashing big shots and a knee on the cage as they clinched to end the first round. Rampage landed some more in the second, but Maldonado walked through them to land shots in classic style as Jackson appeared to slow. The former champ bounced back in the third, however, stifling Maldonado with varied Muay Thai strikes. Maldonado pushed the action late but didn't do enough in the end, and Rampage took home a unanimous decision.
A pivotal middleweight affair went down between Michael Bisping and C.B. Dollaway, with both fighters needing a win to stay relevant in a stacked division. Dollaway came out with a low kick that caught 'The Count' below the belt. He recovered quickly and threw two kicks before winging a few glancing punches. Bisping avoided a takedown to land a combo, following with another up close before jumping right back out of the pocket. 'The Doberman' landed a stiff shot and a strong kick. Dollaway uncorked a shot that dropped Bisping, and the two finished the round with more big shots from both fighters.
Bisping landed to start the second, stringing together a few combinations. Dollaway went deep for a takedown but Bisping shook it off to throw a spinning kick. He hurt Dollaway with a big right hand, landing a body kick and a head kick. Bisping worked the body and Dollaway his normal left hook, securing his first takedown to end the round. The final frame featured another hook from Dollaway that Bisping countered. Bisping struck but got taken down only to get back up. More hooks came from 'The Doberman,' and Bisping's punches added up, as well. He lead a combo into a snapping head kick, but Dollaway landed his own shots. 'The Count' avoided a single leg to land in top position landing shots, ending the fight with a huge right hand to win a hard-fought unanimous decision.
In other action, Canadian lightweight John Makdessi looked to get back on track against Shane Campbell at a catchweight of 160 pounds. Lengthy Muay Thai fighter Campbell was peppering Makdessi with leg kicks early in his debut, but 'The Bull' rocked and dropped him with a big right hand to swarm. Campbell survived, but Makdessi soon ended it with a vicious right hand and a barrage of shots to end the fight with seven seconds remaining in the first.
Yves Jabouin vs. Thomas Almeida kicked off the main card. Despite an early takedown, Almeida used his pinpoint striking to open up with a huge right hand that was followed by a flurry against the fence, earning the stoppage with less than one minute left in the first round.
UFC 186 Main Card Results (Pay-per-view, 10:00 PM ET):
Demetrious Johnson def. Kyoji Horiguchi via Kyoji Horiguchi via R5 submission (armbar, 4:59)
Quinton 'Rampage' Jackson def. Fabio Maldonado via unanimous decision (29-28, 30-27, 30-27)
Michael Bisping def. C.B. Dollaway via unanimous decision (29-28, 29-28, 29-28)
John Makdessi def.Shane Campbell via R1 TKO (strikes, 4:53)

Thomas Almeida def. Yves Jabouin via R1 TKO (strikes, 4:18)