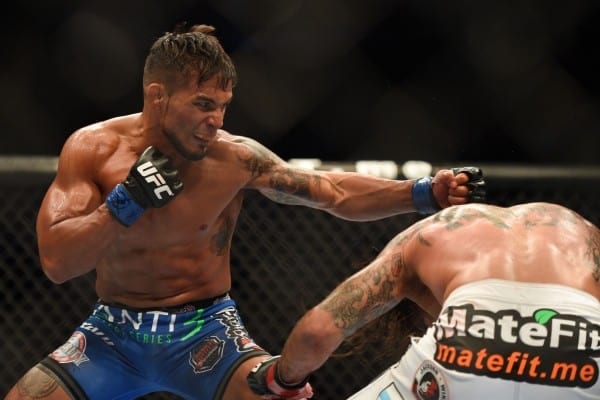 Fabricio Werdum vs. Mark Hunt:
Mike Drahota:
This is about as exciting a replacement title fight they could have put together when Cain Velasquez got hurt, and it finally gives Hunt a shot at a belt. However, as impressive as he's looked during his knockout-filled UFC run, I think Werdum is a bad match-up for him. Hunt will always have the one-punch knockout power in his back pocket, but Werdum has picked apart knockout strikers like Roy Nelson and Travis Browne before. He'll also enjoy the benefit of having trained in Mexico City for over two months now, and he didn't have to cut an alarming 37 pounds like Hunt did. That's before his world-class ground game is taken into effect, so it seems like the scales are tipped in Werdum's favor. I expect Werdum to pick Hunt apart at range before tiring him out and taking the bout to the ground.. "Vai Cavalo" via third round submission.
Rory Kernaghan:
The impromptu UFC 180 headliner is a battle of contrasts; you have the resurgent underdog Hunt, with his heavy stand up skills, and opposing him is the red-hot Brazilian Werdum with his legendary Jiu-jitsu background. I don't usually have any problem picking against my idols, but this time I feel "The Super Samoan" will pull it off against the odds. Obviously he is lost against "Vai Cavalo" on the ground, but I don't think the fight will make it there. If Hunt has any chance, he needs to swing like a baseball player on PCP, with absolutely everything behind it. Werdum's chin has failed him before, but there'll be no shame in losing to a former K-1 champion. Hunt by first round KO.
Mike Henken:
Mark Hunt is stepping in to replace injured champion Cain Velasquez on a shortened training camp, and had to cut quite a bit of weight to do it. This is opposed to Werdum, who has had a full training camp preparing for the baddest man on the planet. Velasquez is leaps and bounds ahead of Hunt in my opinion. Despite facing more challenges than Werdum with this fight, one can never count out the power Hunt possesses in his hands. "The Super Samoan" has a highly decorated kickboxing background, and if he touches you there's good chance you'll be going to sleep. On the other hand, Werdum is one of the very best BJJ artists to ever compete in the UFC, giving him the major advantage in the grappling area. He also showed highly improved striking in his last bout against Travis Browne. I feel as if the Brazilian has more ways to win here, and although I won't count out Hunt and his heavy hands, I'm going with Werdum by third round submission.
Jake Ellenberger vs. Kelvin Gastelum:
Mike Drahota:
This one's a fairly cut-and-dry pick for me, as Ellenberger has recently looked like a shell of the fighter that picked up an impressive streak of wins from 2010-2012. Gastelum is the opposite of that, fighting his heart out in an effort to rise up the rankings. He also enjoys a decent size and strength advantage cutting down from middleweight. Until Ellenberger shows some heart and fighting spirit in the Octagon, I simply can't pick him. Gastelum takes a decision.
Rory Kernaghan:
Welterweights Kelvin Gastelum and Jake Ellenberger reside in the evening's co-main slot, and I feel this will be the TUF veteran's chance to shine. "The Juggernaut" has had a fair layoff since his last fight, and is just not the same fighter in my eyes. Gastelum has the pedigree, skill and drive to make it to the top; therefore I'm picking a changing of the guard at 170, and Gastelum to win by submission in the third round.
Mike Henken:
Kelvin Gastelum is riding a four-fight win streak since entering the UFC with an upset win over Uriah Hall to take home The Ultimate Fighter (TUF) 17 trophy. He has looked great ever since, rising up the welterweight rankings; however, he will face the biggest test of his career in Jake Ellenberger. Ellenberger is an experienced veteran, but is coming off two rather lackluster losses. I think Ellenberger will use his wrestling background to grind out a win while tiring Gastelum. However, the TUF champion is quite well rounded and seems to be constantly improving in both his striking and grappling. He will have to look out for the power of Ellenberger, but I'm picking Gastelum by unanimous decision.
Ricardo Lamas vs. Dennis Bermudez:
Mike Drahota:
This is a barnburner of a match-up on paper, one that is undoubtedly the toughest main card bout to pick in my eyes. On one hand, you have Lamas, who won a so-so decision after a failed title bid against Jose Aldo at UFC 169, and on the other, you have Bermudez, the surging TUF finalist who has reeled off seven consecutive victories in what quite possibly the most stacked division in the UFC. Bermudez looked sharp and dangerous, and Lamas is motivated to win for the Mexican people. Both are grinding wrestlers and dangerous mat artists with their variety of chokes, so I think this one will be largely contested on the feet. It's also extremely close there, but Lamas has the experience edge against top competition. That's the only true edge I really see in this bout, as Lamas has fought many of the best. Bermudez has the potential to get there soon, but I think Lamas will win an extremely hard-fought decision here.
Rory Kernaghan:
Ricardo Lamas and Dennis Bermudez will collide on the main card tomorrow, and I think this could easily be "Fight of the Night." Both guys have good speed and footwork, but it's the power and wrestling of Bermudez that could make the difference. Look for "The Menace" to chain wrestling together with his striking, and put a worn out "Bully" away in the final round. Bermudez by TKO is my pick.
Mike Henken:
Bermudez has been on absolute tear since losing in TUF 14 Finale. "The Menace" will look for his eighth in a row at UFC 180. The New York native is extremely well rounded with his college wrestling background, solid submissions and striking. Maintaining a relentless pace, he's a tough test for any featherweight. However, Bermudez has never faced the level of competition of Ricardo Lamas. The former title challenger got back on track in his last outing and is hungry to get another crack at the belt. He has solid wrestling as well, but in my opinion Bermudez will be too fast and too strong for him. I believe Bermudez is the real deal at featherweight and will keeping winning his way to the top of the ladder. Dennis Bermudez by third round submission.
Photo Credit: Kyle Terada for USA TODAY Sports