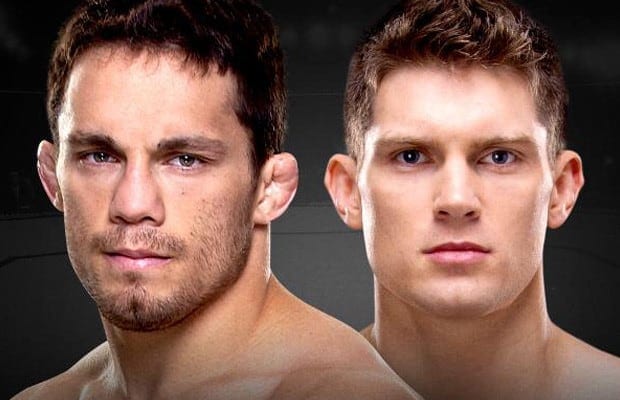 It's once again fight day here at LowKickMMA, and the talent on display tonight (Sunday, July 12th, 2015) will come from MGM Grand Garden Arena in Las Vegas, Nevada., in the form of TUF 21 Finale. Headlining the card are Jake Ellenberger and Stephen Thompson, but there's a whole bunch of great fights also taking place on the preliminary section of the card.
Caio Magalhaes vs. Josh Samman closes the preliminary card on Fox Sports 1. It didn't take long for Samman to finish Magalhaes after the two had bad blood at the weigh-ins yesterday. Samman got the back of Magalhaes in the first round and submitted him with the rear-naked choke.
Russell Doane vs. Jerrod Sanders is next in a bantamweight bout. A back and forth fight that was a hard call for the judges. Both men had their moments in another top notch wrestling match. At the end of the day, Sanders won by unanimous decision.
Dan Miller vs. Trevor Smith was up next in a middleweight bout. Smith controlled the entire fight once he got a takedown and ended up on top of Miller. Smith was too strong for Miller. Once Miller got on his back, he stayed there for the remainder of time in each round. Smith won by decision.
George Sullivan vs. Dom Waters in a welterweight bout opened the Fox Sports 1 preliminary bouts. Grappling was on display in this fight and that could sum it up in a sentence. Sullivan dominated the first two rounds with his wrestling and punches from the top. Waters tried to get a rear-naked choke to start off the third round, but couldn't finish. Sullivan won by decision.
Opening the UFC Fight Pass prelims was Willie Gates vs. Darrell Montague in flyweight bout. Gates was the aggressor to begin the round and caught him with a straight right. Gates swarmed him, then landed a bunch of knees to the ribs of Montague then some elbows to finish off the fight.
So join us right here at LowKickMMA for TUF 21 Finale, kicking off at 6:30PM ET!
PRELIMINARY CARD (FOX Sports 1, 7 p.m. ET)
Josh Samman def. Caio Magalhaes via submission (rear-naked choke) – Round 1, 2:52
Jerrod Sanders def. Russell Doane via unanimous decision (29-28, 30-27, 29-28)
Trevor Smith def. Dan Miller via unanimous decision (30-25, 30-25, 30-26)
George Sullivan def. Dominic Waters via unanimous decision (29-27, 30-25, 29-28)
PRELIMINARY CARD (UFC Fight Pass, 6:30 p.m. ET)
Willie Gates def. Darrell Montague via TKO (strikes) – Round 1, 1:36