The biggest fight week in MMA history is finally upon us.
Between UFC Fight Night 90, The Ultimate Fighter (TUF) 23 finale, and UFC 200, it is the most jam-packed weekend of fisticuffs we have ever seen. Kicking off with a UFC Fight Pass-only card headlined by a title fight on Thursday, the action continues on Friday with a card on free TV headlined by a vicious title rematch, and finally comes to a head with the most stacked event ever in UFC 200.
To celebrate and prepare for the landmark event, this list looks back at the best moments in the careers of UFC 200's biggest stars. With three title fights, three TUF champions, nine current or former UFC champions, two former Strikeforce champions, and a former Pride champion, there is no shortage of huge names on this lineup. And that is without even mentioning super athlete "Super" Sage Northcutt and bonus king Joe Lauzon.
Read on for the top ten moments in the careers of the biggest names on the biggest fight night of all time.
10. Sage Northcutt's Impressive Debut
The hype train was chugging along full speed ahead.
Despite being only 19 years of age – or perhaps because of it – and having only five pro fights under his belt, Sage Northcutt came into the UFC with considerable standards to live up to. The teenage phenom was coming off the inaugural episode of Dana White's newest pet project, the YouTube reality show "Lookin' for a Fight"". Recently discovered by the UFC president, Northcutt had found a shortcut to the big show, and would be jumping into the sport's most cutthroat division before he could legally drink.
While short on MMA experience, Northcutt had a considerable amount of other martial arts training to fall back on. "Super" Sage had been competing in karate since childhood and was a multiple-time world champion. He finished fifth in the state in his weight class in wrestling his senior year, the first year he wrestled. And he had an undefeated kickboxing record.
That would be more than enough to get the young UFC debutant past his first Octagon foe, Francisco Trevino. Trevino, then 1-1 in the UFC, came in overweight for their lightweight bout and quickly found himself overwhelmed by the uber-athletic Northcutt. The new star punched out the veteran in less than a minute, and punctuated his victory with his signature effortless flip.
"Super" Sage is back in the cage this weekend versus Enrique Marin.

9. Johny Hendricks's One-Punch Knockouts
One of the many former champions on UFC 200, Hendricks would undoubtedly say that his title-winning performance against Robbie Lawler at UFC 171 was the shining moment of his career.
But let's mix it up a little bit. There will be plenty of championship victories to come on this list.
Before his razor-close decision loss to Georges St. Pierre in his first bid for the belt, and his equally close title fights with Lawler, Hendricks' defining moments were his highlight reel one-punch knockouts. On his way up the welterweight ladder, "Bigg Rigg" plowed through TJ Waldburger, Jon Fitch, and Martin Kampmann with his explosive left hand.
As just one example, here is his destruction of Kampmann. Hendricks's straight left blasts "The Hitman" clear across the cage. If he never retakes the welterweight summit, knockouts like this are what Hendricks will be remembered for.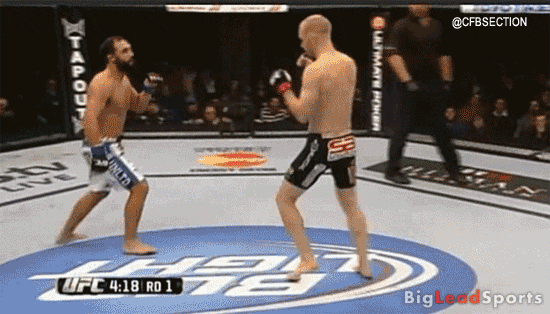 8. Jose Aldo Knocking Out Mendes in Brazil
The most destructive force in featherweight history was fighting on his home soil for the first time in nearly five years.
Jose Aldo put his six-year unbeaten streak on the line at UFC 142 against the consensus No. 2 145-pounder, the undefeated Chad 'Money' Mendes. The event was only the UFC's second in the birthplace of Brazilian Jiu-jitsu since the 90's, but Aldo made sure they would return with regularity.
With the devastating swath "Scarface" cut through the WEC, along with his first two title defenses in the world's premiere MMA organization, Aldo had cemented himself as a top-three pound-for-pound fighter in the world. Unfortunately, he was not yet drawing like one. After slashing his way to the WEC crown with finish after brutal finish, Aldo's first two UFC bouts went the full 25 minutes and saw the champion coast to the bell.
Aldo showed why he was a burgeoning star that night, at least in Brazil, when with only one second remaining in the first round, he knocked out Mendes with a knee that sent the American crashing backwards in highlight reel fashion. Aldo immediately scaled the cage and sprinted into the crowd to celebrate with his countrymen.
The image of the Brazilian dynamo being hoisted onto the crowd's shoulders as they sang and chanted together is the most memorable moment of his all-time great career.
Aldo rematches Frankie Edgar, a man he has already beat once, for the interim featherweight title belt on UFC 200's main card.

7. Mark Hunt's Epic Draw with "Bigfoot" Silva
It is not just the greatest fight of Mark Hunt's career, but it is perhaps the greatest heavyweight battle in MMA history.
As the headliners of a UFC Fight Night 33 in Brisbane, Australia in December 2013, Hunt and Antonio "Bigfoot" Silva absolutely beat the hell out each other for five rounds. Despite the massive fists and feet that flew, they both managed to see the final bell. The two men had solid resumes going into the bout as top ten heavyweights, but this fight alone would elevate the two to near-legendary status.
Both were on the brink of being stopped at different points across the 25-minute bloodbath, but neither man would accept defeat. Silva knocked Hunt down in the first, but the "Super Samoan" returned the favor in the third. Hunt nearly got the stoppage following the knockdown, but Silva survived. "Bigfoot" nearly did the same in the fourth, mounting and bludgeoning Hunt with heavy ground and pound. And in the fifth round, with both men completely exhausted, they still refused to back down, hammering each other to the final bell.
When the horn sounded, the two warriors embraced, each helping hold the other upright. As the scorecards were read and the slugfest was announced a draw, those in attendance showed their appreciation for the ruling, and the two combatants. Neither Hunt nor "Bigfoot" gave a losing effort that night.
The "Super Samoan" will face Brock Lesnar in the co-main event of UFC 200.

6. TJ Dillashaw Winning the Belt from Barao
One of the many former champions fighting at the UFC's bicentennial event is TJ Dillashaw, and no moment in his career can be sweeter than when he first won the belt.
Dillashaw came into his first title bout with Renan Barao at UFC 173 in May 2014 as a huge underdog. Never before had the Team Alpha Male product exhibited signs that he was a truly elite fighter, and that's exactly what he would be facing in pound-for-pound stalwart Barao, a man undefeated at the sport's highest level.
The champion's prodigious list of victims didn't matter to the challenger, who fought the fight of his life. Showing greatly improved striking craft and footwork from new striking coach Duane "Bang" Ludwig, Dillashaw consistently hammered the more stationary Barao. Dillashaw finished off the Brazilian in the fifth, capping off one of the most stellar performances in UFC history. He would repeat the trick 14 months later, usurping Barao's place as a pound-for-pound great.
Dillashaw has since relinquished the title to the oft-injured but spectacular Dominick Cruz by razor-close decision. He looks to get back to the belt on the prelims of UFC 200 against Rafael Assuncao.

5. Cain Velasquez Finishing Brock Lesnar
Former champion Velasquez has had to deal with serious adversity of late. Once considered a shoo-in to dethrone Fedor Emelianenko as the greatest heavyweight of all time, Velasquez is just trying to re-enter that discussion at this point. His litany of injuries is well-documented, as is his perceived struggle with elevation. He was battered and submitted by Fabricio Werdum at June 2015's UFC 188 in Mexico City, losing his title in the process.
But in late 2010, Velasquez was on top of the world and ushered in a new era of heavyweight MMA. As he took on then-champion Brock Lesnar at UFC 121, the division had been dominated recently by gigantic, muscle-bound freaks. Lesnar and Shane Carwin had to cut to the 265-pound limit, and they crushed lesser men with their cinder block-sized fists.
Enter Velasquez, between 230 and 240 pounds and nowhere near as physically imposing as Lesnar. Although he was a talented wrestler in his own right, many believed that Lesnar, a former national champion, would use his superior size and pedigree to defend his belt. We all got a taste of heavyweight's future that night.
Without the extra 40 or 50 pounds of muscle, Velasquez was quicker and did not tire out. Lesnar was briefly able to take the Mexican-American down, but Velasquez popped right up. The challenger was able to return the favor, and unleash a constant stream of punches to the champion's face. Unlike Carwin, who gassed himself out trying to bash Lesnar out of there in the first round of their fight, Velasquez picked his shots and did not tire. He put the nail in Lesnar's championship coffin at 4:12 of the first round, and put the rest of the world on notice: speed and cardio would top brute strength.
Velasquez seeks to reestablish himself as the world's premiere big man on the main card of UFC 200 opposite Travis Browne.

4. Brock Lesnar Winning at UFC 100
Brock Lesnar was the highest-grossing draw on the grandest stage, and he delivered the goods. That is the reason for his ranking so highly on this list.
Lesnar made the jump to MMA from pro-wrestling in 2007, winning his first pro fight in Japan. He was then signed by the UFC, who saw his obvious drawing potential. Lesnar would be able to bring pro-wrestling eyeballs to his real fights in droves.
MMA purists were chagrinned by Lesnar's quick entry to the sport's highest level. Although he was a former national champion wrestler, many hardcore fans viewed him as a freak-show commodity that would degrade their sport.
When Lesnar lost his UFC debut to Frank Mir via first-round kneebar, the purists got exactly what they wished for. But Lesnar would not go away. He defeated former Pride battler Heath Herring, and then battered all-time great Randy Couture to capture the UFC heavyweight title at UFC 91.
As part of a mini heavyweight "tournament," Mir would fight Antonio Nogueira at UFC 92 for an interim title, with the winner facing Lesnar. Mir became the first man to stop the legendarily iron-chinned Nogueira, setting up a rematch with Lesnar at UFC 100.
Lesnar brutalized Mir with heavy punches from top position at the centennial event to unify the UFC heavyweight title and avenge his ignominious loss. And he did it in front of a record number of pay-per-view buyers.
Lesnar returns from a four-and-a-half year retirement to take on Mark Hunt in the co-headliner of UFC 200.

3. Cormier Outlasts Gustafsson In First Defense
We all know about the blood feud with Jon Jones, but to this point Daniel Cormier has come out on the wrong end of it. His first meeting with Jones at UFC 182 in January 2015 remains "DC's" only loss. Cormier has since banked a gritty, all-time great win, however.
When Jones had his hit-and-run (and come-back-for-cash-ignoring-the-injured-pregnant-lady-and-run-again) incident the following April that saw him suspended and stripped of his title, Cormier's road to a UFC belt got a lot easier. But there would be plenty of adversity to come.
"DC" met the brick-fisted Anthony "Rumble" Johnson for the vacant title at UFC 187 in May 2015. Cormier had to survive a harrowing first-round knockdown and the swarming punches that followed. But he had to know that "Rumble" is a whole lot less dangerous after the initial five minutes, as his cardio and confidence begin to sag. ""DC" capitalized and captured the title with a third-round rear naked choke.
Yet Cormier's most shining moment was still to come.
With Jones still mired in legal issues, Cormier made his first title defense against Alexander Gustafsson in October 2015 at UFC 192. Neither man gave an inch over the 25-minute slugfest. Despite absorbing a crushing knee to the face in the third that floored the AKA product and enduring a nasty cut over his right eye, Cormier persevered. Behind some early wrestling and relentless dirty boxing in the championship rounds, Cormier captured a split verdict from the Swede, cementing himself as a pound-for-pound force.
Cormier will look for redemption against Jones in the UFC 200 main event.

2. Frankie Edgar's Epic Trilogy Versus Gray Maynard
We recently detailed Frankie Edgar's victory over Gray Maynard as one of the greatest comebacks in UFC history, and it remains the signature win of "The Answer's" career. He has done real damage at featherweight over the past few years, but in no fight did he come back from the brink to win in such spectacular fashion.
Edgar was once again badly hurt in the first round of UFC 136 by the hard-hitting Maynard, eerily reminiscent of their second bout, which ended in a draw. And just as in their title fight at UFC 125, Edgar would not go away. He endured, and when he landed his own sense-scrambling right hand in the fourth, he did not miss the opportunity to put his rivalry with Maynard to bed for good.
As Edgar polished off "The Bully" with another jackhammer right, he defended his lightweight title for the third and final time. It remains one of the most incredible fights and finishes in MMA canon.
"The Answer" will rematch Jose Aldo for the interim featherweight title on the main card of UFC 200.

1. Jon Jones Tearing Through Light Heavyweight
Jon "Bones" Jones already has a case as the best mixed martial artist ever, so him topping this list makes sense. And his run from 2011 to 2012 is a major reason why.
From his entry into the UFC in 2008 to his defeat of fellow top prospect Ryan Bader at UFC 126 in February 2011, Jones had bested all of his opponents with relative ease. His one blemish to this day remains a disqualification loss to Matt Hamill in a fight he was dominating.
When Jackson-Wink teammate Rashad Evans was forced out of his title bout with "Shogun" Rua at UFC 128 one month after the Bader fight, Jones was called to step in. "Bones" was only 23, and he was stepping in on very short notice to take on a champion who had just knocked out the seemingly unbeatable Lyoto Machida in the first round. Many wondered if Rua would be too much, too soon for the talented but unproven Jones.
That made the ease with which he dominated Rua all the more frightening. He ripped the belt from "Shogun" in vicious and clinical fashion, putting the seal on his title-clinching performance with a knee to the head in the third round.
Jones spent the next year and a half obliterating every still-active former champion he could get his freakishly long arms on. ""Rampage" Jackson, Lyoto Machida, now-former teammate Evans, and Vitor Belfort all fell before him. Only Evans made it to the final bell, and only Belfort managed to threaten Jones in any meaningful way. The New York native escaped the tight first-round armbar he found himself in, and finished "The Phenom" with an Americana of his own in the fourth.
Jones had better fights than those in which he had to overcome serious adversity. His battle with Alexander Gustafsson jumps to mind. But his training for that fight was apparently laughable, putting a damper on his razor-close win. He has beaten better, more dangerous fighters than those past-their-prime champions. Cormier is the most obvious example. But nothing was more impressive than the two-year stretch in which Jones laid waste to the UFC's marquee division while making it look shockingly easy.
"Bones" will look to reclaim the undisputed light heavyweight title from Cormier in UFC 200's headliner on July 9.